East Qing Tombs

Location: In Zunhua County, Tangshan City, Hebei Province, 120 kilometers southwest of Tianjin and 180 kilometers west of Beijing.
Opening time: 8:00-17:00 (Apr. to Oct.), 8:30-16:30 (Nov. to Mar.)
How to get there:
-Depart from Tianjin: Take a tourist bus at 6:30- 7:00 on weekends, festivals and holidays from midmonth of March to midmonth of November;
-Depart from Beijing: Take a tourist bus in front of Xuanwumen Church on festivals and holidays.
Grand and Spectacular Imperial Tombs
East Qing Tombs (Chinese:清东陵) is the last but the existing largest and most intact feudal imperial tombs in China with altogether 15 tombs (5 emperor tombs, 4 empress tombs, 5 concubine tombs and 1 princess tomb) containing the remains of emperors, empresses, concubines and princesses of Qing Dynasty (1636-1911).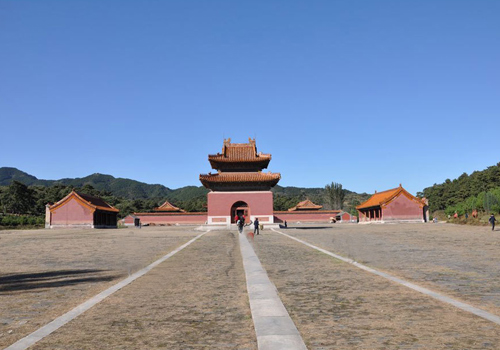 Occupying an area of 2,500 square km, East Qing Tombs is 125 km in length, 20 km in width and boasts two mountains stand opposite each other in the south direction. Surround by mountains with a mouth only in 50-meter-wide, the grand architecture complex owns over 580 monomer constructions, 217 archways (including a existing widest one in China), and a intact and well-preserved sacred way over 6000 meters long which connects the southernmost archway with the central tomb of Emperor Shunzhi, the Xiao Tomb (Chinese:孝陵, or filial tomb) in the north.
World Cultural Heritage with Centuries-old History
Construction of the East Qing Tombs began in 1661, last for 247 years and finally completed in 1908. With the oldest one built about 350 years ago, East Qing Tombs reflects a complete evolution of mausoleum system as well as the history of Qing dynasty.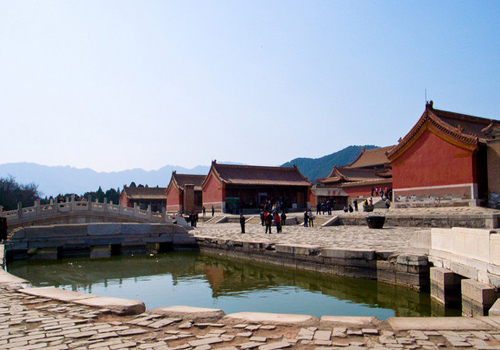 East Qing Tombs is an outstanding representative and the most characteristic imperial tombs of all federal dynasties of China. It is epitomized with significant values of history, art and science, involving in traditional Chinese geomancy, architecture, aesthetics, philosophy, landscape esthetics, burial and sacrifice system, religion and folk cultures. With its centuries-old history and peerless charm, it is no doubt the precious treasure belongs to China and world that has included in the list of world cultural heritages in 2000.
Structure of East Qing Tombs
15 tombs in East Qing Tombs were arranged according to the Chinese traditional concepts as "center for honor", "respect for seniority" and "priority in rank". The tomb of the first emperor of Qing Dynasty Shunzhi Emperor was built exactly on the axile wire which enjoyed the most revered and respected statue. On the left next to it, it is the tomb for his son Emperor Kangxi, and right for his great-grandson Emperor Qianlong, and the rest was done in the same manner. Meanwhile, tombs for empresses and concubines were just built around the tomb of their respective husband. In addition, sacred way of tomb for empress was connected with that for his husband, and sacred ways of all tombs for emperors were connected with that for the first emperor Shunzhi. As a matter of fact, East Qing Tombs is grand but clear-cut showing the family interrelationships.
What to see in East Qing Tombs?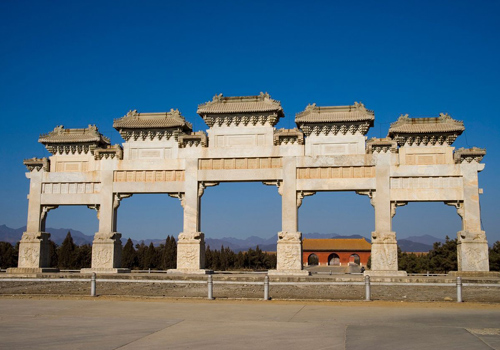 The large-scale imperial tombs possess a good deal of superior architectures that represent the highest level and greatest achievement in the field of architecture of its time.
Sacred way of Xiao Tomb (Chinese:孝陵)– it is the longest sacred way in the site as well as the grandest one with greatest artistry which run through tens of diverse architectures that are clearly demarcated.
Stone archway of Xiao Tomb – a timberwork imitation with supernatural workmanship constructed with huge greenish white marbles; it is 31.35m in width and 12.48m in height. Pillars and beams are all carved with kylins, lions, dragons and other beasts. The delicate work and exquisite skills make it rare that no even small damage was done on such a grand archway for centuries.
Stone figures of Xiao Tomb – altogether 18 pairs of stone figures include officials, horses, and other symbolic beasts. Each was carved from a whole stone to be vigorous, forceful and impressive in appearance. They ranked along the two sides of the sacred way of Xiao Tomb that made the tombs to be even more solemn and respectful.
Arch Bridge with seven arches – a majestic one in 110 meters long with 126 stone rails, 128 stone columns and 4 pillar stones.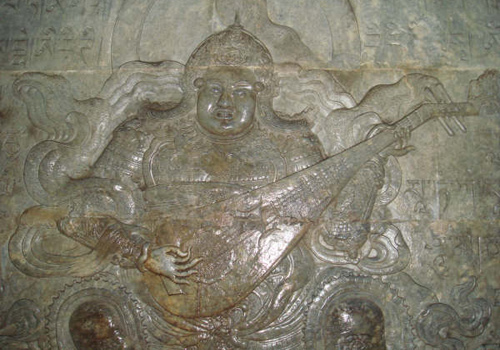 Underground Palace of Yu Tomb (Chinese:裕陵) – the mausoleum of Emperor Qianlong that features masses of marvelous Buddhism stone carvings with consummate skills. It is hailed as a "stone carving art treasure-house" and a "solemn underground Buddhist altar".
Putuoyuding East Tomb (Chinese:菩陀裕定东陵) – the mausoleum of Empress Dowager Cixi. It is an endsville and ingenious construction in East Qing Tombs and its three halls are all gold overlaid. The luxurious decoration is rare not only in tombs but also in imperial palaces.
Jade Belt Bridge of Yu Tomb –three single-arch bridges are built side by side over the Jade Belt River in the tombs. It is a unique bijou for graceful shape and careful carving.