Jinci Temple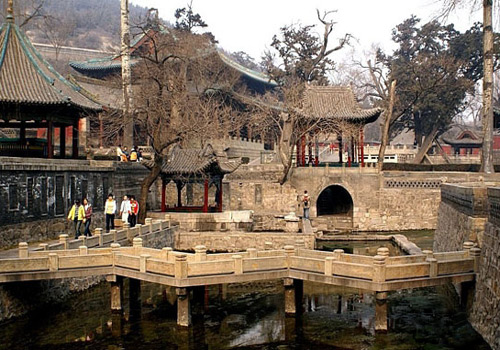 More Photos

Chinese name: 晋祠 (Jin Ci).
Location: at the foot of Xuanfeng Mountain, Jinci Town, Jinyuan District, Taiyuan City, Shanxi Province.
Open time: 08:00-18:00.
Entrance fee: CNY80.
How to get there: by bus No.804, 848, 308 or 856 from Taiyuan Train Station.
Best time for visit: spring, summer and autumn.
Brief Introduction to Jinci Temple
Located at the foot of Xuanweng Mountain (悬瓮山), Jinci Temple is about 25 kilometers southwest to Taiyuan City. It was constructed in memory of Tang Shuyu (the first ruler of Jin during Zhou Dynasty) and his mother. Famous for the Nanlao Spring, Sinu Status and Shengmu Status, Jinci Temple is also home to traditional Chinese ritual structures, gardening, carving and moulding, murals, inscriptions on tablets, etc.
History of Jinci Temple
Jinci Temple was originally built in Northern Wei Dynasty (386-534) and named Tang Shuyu Temple (唐叔虞祠) at that time in memory of Tang Shuyu, who made great use of Jinshui River to develop agriculture for the local. Jinci Temple was repaired and extended for many times in the following dynasties. From 550 to 559, Gaoyang (the first emperor of Northern Qi Dynasty, 550-577) had Jinci Temple extend by constructing more towers and pools.
In 646, Emperor Tangtaizong (599-649), who was the second emperor of Tang Dynasty (618-907) and famous for creating the age of Prosperity of Zhenguan (贞观之治), took a visit to Jinci Temple, wrote epigraphs for it and made monument accordingly. In Northern Song Dynasty (960-1127), Jinci Temple got an overall repair and the Shengmu Hall was built to commemorate Yijiang (mother of Tang Shuyu).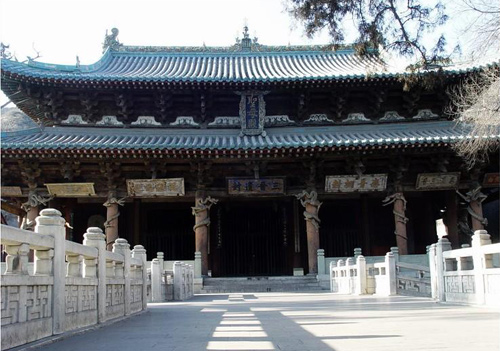 More about Jinci Temple
Jinci Temple can be divided into three parts by layout: the Middle, the North, and the South.
The Middle starts from the entrance door. Water Mirror Hall, the first structure to see after entering the door, is a stage that Chinese operas were put on at Buddhist or other ceremonies. It is said that many big vats were buried under the hall to improve sound effect when a performance was going on on the stage. After crossing Huixian Bridge, visitors will see the Jinren Platform, also called Lotus Platform, which has a quadrate base with fences surrounding around, four iron statues at four corners and a small shrine in the middle. To the west of Consecration Hall is the Yu Zao Fei Liang (鱼沼飞梁), literally Bridge over the Fish Pool, which has a history of more than 1500 years and leads to the Shengmu Hall. Supported by 34 octagon stone pillars, this bridge is the oldest cross bridge in China, the east-west part of which is 19.6 meters long and 5 meters wide and the south-north part of which is 19.5 meters long and 3.3 meters wide. The quadrate pool under the bridge is said to be the second headstream of the Jinshui River. Built during 1023-1032, the Shengmu Hall is the most famous structure of Jinci Temple as well as a representative of structure of Song Dynasty (960-1279). The hall is a multi-roof building, which is 19 meters high, with eight dragon-shaped wooden pillars known as one of the oldest wooden structures in China. There are 44 statues in the hall, showing life of the imperial family with statue of Yijiang in a wooden shrine in the middle and 43 maids by sides. The jewelry and clothes of the statues show the dressing style and culture of Song Dynasty. On the left of the hall, there is a cypress, which is said to be planted during Western Zhou Dynasty (1046 BC –771 BC), leaning southward like a dragon and partly covering the hall. For the reason, the tree is imagined to be a dragon and got a nickname of Crouching Dragon Cypress.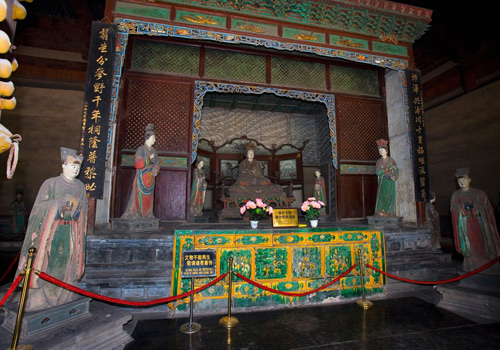 In the north part of Jinci Temple, there are the Guandi Hall (for worshipping Guan Yu, a great general of East Han Dynasty, 25-220), the Tangshu Hall (for worshipping Shu Yu), the Santai Tower, and so on, among which, the Tang monument is the most famous one. Standing between Guandi Hall and Tangshu Hall, the Tang Monument is 195 centimeters high, 120 centimeters wide and 27 centimeters thick with two dragon sculptures on the top. On the monument carves the epigraph of praising Shuyu's official achievements by Li Shimin.
White Crane Pavilion, Hall of Goddess of Water, Tower of Buddha's Relics Increasing and Longevity Spring are the famous attractions in the south part of Jinci Temple. Tower of Buddha's Relics Increasing was an octagonal tower built during 589-604 and repaired in 1751 by Emperor Qianlong (the fourth emperor of Qing Dynasty ruled during 1735-1795) which is 38 meters high with 7 floors. Each floor has 4 doors and 8 windows, from which visitors can have a good view of Jinci Temple. It is said that there was one Buddha's relic buried under the tower when it was originally built. During a repair in 1751, hundreds of Buddha's relics were found under the tower, which was considered to be a sign of the principle of Keep Going and Never Fading of Buddhism. After that, the tower was renamed to be Tower of Buddha's Relics Increasing. Longevity Spring, on which there is an octagonal pavilion built during 550-559, flows from crack of rocks 5 meters underground all year round with an average temperature at 17 ℃.
Quick Questions
Our team is waiting for you questions. Please feel free to ask us any questions you might have about our China package tours, Chinese culture, or the sites available. We will gladly help you with any special needs you might have and all questions, like our trip designing is completely free of charge.