Taian Cuisine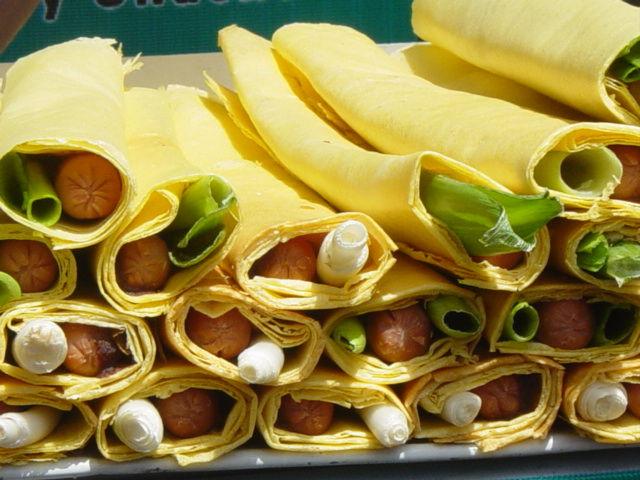 Both in Tai'an city and on Mountain Tai, lots of specialties are for choice, which are roughly divided into special flavor feasts and local snacks.
Special flavor feasts
Tofu Feast- it can be dated back to ancient times when emperors came to Tai Mountain offering sacrifices to heaven. Tofu is a food connects with pure heart and few desires in Chinese culture that is why it was chosen as the main food during the sacrifice. Developed by generations of chefs, the present Tofu Feast has became a unique work in Shandong Cuisine, consisting of more than 150 tofu dishes at most. With tofu, the main material, and many other ingredients, such as ginseng, nori, shrimp, pork, cabbage, mushrooms, eggs, bamboo shoot…, each tofu dish is nutritious, good-looking and tasty.
Wild Vegetables Feast- it also has a long history as Tofu Feast, dating back to ancient times when emperor offering sacrifice in Mount Tai because wild vegetables not only equal with few desires as Tofu but also lavish in the forested mountain. Wild vegetable dishes are cooked into cold dishes, deep fried, fried with eggs, preserved with salt, or in soups.
Snacks
Tai'an thin pancakes- thin pancake is a renowned snack in Shandong Province, while the Tai'an style is more unique than other ones. Different from others, Tai'an pancakes are mainly made of millet or corn, which will be specially fermented before processing. The pancakes taste soft and delicious but of slight sour.
Taishan barbecue- it is in vogue just in recent years in Tai'an, but with its own features. The first is roasting the sliced mutton with round shredded scallions on an iron pan, the second is boiling the sliced goat tripe kebab on charcoal fire, and the last is the ordinary shish kebab.
Tai'an cake (泰山白糕)- made of a dozen of materials, such as seasame, peanut oil, flour, maltose, honey, egg, sweetened bean paste, the cake is finished with over ten processes of grinding, steaming, fermenting, stewing, frying, and so forth. Tai'an cake is nutritious with rich protein, fat, glucose, vitamin C, and the like. Taste crisp and sweet, the eight flavored cakes are important tributes to feudal emperors in ancient China.
In addition, pickled fish with wine of Dongping County, stewed chicken with mushrooms, and dog's meat cooked in the style of Feicheng City are all famous dainties of Tai'an.