Suzhou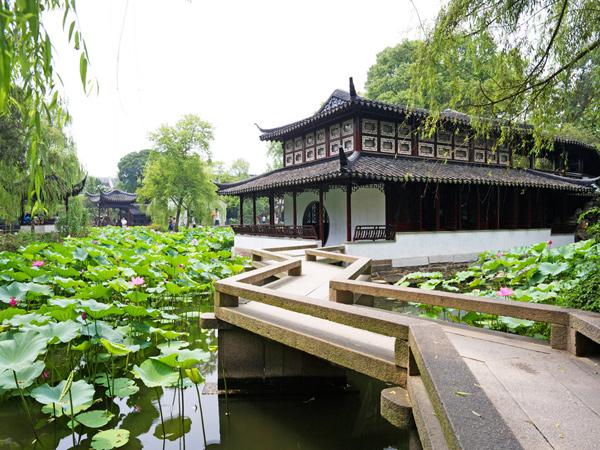 Suzhou in brief
Suzhou, a charming city located in southern Jiangsu Province, eastern China, is a worldwide famous stop-off point on a China tour. Lying in the middle of the Yangtze River Delta, the city enjoys a tremendous fame and dynamism due to its location within the Shanghai, Hangzhou, Suzhou scenic triangle of water cities. Also called the "Old Town Suzhou" or the "Oriental Venice", Suzhou is praised for its numerous ponds, streams and other little rivers ranked as UNESCO World Heritage Sites since 1997. Considered as a jewel on Marco Polo's journey to Asia during the late 13th century, today's Suzhou has changed a lot compared to ancient times but hopefully some traditional whitewashed houses, tree-lined canals and sumptuous gardens still remain for the pleasure of tourists having the chances to stop by. With delicate combination of water, trees, rocks and buildings, Suzhou is the Chinese embodiment of balance and harmony, a marvel to any traveler!
History of Suzhou – Famous silk, garden and water town since early ages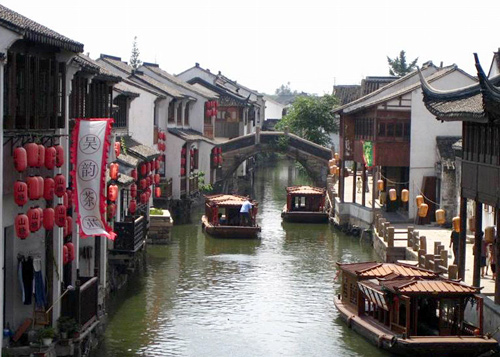 Suzhou is a classic historical city that travelers should see while touring China. Built in 514 BC, the ancient city of Suzhou is one of the oldest of its character registered for more than 2500 years in the Yangtze Basin. As a strategical city on trading routes and cradle of the Wu Culture, Suzhou flourishes with numbers of interesting historical relics and sceneries that inspired poets, painters and travelers like famous Marco Polo in late 13Ith century! The dimension of the city we know today was already completed in the 12th century: city walls built in a rectangle way, six crisscrossing North to South canals and fourteen other East to West canals giving to the city a great fame all over China. Place of shipping and retreat for many aristocrats, scholars and pleasure-seekers, Suzhou also established itself as China's leading silk-producing city since the Song Dynasty (960 - 1279). At its apogee in the 16th century, Suzhou started to be renowned as a "Garden city" and "Venice of the East" for its medieval mix of woodblock, water gardens and embroideries. Since 1949, most part of its city walls and gardens have been unfortunately demolished but a bunch of preserved Ming (1368 - 1644) and Qing (1644 - 1911) dynasties buildings can still be found. Protected by the PRC State Council since 1981 and then by the UNESCO in 1997, Suzhou's uniqueness is recognised all over the world and attracts many travelers looking for some relaxing journey and typical Chinese sights.
Suzhou's lakes and gardens – A "Garden city" and "Venice of the East"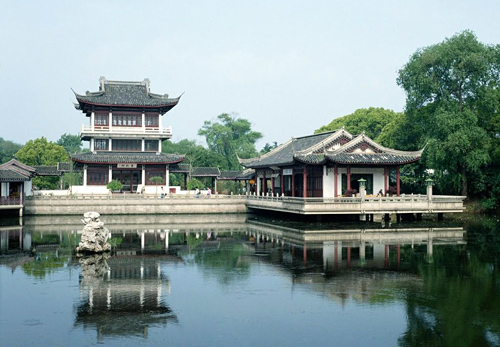 Suzhou's fame doesn't have to be denied. Indeed, the numerous gardens, canals and ponds built everywhere in the city are a great highlight of the region. Flourishing with pagodas, stone bridges and other whitewashed houses, the city of Suzhou is a top tourist attraction in China. The city is crossed from north to south by the Beijing-Hangzhou Grand Canal. At present, travelers can stroll in about 60 intact gardens some of them listed as UNESCO World Heritage Sites such as the Garden of Master of Nets, the Humble Administrator's Garden, the Mountain Villa with Embracing Beauty and the Lingering Garden. The unique charming city of Suzhou intertwines such a great number of natural sceneries that it is hard not to enjoy your time over there. The Taihu Lake embodying four fifth of the whole town is even ranked as one of the fourth largest lakes in mainland China with West Hill, East Hill and other nearby scenic spots. The harmonious Suzhou embodies Chinese culture and natural body, a great occasion to make a stop on your tour to China!
Suzhou nowadays – UNESCO site and famous silk brocades hometown
When touring Suzhou, travelers will have the chance to spend time in one of the top ten Chinese cities. Renowned for its numerous gardens, lakes, canals, whitewashed houses and cobbled streets, Suzhou will make you enter in a typical picturesque dream of China. The place is home to many sayings among which the one: "Gardens to the south of Yangtze River are the best in the world, and Suzhou gardens are the best among them" is the most famous one. The Suzhou cuisine is a highlight that has to be discovered by anyone having the opportunity to stop by. Quiet and peaceful at night, visitors enjoy to walk by the lakes and take a rest far away from the turmoil of downtown. Filled with many teahouses, Suzhou will make you discover the secrets of the preparation of this century beverage! This is no wonder why Suzhou is famous for a "paradise on earth" and ranked as a top China city. Visiting and doing some shopping in the Silk factory of Suzhou is a great chance and an everlasting moment. Suzhou is just waiting for your coming!