Panmen Scenery Area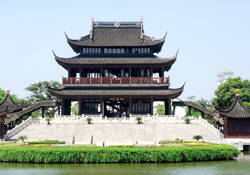 More Photos

Chinese name: 盘门景区 (Panmen Jingqu)
Location: No.1 Eastern Street, Canglang District, Suzhou City, Jiangsu Province.
Ticket: CNY40
Opening time: 09:00-17:00
How to get there: take buses No.1, 3, 101, 102, 103 or 701.
Introduction to Panmen Scenery Area
Located in the southwest of the ancient city of Suzhou, Panmen Scenery Area is awarded as an AAAA scenic spot, and inscribed as a cultural site protected under the city in 1963, under the province in 1982, and under the state in 2006 with numerous historical sites and rich human landscapes.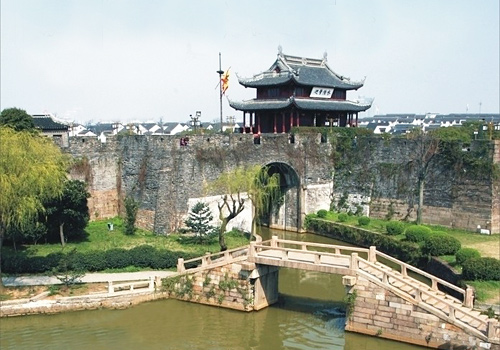 According to historical records, Panmen, or Pan Gate, built in 514, was one of the eight gates of the capital of Wu Kingdom. The present gate was constructed in 1351 during Yuan Dynasty (1206-1368) and repaired for several times in later dynasties. As a landmark of the ancient city of Suzhou, Panmen is the only existing ancient parallel city gate for both land and water in China. To carry forward the history and culture of Suzhou, main architectures in Panman Scenery Area, such as ancient city wall, Ruiguang Pagoda have been repaired, halls, ancestral temple, ponds, and rockeries are reconstructed, and pavilions, bridges and caves are newly built; the scenery area has been a popular historical and cultural tourist attraction with featured Suzhou style.
What to see in Panmen Scenery Area?
Panmen Scenery Area got its reputation for 3 Scenes, the unique ancient Pan Gate, the prestigious Ruiguang ancient Tower and the famed ancient Wumen Bridge.
Pan Gate is the only existing ancient parallel city gate for both land and water in China, which is provided with great historical and cultural values. The gate is consists of double arch gates and a water gate running through between the land gates; the design was a pioneering work in ancient architecture which is a tailor-made one for considerate combat readiness and flood control. The existing city wall today is over 300 m long and over 5 m high. On the top of the city wall, it offers a full view of the entire gate and the structure; crenellations, gun perforations, cannon holes, water-gate, and courtyard for fireproofing are all visible.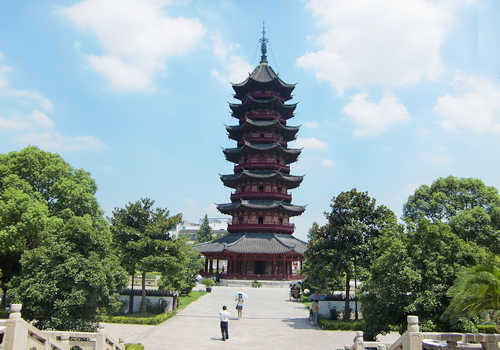 Ruiguang Pagoda is a timber structure one in octahedral with 7 storeys and a height of 53.57 m. In 1978, precious cultural relics of national grade were found in the third storey in the pagoda, stupa, treasured sutras, bronze Buddhist pagodas, bronze Buddhas, etc. Tradition has it that the pagoda was built in 247 during the Three Kingdoms (220-280) by Sun Quan, the king of Wu Kingdom, for his mother. It should be the earliest Buddhist pagoda in Suzhou. The present pagoda was rebuilt in 1004; unfortunately, it was destroyed in Qing Dynasty with only the body being saved.
Wumen Bridge, or Wu Gate Bridge, is the highest ancient stone arch bridge existing in Suzhou. It was originally built in 1084 during Northern Song Dynasty (960-1127), and has been reconstructed to be a single-arched one from a triple-arched one in Qing Dynasty (1644-1911) with Suzhou granites mixed with some Wukang Stone left by the previous bridge. The bridge is 66.3 m long, 4.8 m wide and 16 m wide for the arch.
Quick Questions
Our team is waiting for your questions. Please feel free to ask us any questions you might have about our China package tours, Chinese culture, or the sites available. We will gladly help you with any special needs you might have and all questions, like our trip designing is completely free of charge.