Rock Climbing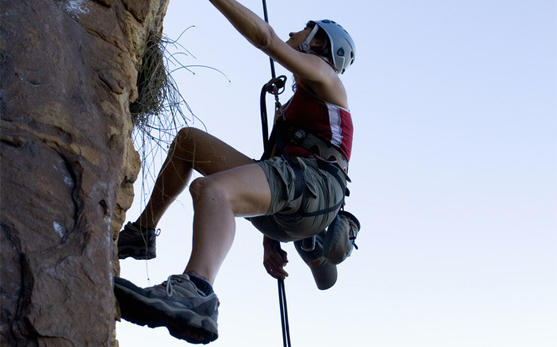 Yangshuo, a "World Village" famous for its fairy-like karst landscape, is more than that and China's renowned rock climbing holy land. In Yangshuo, you can see rock climbing fans with different skin tones riding bikes with climbing equipment swaggering through the street, and heading for wild climbing fields; in the street, you can find many climbing clubs providing tourists with climbing guide services, and professional climbers with equipment and information service. Rock climbing is always a beautiful scenery line of Yangshuo tourism, and delight praised by people who have been here.
Located in northern Guangxi, Yangshuo is the typical southern karst landform with peculiar limestone peaks rising abruptly out of the ground. Isolated peaks and cliffs are standing in great number. Thanks for long-term weathering and abundant rainfall, rock tunnels and holes are solid and clean. Suitable rock climbing sites can be found everywhere.
Developing for years, now rock climbing fields and routes in Yangshuo are quite of mature, and have reached to the national top level in terms of both quantity and quality. At present, it has more than 900 rock climbing routes including over 100 with bolts, covering all levels. The annual Yangshuo Climbing Festival held usually in autumn or winter is also the top class in China even in Asia; it attracts numerous climbing fans every year.
If you are interested in rock climbing, or have enough time for something in Yangshuo, to find a professional climbing club and book a matched climbing activity according to your condition could glorify your Yangshuo tour and make it memorable.
Yangshuo's most popular climbing routes are Moon Hill, Big Banyan Tree, Thumb Hill, Middle Finger Hill, Golden Cat Cave, Bottle Hill, Cooper Door Hill, and Butterfly Spring.
Read more about Yangshuo's Rock Climbing
Rock climbing in Yangshuo
Yangshuo tours with the chance of rock climbing
3 Days Guilin Tour
4 Days Guilin & Yangshuo Tour
4 days Guilin Side Trip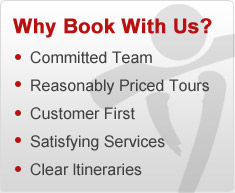 Design your own tour with our help to meet your unique interests. You don't have to compromise. Do exactly what you want to do! Let us assist you to tailor-make your own China experience.

What Our Customers Say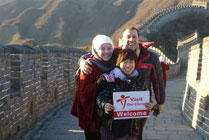 I hope this letter finds you well. We finally arrived home from our trip last Thursday the 17th. As promised I am writing to you about our experience in China and we thank you very much for your organizing. On the whole we had a wonderful time and were very well looked after...
Read more testimonials...