Recommended Tours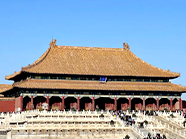 Destination: Beijing Xi'an Luoyang Nanjing
Features: Beijing, Xian, Luoyang, Nanjing are the four most famous historic and cultural cities of China. They served as the capital cities for different dynasties in the long history of 5,000 years. With rich relics, beautiful legends and natural sceneries as well, you will discover the most splendid historical wonders, Buddhism temples and ancient architectures in China. Experience the emperors' royal life in palace and bring you some regal Luck!
About Us
Visit Our China, a leading online travel operator in China with more than twenty years of professional travel service. Detail...
Custom Service & Affordable Private tour
All of Chinese Festival Tours are Custom Tours. You will have your own private Travel Consultant who will help you arrange the perfect tour itinerary for free.
Travelers will have their own personal Tour Guide and Driver. The prices for this private tour are affordable.
Tailor-make your own China tour
Contact Us Now!!