Zhangmu Port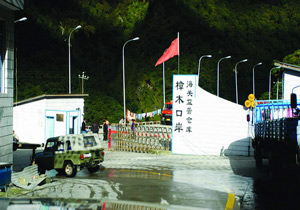 More Photos

Chinese name: 樟木口岸 (Zhang Mu Kou An)
Location: in Zhangmu Town, at the southern foot of the central section of the Himalayas, on the China-Nepal border, 736km to Lhasa and 120km to Katmandu, the capital of Nepal, Shigatse, Tibet.
Opening time: all day long.
Ticket: free.
Transportation:
- A coach departs from Lhasa to Zhangmu every Tuesday, and returns to Lhasa every Thursday;
- Shuttle buses runs between Shigatse and Zhangmu everyday.
Accommodation: in Zhangmu, many 2-star hotels are available selling about CNY200 in shoulder season; many inns are also found her but not open to foreign travelers.
Food: there are eating houses in Zhangmu, mainly operating Northeast cuisines and Sichuan cuisines.
Attention: Anyone wants to get in Zhangmu, no matter Chinese or foreigners, need apply a permit in advance.
Introduction to Zhangmu Town and Zhangmu Port
Zhangmu, landed on the slopes of a cleugh at the southern slope of Himalaya Mountains, is a small town leaning on the mountain and standing about 2400 meters high above the sea level. With graceful natural environment, it has about 3000 permanent resident population including over 1000 Tibet Sherpas, more than 20 foreign trade companies and about 1000 daily floating people.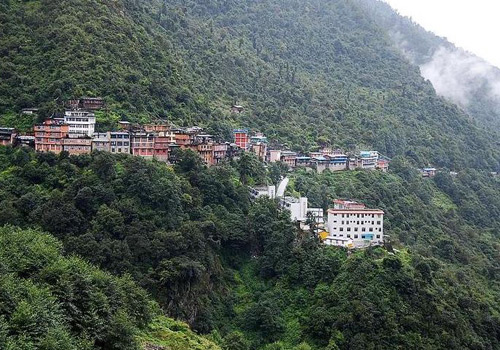 The Zhangmu Port of Zhangmu Town, borders Nepal in the east, south and west, is the throat of the Sino-Nepal Friendship Highway with 736 km to Tibet capital Lhasa and 120 km to Nepal capital Katmandu. It is the only national first-class land route treaty port in Tibet, the main passage for political, economical and cultural changes between China and Nepal, and China's largest open port leading to the South Asian Subcontinent. The expedite transportation and favorable geographic location brings trade flourishing to Zhangmu Town with an annual trading volume being over CNY 0.2 billion. Zhangmu has a pleasant climate, a 1700-meter-long Friendship Bridge, completed infrastructural facilities and a perfect administration of customs, banks, Industry and Commerce, Joint Inspection, and Public Security.
Zhangmu features
Covering 70 square kilometers, Zhangmu enjoys subtropical marine climate with mild weather and is spring all the year round. As a town built leaning on the mountain slops, Zhangmu town has many a street turning, all the houses are decorated at liberty, strewn at random discretion and close to each other layer by layer. Most house tops are decorated with little gardens, iron sheet roofs, Wind and Horse Flags (a kind of sacrifice flag in Tibet), and Fortune Trees. The bright colors are strikingly embraced in the green mountains and white clouds. The most noticeable in Zhangmu is undoubtedly the villa-like houses building with red bricks. All these occidental buildings are private dwellings of Zhangmu people, in the ground floor of them are all shops selling a large range of commodities from India and Nepal, like perfumes, dressing cases, kinds of textures, as well as domestic toys, clothing and shoes.
The economic growth and the free market in Zhangmu Port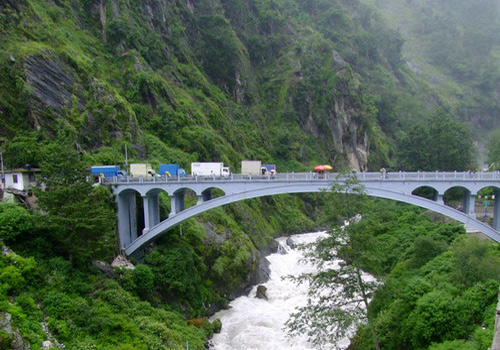 In the past, Zhangmu Town lived on agriculture and animal husbandry with a slow economic growth. After the opening of the Zhangmu Port, most households in the town are engaged in the busy border trades; for over 10 years, the local economy and living standard are both enhanced; some families buy cars and more households build new houses. The prosperity of the port also attracts traders out-of-town from both home and abroad. There are Tibetans, Han people, Indians and Nepalese. Among the 300 commercial units, more than 40 are operated by Nepalese. The imported goods are rice, flour, chili and perfume, and exported goods are wool, tea leaf, salt and Tibetan medicine.
Zhangmu Port enjoys an exceptional policy differs from other China ports; from the customs office to the Friendship Bridge on the Sino-Nepal border, there are still 8.7 kilometers Chinese territory; so people often pass the customs but not go abroad and foreigners can enter China without passing the customs in the area. With the agreement which concluded by both governments, people living on the frontiers can in-and-out freely within 30 square kilometers on the border. With a later coordination, two governments even built a free market at the bridgehead of Friendship Bridge in that area. At first, the market only open on Saturdays in China time (the Sundays in Nepal time), while now, it develops quickly to be a market almost open every day.
Attractions in Zhangmu Town
Only 120 km to Katmandu, Zhangmu serves a convenient entry to Tibet for many overseas tourists. In Zhangmu, there are the 14th highest peak in the world, the Shishapangma, dense primeval forests, fancy glaciers, dozens of lakes and many a places of interests. The most amazing scenery falls in Qingbu Valley. Folk proverb goes that the mountain has landscapes of four seasons and different scenes in every 10 miles. Here is the most typical site for interdependent communities of biosphere. On the areas with an altitude over 4000 meters, there are beautiful birches and showy azalea everywhere.
Quick Questions
Our team is waiting for your questions. Please feel free to ask us any questions you might have about our China package tours, Chinese culture, or the sites available. We will gladly help you with any special needs you might have and all questions, like our trip designing is completely free of charge.