Yomdrok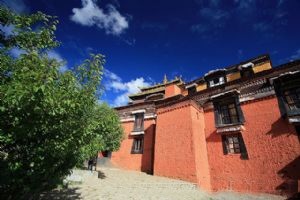 More Photos

Chinese name: 羊卓雍措 (Yang Zhuo Yong Cuo)
Location: In Nagarzê County, Lhoka Prefecture, along the highway between Lhasa and Gyantse, around 108 km southwest of Lhasa, Tibet.
Opening time: all day long.
Ticket: 40yuan and you have to pay at the top of Gambar.
How to get there: It is highly recommended that you join a tourist group or hire a jeep ( aroung CNY1000 per day), because there are few buses to and you may have acute altitude sickness. Departs from Lhasa: after crossing the Quxu Bridge (Yarlung Zangbo River Bridge, 曲水大桥), turn right, after 30 km's drive cross the Ganpa Pass, and you will see the Yamdrok Yumtso Lake. It is a two or three hours's drive from Lahsa to the lake.
Best time to visit: June- August.
Tips: Guesthouses and restaurants are available atNangartseTown, which is about 10 kilometers to the west of the lake.
Brief introduction to Yamdrok Yumtso Lake
Located about 70 km from Lhasa, on the road to Shigatse, Yamdrok Yumtso Lake is one of three holy lakes of Tibet and the other two are Namtso Lake and Lake Manasorovar. Yamdrok Yumtso is the largest inland lake in south Tibet. The drive to Lake Yamdrok crosses the Gampa Pass (甘巴拉山口) which is 5,030 meters above sea level and then goes along lakeshore which snakes 250 kilometers with numerous bays and inlets. The lake is so winding that only the satellite map can tell us that it is just like an emerald eardrop embedded in the mountains. Yamdrok Lake is surrounded by snowy mountains such as Noijinkangsang (宁金抗沙峰), which rises 7206 meters above sea level at the west of the lake and is one of four holy mountains of Tibet. The magnificent Karula Glacier (卡若拉冰川), a hanging glacier can be viewed at close range. Yamdrok also has the famous Samding Monastery (桑顶寺) to the south of the lake, the sole Tibetan monastery headed by a female re-incarnation. In addition, at the western end of the lake, the Yamdrok Power Station has been put into use, being the largest in Tibet.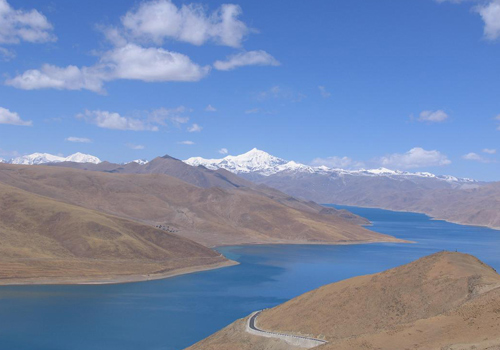 Detailed information about the lake
With an altitude of 4,410 meters, the sacred lake has turquoise waters covering an area of 639 square kilometers. The lake is dotted with 21 islets, the largest being 18 square kilometers. The furthest depth of the lake is 40 meters. Some two million years ago, the Himalaya Orogeny caused ground subsidence and Yamdrok Yumtso Lake was formed because of glacial action. It is a salt lake with low concentration. It freezes in winter from mid-November. The ice thickness reaches to 0.5 meters. Yamdrok is also a natural fish base that abounds in various kinds of fish which is estimated to amount to 200 to 300 million kilograms. It is also home to a great many birds such as swan, egret, sandpiper, etc.
Holiness of Yamdrok Yumtso Lake
Yamdrok Lake is revered as a holy lake as it is thought to be divinatory. Both Banchan Lama and common villagers make pilgrimage to Yamdrok Lake. Prayer's flags can be seen waving in the sky. After the Parinirvana of Panchen, high-ranking monks and laymen are responsible for search of reincarnated soul boy. The first step is to invite incarnated lama and wizard to point out the direction of where the reincarnation is located. The second step is praying and chanting around the Yamdrok Yumtso Lake and putting hada, aquarius and spices into the lake. Then the celebrant will find "sign" showing the direction. If the directions coincide, they will dispatch troops to find reincarnated soul boy in the direction. Devout Buddhists make pilgrimage around Yamdrok Yumtso Lake every year. Riding a house around the lake takes around one month. They hope Buddha bless them during the year.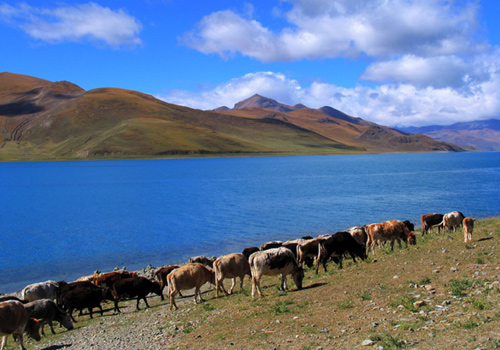 Noijinkangsang and Karula Glacier


Yamdrok is separated from Yarlung Zangbo River by La-track Kangri Mountain (拉轨岗日山) which undulates more than 360 kilometers. Its main peak, Noijinkangsang (宁金抗沙峰) is 7206 meters above sea level and located at the intersection of Gyangze and Nagarze. Noijinkangsang is next to more than ten mountains rising 6000 meters above sea level. It is one of four famous snowy mountains in central Tibet. As many as 160 glaciers developed out of year-round snowy mountains. Karula Glacier is the largest one and covers 9.6 square meters at the southern foot of Noijinkangsang. It is no more than 300 km away from the highway. A short walk rewards tourists with a closer view of such a magnificent hanging glacier. No one can resist the temptation.
Quick Questions
Our team is waiting for your questions. Please feel free to ask us any questions you might have about our China package tours, Chinese culture, or the sites available. We will gladly help you with any special needs you might have and all questions, like our trip designing is completely free of charge.