Shalu Monastery (Schalu Kloster)

More Photos

Chinese name: 夏鲁寺 (Xia Lu Si)
Location: in the southeast of Shigatse of Tibet Autonomous Region.
Ticket: CNY40
Opening time: 09:00-17:30
How to get there: take buses at Shanghai Zhonglu Coach Station (上海中路客运站,Middle Shanghai Road)
Best time to visit: all year round
Introduction to Shalu Monastery
Shalu Monastery (also known as Schalu Kloster), 20 kilometers southeast of Shigatse in Tibet Autonomous Region, is one of precious culture relic sites in China. The monastery dates back to the 11th century and was original built in 1040 by Chetsun Sherab Jungnay, who is an excellent Buddhism scriptures scholar. It is said that Shalu Monastery of Tibet Autonomous Region is the first monastery established by noble family in Tsang area. It was getting more and more prominent in the early 14th century and developed as one of great centers of the Sakya tradition. There is a legend for the founding of Shalu Monastery. Chetsun seek advice from his teacher Lhodain Dorje Wangqug for a suitable location for building a monastery. His teacher shot his cane as an arrow and hit a new bud. And then the Shalu Monastery was founded here. In Tibetan Language, "Shalu" stands for "new bud". This is where the name "Shalu" derives from.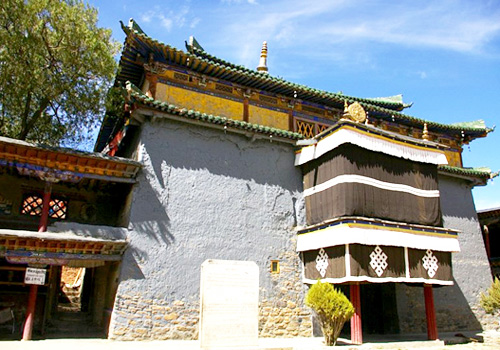 Brief History
The original Shalu Monastery of Tibet Autonomous Region was established in 1040 A.D. by Chetsun Sherab Jungnay. It has remained a decade-long period of prosperity in the early fourteenth century (1290-1364). The number of monks has been rise to 3,000 in its heyday. It was damaged in 1329 because of an earthquake. Under the support by emperor from Yuan Dynasty (1206-1368), Shalu Monastery was rebuilt in 1333 by Master Purdain Renqen Zhuba with the help of inland Han craftsmen. The rebuilt monastery is characterized by the fantastic mixture of Han and Tibetan architectural style. Buton Rinpoche, the great scholar and administer, has collected one hundred and eight volumes of Buddhism texts and two hundred volumes of "treaties and commentaries". At the same time, about 4,569 religious and philosophical works and Buddhist scriptures were placed in categories. With the great contribution by Buton Rinpoche, Shalu Monastery has been evolved into one of the most important centers of esoteric studies and psychic training in Tibet. However, Shalu Monastery was losing its grip in this field and was replaced by another monastery in Tibet during the time of 1800s. The Monastery has fallen into disrepair and was crumbling at last. Time wore away and it has been forgotten gradually. In spite of this, the murals on the outer wall and the main building with damaged glazed roof tiles shed obviously light on the history of Shalu Monastery and cultural exchanges between Han and Tibetan nationalities long time ago. With huge investment by Chinese government, Shalu Monastery has been re-established and well improved for two times (in 1981 and 1989) after liberation and was formally opened to all visitors and religious worshipers.
Main Hall of Shalu Monastery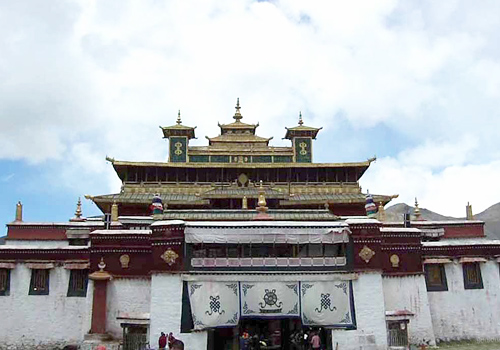 It is renowned for the distinctive architectural style ---the unique blending of Tibetan and inland Han architectural designs. Most of relics are survived from Ming Dynasty (1368-1644) and form a graceful architectural complex of ancient temple. The main hall Shalu Lakhang is in the middle of monastery. It is a double-eaved temple. Although the total area is 1,500 square meters with only 2-storey, not particular huge in the size, the delicate statues, various murals, exquisite ancient art objects on the walls are remarkable. Entering from the gate, visitors can encounter a large square with four Chinese-style tiled roofs. Statues of Sakyamuni and Buton are emplaced here. Unlike the first story, the second story was designed to incorporate elements of classical Chinese architecture and interior decoration. It is divided into 4 sections including front hall, back hall, left hall and right hall. Crowned by roofs with upswept eaves, the four halls look simple and antique. The refined roofs are supported by ornamental brackets, such as vivid Painting of Maids, lions, tigers and flowers. Thousand Buddha are exhibited all over the wall in the cloister. And, paintings about the tales of Buddhism are enshrined on the outer wall. The impressive wall paintings absorb the essence from Nepalese and Indian art styles. The layout of Shalu Monastery is fascinating mixture of the Han and Tibetan cultures and arts.
Side Hall of Shalu Monastery
Many old wall paintings in the side hall have been renovated and well protected. It is distinguished for its various paintings themes, superb crafting technique and lively pictures. Meanwhile, the painting style is similar to that of Yuan Dynasty (1271-1368). For example, the paintings of Bodhisattva are excellent and typical works for Shalu Monastery. Gorgeous costumes, dazzling crown on the head, precious stones on the neck, delicate bangles on the wrists, a piece of long brocade cloth covering over the back of the shoulders, the Bodhisattva looks calm in a refined, beautiful and androgynous style. The Bodhisattva compromises the merits of Han and Tibetan styles and features a unique style. Visitors have excellent opportunities for appreciate a fabulous collection of cultural relics in the monastery.
Four Treasures in Shalu Monastery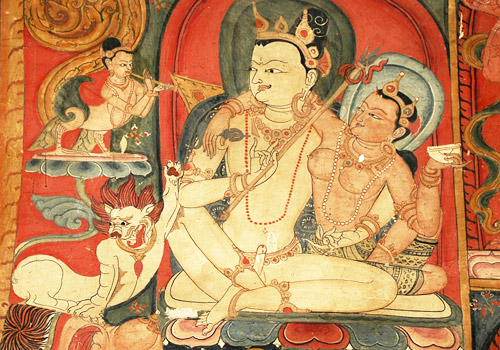 Due to the four valuable treasures, Shalu Monastery is enveloped in a shroud of mystery. A huge stone basin stands beside the entrance and is regarded as the washbasin of Chetsun Sherab Jungnay, the founder of the Shalu Monastery. It is said that the water in the stone basin never overflows. In front of the hall, a stone slate with white and black sides is engraved a mantra "om mani Padme Hum" and four dagoba at the corners. A brass urn, which serves as a vessel for holy water, is sealed by a piece of red cloth. Reckoned as the purest water in the world, the holy water is changed every 12 years and may cure 108 diseases and clean 108 filths according to the legend. The sutra board, which is created by Buton Rinpoche, has a history of more than 700 years. Legend has it that the sutra board is indestructible for thousands of years unless breaking away.
Quick Questions
Our team is waiting for you questions. Please feel free to ask us any questions you might have about our China package tours, Chinese culture, or the sites available. We will gladly help you with any special needs you might have and all questions, like our trip designing is completely free of charge.