Sakya Monastery

More Photos

Chinese name: 萨迦寺
Location: in ancient town of Sajia, 130km away from Shigatse, Tibet Autonomous Region, China.
Opening time: 09:00-18:00
Ticket: CNY50
How to get there: Shigatse Bus Station (on Middle Liberation Road) has regular buses (08:30, 11:30, 15:30, CNY50/60, 150km, 3hr) daily to Sajia, which return to Shigatse the next day at the Sajia Hotel.
Best time to visit Sakya Monastery: all the year around
Recommended time for a visit: 3 hours
Brief introduction to Sakya Monastery


Located in the ancient town of Sajia, Sakya Monastery is seat of Sakyapa, one of four major sects of Tibetan Buddhism. Sakya means "gray white earth". The walls of Sakya Monastery are unusually painted in red, white, and black which give Sakya the name "Flower Religion". According to Sakya, red symbolizes Manjusri, white Avalokitesvara, and black Vajrasattva. Sakya Monastery is dubbed as "the Second Dunhuang" as it contains myriad invaluable relics such as resplendent and tall Buddha statues, colorful frescoes, and countless Buddhist scriptures. There are more than 3000 frescos found in Sakya Monastery. Frescos of Yuan Dynasty alone take up nearly ten thousand square meters, most of which depict the first Sakya Trizin and Mandala. As many as 88,000 Buddhist scriptures were sealed up into a wall behind the main hall, which measures 57.2 meters long and 11 meters high. Over 2800 are palm leaf manuscripts of Yuan and Ming dynasties originated from India. Sakya Monastery also has the world's biggest sutra which is 1.8 meters long, 1.3 meters wide and 0.67 meters thick and covers Tibet's religion, history, philosophy, literature, agriculture, and so on.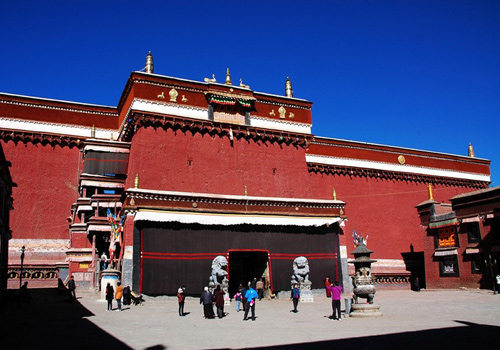 Detailed information about Sakya Monastery


Sakya Monastery in history once had two parts. The northern and southern monasteries are on either side of Trum River. The northern monastery built in 1073 by Khon Kongchog Galpo, the founder of Sakyapa, was destroyed Chinese Red Army during Cultural Revolution (1966-1976). The southern one was built in 1268 by the fifth the first Sakya Trizin and fortunately survived. It is located on a flat terrain on the south bank of a river. Built in a square-shape, it is enclosed by solid walls, four towers and turrets. Outside the walls is a moat. The Main Assembly Hall covers an area of 5777 square meters.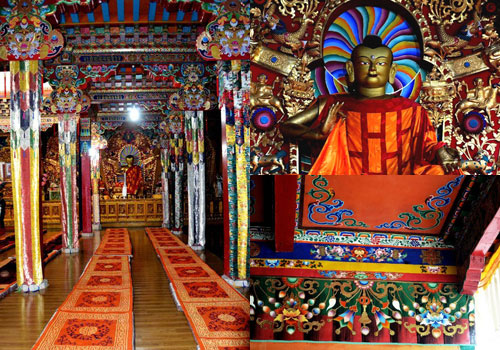 The main hall is supported by 40 huge red varnished columns. Four famous columns are made of cypress in a diameter of 1.5 meters, each having a fairy tale. The Yuan Emperor Column is said to be granted by Kublai, the fifth emperor of Yuan Dynasty; the Fierce Tiger Column is said to be carried there by a tiger. The Wild Ox Column is said to be carried there by a wild yak with its horn. Black Blood Column is said to be gifted by Sea God. The main hall is 10 meters high, which can hold ten thousand lamas chanting and enshrines Buddhas of Three Periods, Sakya Pandita, and Phags-pa Lama. Another important hall has 11 stupas of Sakya Trizin and is intricately adorned with portraits of Phags-pa Lama and frescos depicting construction of Sakya Monastery.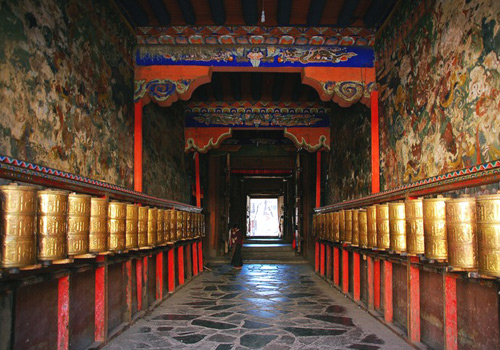 About Sakya


The hierarch of Sakyapa is hereditary. Therefore, hierarchs can get married and have children. After the death of Khon Kongchog Galpo, his son became the hierarch of Sakya Monastery. The current Sakya Trizin now lives in Dehra Dun, an eastern city of India. He is married and has two sons. His younger son is the director of the Sakya Monastery constructed in India.
Quick Questions
Our team is waiting for your questions. Please feel free to ask us any questions you might have about our China package tours, Chinese culture, or the sites available. We will gladly help you with any special needs you might have and all questions, like our trip designing is completely free of charge.