Rongbuk Monastery

Chinese name: 绒布寺 (Rong Bu Si)
Location: by the foot of Rongbuk Glacier at 5100 meters above sea level, Bassong Township, Tingri County, Shigatse, Tibet.
Price: CNY35
How to get there: The way for foreign travelers to enter Tibet is booking a Tibet tour or a China tour containing Tibet with a Chinese travel agent in advance.
Introduction to Rongbuk Monastery
5100 meters (16700 feet) above the sea level, Rongbuk Monastery gained its fame as the highest religious building in the world as well as one of the highest-elevation settlements and overall structures ever built, making it a site with perfect landscape especially for the Himalayas. Rongbuk is a Buddhist monastery of the Nyingma sect built in 1902 by a Nyingmapa Lama, also known as the Zatul Rinpoche, who often provided protections and supplies for early climbers though were regarded as heretics. The monastery once housed about 500 monks and nuns but now there are only dozens of monks and nuns.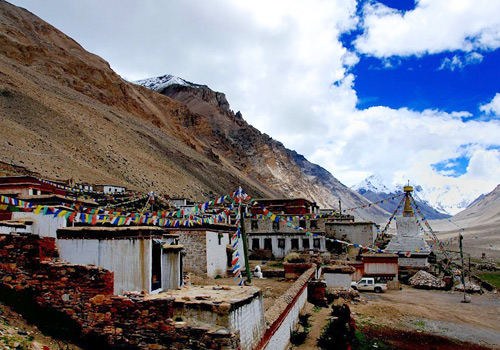 Built at the hillside, the Rongbuk Monastery possesses five storeys, only two of which are used today. The founding Lama built this monastery at such a height for the tranquility, which is disturbed in some extent by visitors nowadays but the monastery was still ranked on the top of CNN's 'Great Places to be a Recluse' in 2011. A Sakyamuni and a Padmasambhava are enshrined in the main hall of the Rongbuk and monks and nuns celebrate Buddhist activities together during the key Buddhist dates. Murals in the monastery are quite exquisite and certainly worth a visit. In front of the monastery and nearby the white tower, there is a large round terraced chorten, the Mani Group (piled up with stones) containing a reliquary.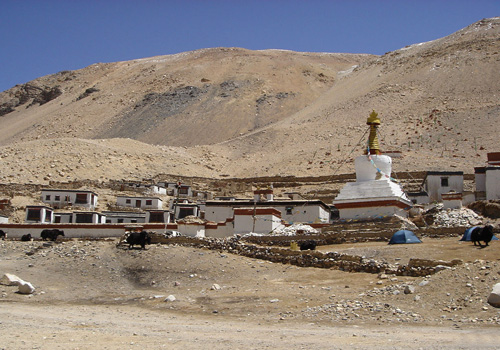 Visitors particularly climbers come to Rongbuk Monastery for the imposing Mount Everest. They must pass through Rongbuk to reach the highest peak of Mt. Everest via the north face, and the north Everest Base Camp is only 10 km away from the monastery. Rongbuk has been described by some previous visitors as having some of the most dramatic views with presented panorama of the Shishapangma, Mount Everest, Cho Oyu and Gyachung Kang peaks even live in the guesthouse of the Rongbuk. It is the early in the morning that the most splendid landscapes can be enjoyed.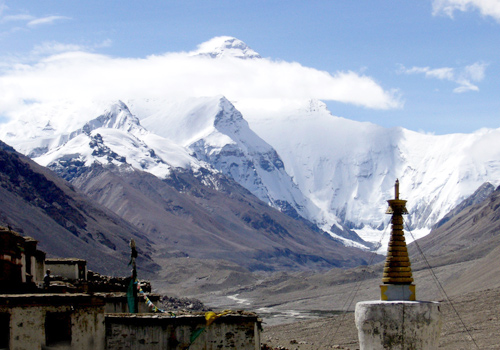 Travel tips:
1. There is a guesthouse in the monastery, providing over 100 beds in about 30 rooms. Though small with simple and crude equipment, it is clean and cosy.
2. Nearby the monastery gate, there is a eatery with food and beer operated by a Tibetan fellow who can speak a little bit English about dishes and bargin.
3. The vicinal Mount Everest is the greatest appeal for many visitors come to Rongbuk, and it is said that this monastery is the best site to watch the peak. It is only 10 km away from the Everest Base Camp, just need a 15-minitue-drive or 2-hour-walk to get there.