Palkhor Monastery

More Photos
(Also known as Pelkor Chode Monastery)

Chinese name: 白居寺
Location: at the northeast of Gyantse County, 100 km east of Shigatse, 230 km south of Lhasa Tibet Autonomous Region, China.
Opening time: 09:00-19:00
Ticket: CNY60 (Chode Monastery and Kumbum Stupa); CNY10 is expected for entering Kumbum Stupa with camera.
How to get there: Shigatse bus station on Shanghai Middle Road has hourly bus (CNY20, 08:30-19:00) daily to Gyangze County. Then the monastery is just minutes away.
Best time to visit: June - August
Tips: Light in Kumbum Stupa is dim, so you'd better not use flashlight when you take photos for murals and sculptures. A good way is using time exposure and a tripod.

Brief introduction to Kumbum Stupa & Palkhor Monastery

No trip to Gyantse would be complete without a visit to Pelkor Chode Monastery. Pelkor Chode Monastery is located in the northeast of Gyantse at 3900 meters above sea level. Pelkor Chode Monastery, or rather Palcho Monastery in Tibetan language means "auspicious monastery". It was first built in early 15th century and took 10 years to complete. Because it was built when different religious sectors conflicted neck and neck in Tibet, Sakyapa, Kadampa and Gelukpa of Tibetan Buddhism coexist in it. Each religious sector has five to six "Dratsang" (schools) in the monastery. Pelkor Chode Monastery occupies a stunning position in the history of Tibetan Buddhism. It features a mixture of pagoda and monastery, whose architectural style reflects the typical feature of monasteries in between late 13th century and mid 15th century. The most symbolic architecture in the monastery is the Kumbum Stupa, which is composed of nine layers of nearly 77 temple halls with a total of 10,000 Buddha statues in halls, niches and on murals, hence the nickname "Ten Thousand Stupa". Palkhor Monastery is also noted for its distinctive sculptures and murals.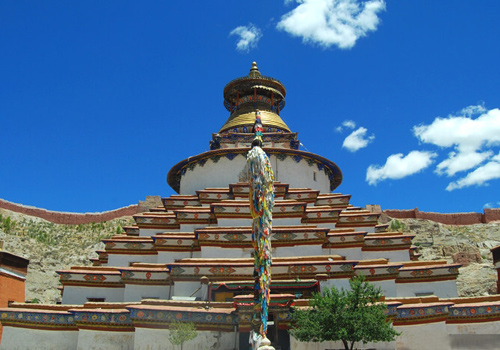 What to see in Palkhor Monastery?


- Kumbum Stupa


Kumbum Stupa is a must-see site when you are in Kumbum Stupa. It is hailed as the "king of pogoda". The 32-meter-tall pagoda is nine-storey with almost 77 temple halls, 108 gates, niches and sutra halls. Apart from admiring the massive murals there is also much to see, such as its various clay, bronze, and golden Buddha statues. Kumbum Stupa counts as a museum of Buddha statues.


- Main temple


The main temple of the monastery is called Tsulaklakang, a three-storey building, in which colorful silk Thankas of Arhats are hanging in windows, yak butter lanterns illuminates the rear part of the temple and bronze statue of Sakyamuni is enshrined in the center. The second floor has two side halls enshrining lifelike and varied clay sculptures of Manjuist and Arhats. Over 100 costumes of Tibetan opera are made of silk fabrics such as tapestry, embroidery and brocade introduced from inland China of Ming and Qing dynasties.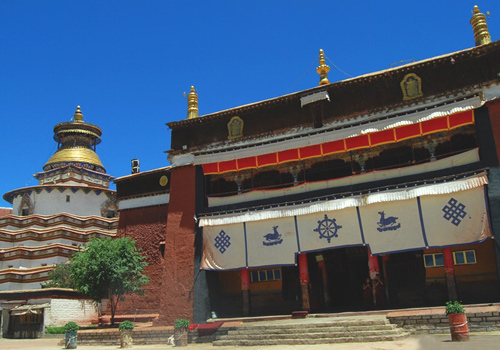 - Murals


Another famous item in Pelkor Chode Monastery is its murals, which manifest different aspects of Buddhist religion, such as Esoteric and Exoteric Buddhism, story of Buddha, Bunsen. Backlight is the most prominent ornamental element of frescos, which consists of light on head and light on body. Boat-shaped, niche-shaped, oval and U-shaped backlights are widely used in decorating frescos, which exude sense of solemn and grace.


Festivals in Pelkor Chode Monastery

Saka Dawa Festival is held annually in the fifth day of the fourth month in Tibetan lunar calendar to commemorate the completion of Kumbum Stupa, as well as mark the birth and nirvana of Sakyamuni. During the day, 500 lamas perform chanting in the monastery and thousands of pilgrims attend the ceremony.
Quick Questions
Our team is waiting for your questions. Please feel free to ask us any questions you might have about our China package tours, Chinese culture, or the sites available. We will gladly help you with any special needs you might have and all questions, like our trip designing is completely free of charge.