Splendid China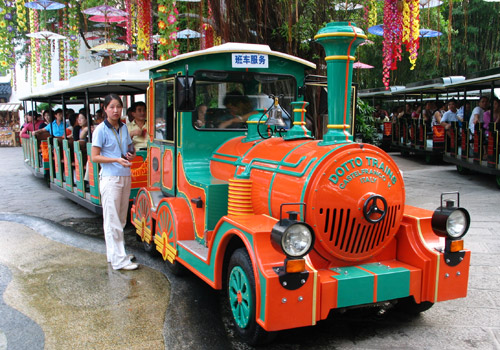 More Photos

Chinese name: 锦绣中华 (Jin Xiu Zhong Hua).
Location: at Overseas Chinese Town, Shenzhen City, Guangdong Province.
Entrance fee: CNY130.
Opening time:
- Splendid China area: 10:00-18:00;
- Cultural Village area: 10:00-21:00.
(Remark: It will be opened at 09:00 at festivals and holidays.)
How to get there: take bus No.101, 109, 204, 209, 223, 301, 423,439 or 450 and debus at Hua Qiao Cheng Zhan (华侨城站, Overseas Chinese Town Station).
Brief Introduction to Splendid China
Located in the Overseas Chinese Town by Shenzhen Bay, the Splendid China covering some 300,000 square meters is the largest tourist site with abundant imitated miniature scenic spots in China. The whole site of Splendid China is divided to be main sightseeing area and integrated service area. With "Learning Chinese history by one step and touring China within one day" as its slogan, 82 famous attractions of the country, most of which are made in the proportion of 1:15, are set up in accordance with the originals' positions on the Chinese map.
All the imitated scenic spots can be roughly classified to be three categories, namely, historic buildings, natural landscapes, folk dwellings and customs, among which more than fifty thousand mini ceramic figures scatter, vividly re-presenting the scenes of emperors sacrificing to the Heaven, the wedding of Emperor Guangxv, the fiesta at Confucius Temple, and so on.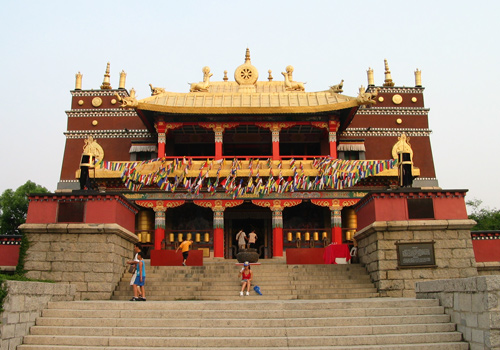 Imitated Attractions in Splendid China
1. Historic Buildings
Foshan Ancestral Temple, Matsu Temple, Shaolin Temple, Shengshou Temple, Hanging Temple, Nancan Temple, Hanshan Temple, Great Mosque, Potala Palace, Wuhou Memorial Temple, Jinci Temple, Ming Tombs, Dr.Sun Yat-sen's Mausoleum, Mausoleum of Yellow Emperor, Zhaojun Tomb, Mausoleum of Genghis Khan, Xiangfei Tomb, Manfeilong Pagodas, Three Pagodas of Chongsheng Temple, Pagoda Forest, Fehong Tower, Songyue Pagoda, Big Wild Goose Pagoda, Pagoda of Buddha's Warrior Attendant, White Pagoda of Miaoying Temple, Twin Towers of Songxing Temple, Wooden Pagoda in Yingxian County, Dufu's Thatched Cottage, Jingzhen Eight-square Pavilion, Tengwang Pavilion, Zhenhai Building, Yellow Crane Tower, Yueyang Tower, Penglai Pavilion, Shanghai Pass, Jiayu Pass, Lugou Bridge, Zhaozhou Bridge, Mogao Grottoes, Longmen Grottoes, Yungang Grottoes, Leshan Giant Buddha, Dazu Rock Carvings, Inscriptions on Precipice Moya, Water Town, Wangshi Garden, Yuanmingyuan Imperial Garden, Summer Resort, Summer Palace, Forbidden City, Imperial Garden, Nine Dragons Screen Wall, Hanging Coffins on Cliffs, Temple of Town's God, Chinese Chime Pavilion, Confucius Temple, Temple of Heaven, Terra Cotta Warriors and Horses, Great Wall, Tree Planting Garden of Celebrities, Memorial Stele of Hong Kong's Returning, Ancient Observatory.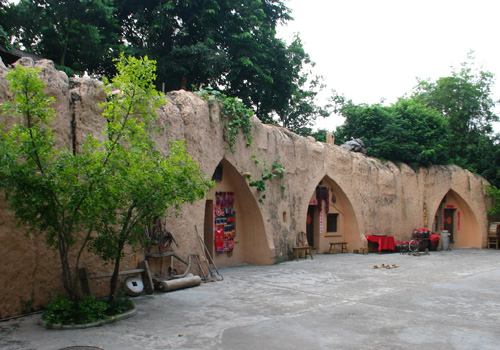 2. Natural Landscapes
Landscape of Li River, Xiqiao Mountain, Five Finger Mountain, Tian Ya Hai Jiao (End of the Earth), Ali Mountain, Yellow Mountain, Tai Mountain, Landscape of Three Gorges of Yangtze River, Huangguoshu Waterfall, West Lake, Slender West Lake, Stone Forest, Seven Star Cave.
3. Folk Dwellings and Customs
Folk Dwellings of Bai People, Village of Tai People, the Hakkas' Earthen building, Drum Tower of Dong People, Wind and Rain Bridge of Dong People, quadrangle dwelling, cave dwelling, Mongolian yurt, and dwellings of some other Chinese ethnic minorities.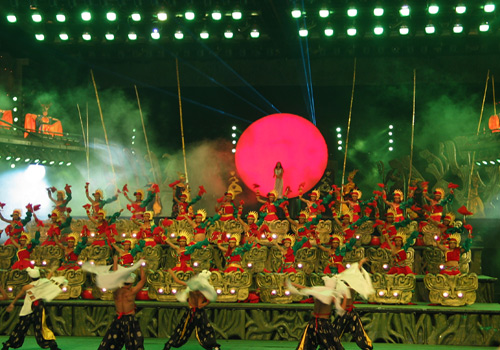 Shows in Splendid China
1. East Nichang (东方霓裳)
Show time: 17:00-18:00.
Arena: Impression China Theater.
Tickets: CNY30 (ordinary seat), CNY80 (VIP seat).
Theme: A large-scale dance drama show featuring various dresses and adornments of Chinese ethnic minorities. It was once performed abroad for many times as a national show.
2. Proud Son of Heaven (金戈王朝)
Show time: 14:00, 16:00.
Arena: Seaside stud-farm.
Tickets: free at ordinary days & CNY20 at important festivals and holidays.
Theme: This is a large-scale live-action show based on historical facts tells the story of Nurhaci, an important Jurchen chieftain, who rose to prominence in the late sixteenth century in Manchuria. The real horsemanship perform by professional typecast actors will replay how Nurhaci defeated his 400,000 enemies with his 40,000 soldiers by virtue of his velour and vigor.
3. Dragon & Phoenix in China (龙凤舞中华)
Show time: 19:30-20:30.
Arena: Phoenix Square.
Tickets: free for ordinary seats & CNY50 for a VIP seat at ordinary days; CNY20 for an ordinary seat & CNY50 for a VIP seat at important festivals and holidays.
Theme: This is an evening performance concentrating the five-thousand-year-old Chinese folk arts, including dances, dramas, unique techniques, athletics, colored-lantern making, folk legends, etc.
Remark: The final prices of the shows are subject to the final announcements of Splendid China.
Quick Questions
Our team is waiting for your questions. Please feel free to ask us any questions you might have about our China package tours, Chinese culture, or the sites available. We will gladly help you with any special needs you might have and all questions, like our trip designing is completely free of charge.