Shenzhen Happy Valley (Happy Kingdom)

More Photos

Chinese name: 深圳欢乐谷 (Shenzhen Huanle Gu).
Location: in Overseas Chinese Town, Shenzhen City, Guangdong Province.
Tickets:
- All-day ticket of Happy Valley: CNY180/person;
- Night ticket of Happy Valley: CNY60/person (valid between 18:30 and 22:00);
- Ticket of Happy Train: CNY40/person;
- Ticket of Happy Valley + Happy Train: CNY200/person.
How to get there:
- By tourist bus No.1 running between Luohu Railway Station and Happy Valley;
- By bus No.20, 21, 26, 32, 42, 43, 54, 59, 66, 70, 72, 78, 79, 90, 96, 99, 101, 109, 113, 123, 204, 209, 210, 222, 223, 232, 234, 245, 301, 310-315, 323, 324, 327, 328, 329, 338, 350, 365, 367, 369, 370, 373, 383, 390, 392, 395, B603, B610, B681, E10, M222, N1, N4, N5, N6, 高峰8号线, 高峰12号线 or 高峰30号线, then debus at Shi Jie Zhi Chuang Zhan (世界之窗站, Window of the World Station) and walk for about 3 minutes to Happy Valley;
- By subway Line 1 (running between 06:30-23:30), get off at the stop of Shi Jie Zhi Chuang Zhan (世界之窗站, Window of the World Station) and leave from Exit A, then walk for about 3 minutes to Happy Valley.
Brief Introduction to Shenzhen Happy Valley
Covering a total area of 350,000 square meters, the Happy Valley in Shenzhen is a modern theme park with maximum investment and most advanced facilities in China. As a national AAAAA tourist site, it has hosted over 30 million visitors from all over the word since its opening in 1998.
The whole Shenzhen Happy Valley is made up of nine entertainment zones on different themes, namely, Spanish Square, Cartoon Town, Adventure Mountain, Happy Island, Gold Mine Town, Shangri-la Wood, Typhoon Bay, Sunshine Coast, and Maya Water Park, with over 100 entertainment items suitable for almost all ages.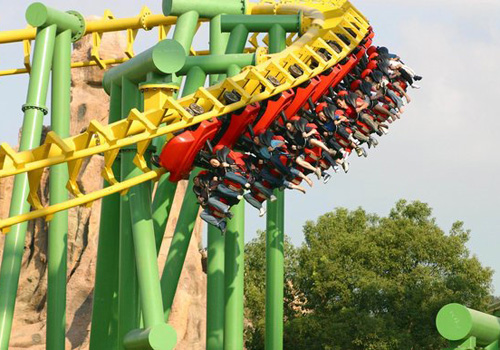 Some Major Theme Zones in Shenzhen happy Valley
1. Spanish Square: The scene on the square is set up in Spanish style and makes visitors feel being travelling along the Mediterranean.
2. Magic Castle: It is the first Asian theme zone themed on magic as well as a paradise of having fun for parents and children. Everything could happen on this land. Come on and start a happy encounter with ant elfs Huanhuan and Lele.
3. Gold Mine Town: Gold prospectors dreaming of making a fortune opened mines, constructed towns and established gambling houses at a small valley in the West of the U.S. more than 200 years ago, there came the Gold Mine Town. However, an unexpected fierce torrent attacked the town and people at this town have to run for their lives…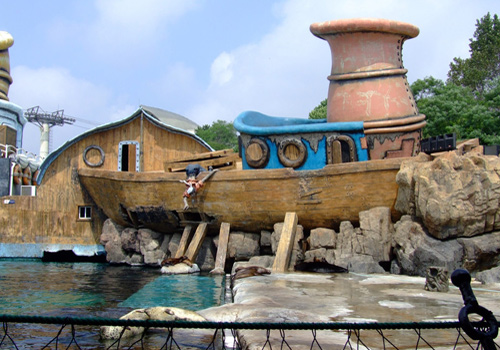 4. Shangri-la Wood & Shangri-la Snow: You can travel through the "primeval jungle" and enjoy yourselves in the "rainforest" in Shangri-la Woo; the Snow was opened at the end of 2010 with the highest catapult-style roller coaster in Asia. Tibetan culture of Shangri-la, discover it here!
5. Sunshine Beach: Sunshine, beach and tropical trees create romantic and leisurely seaside time on this beach. Have a rest in the passageway, strolling along the shore, or building a sand sculpture with your children, it is up to you!
6. Typhoon Bay: Mottled "destroy" caused by "typhoons" and "earthquakes" can be indistinctly found at this ruined Caribbean town, so what would welcome visitor here?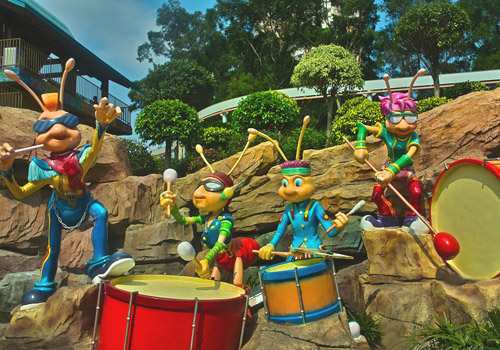 7. Happy Time: A European town once prosperous at the beginning of the twentieth century and a never-end Carnival, it is said that people staying here will forget everything but happiness.
8. Playa Maya Water Park: Opened for free from May to October 7 every year! Original-tasted South American culture and the ingenious facilities for water games will lead you to the mysterious Maya world.
9. Happy Shows: The everyday dozens of splendid performances make Happy Valley a valley of joyousness.
In addition, there are also many other items put on every day such as extreme sports, overhead acrobatics, hip-hop, gorgeous noctilucent parade.
Quick Questions
Our team is waiting for your questions. Please feel free to ask us any questions you might have about our China package tours, Chinese culture, or the sites available. We will gladly help you with any special needs you might have and all questions, like our trip designing is completely free of charge.