Shaoshan Cuisine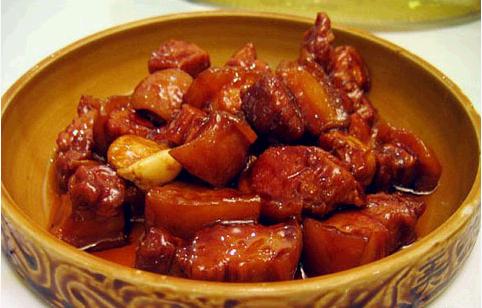 The Mao's cuisine, deriving from Shaoshan, develops itself based on the eating habit of Chairman Mao and is often referred to as the authentic local Hunan cuisine.
Bacon of the town (乡里腊肉)
As one of the traditional food of Shaoshan, it is well known throughout Hunan province. Every winter, residents of Shaoshan will reek the cured meat hanging on the wall. Sometimes, you will find a unique aroma assaulting your nostril in the locals' kitchen. The bacon made in this way looks glistening and tastes soft and fat.
Shaoshan Cray (韶山口味虾)
Shaoshan Cray can be counted as the representative of Hunan snacks. However, it was not often used to be served on the table in that few parts of the cray are edible. Later, it was change into a common dish of people's daily life. And now, eating Shaoshan cray has become a fad in the streets of the city.
Mud fish and tofu of the Mao's (毛氏火培鱼)
This dish is extremely nutritious. Mud fish is rich in more protein, fat, calcium, and vitamins than any other fish, thus being hailed as "ginseng in the water", in the meanwhile, tofu can be conductive to people's health, too. Therefore, cooking mud fish and tofu together will be definitely a wonderful dish!
Braised pork in brown sauce of the Mao's (毛家红烧肉)
Of all dishes in Shaoshan, braised pork in brown sauce can be considered the most distinctive. Most restaurants named after the Mao's around China have this dish as the specialty on their menu. The pork, after being well chopped and added to some sugar and soy sauce, not only looks golden but tastes sweet. It is said that Chairman Mao had a liking for this dish!