Sanya Transportation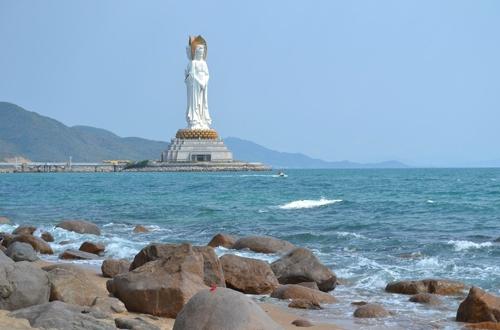 By Air
As the largest airport of the southern part of Hainan province, Sanya Phoenix International Airport has opened flights to Shanghai, Beijing, Tianjin, Guangzhou, Hong Kong, Xi'an, Urumqi, Chongqing, Chengdu, Guiyang, Guilin, Harbin and other 63 domestic and international cities. And citizens of countries which remain diplomatic relations with China can register landing visa with their ordinary passports. Group passengers of certain countries can have fifteen-day visa-free travel.
Shuttle – it leaves for the city in accordance to the flight schedule. You can get on the shuttle at the exits of the airport, but there is no shuttle to the Sanya Phoenix International Airport by now. Generally, it takes you about 45 minutes.
Bus – the No. 8 special bus line is available from the downtown to Sanya Phoenix International Airport.
Taxi – it takes you some 25 minutes to reach the Sanya Phoenix International Airport.
By Train
Sanya railway station is located in Lizhigou (荔枝沟) in the suburb. No. 4 bus can lead you to the railway station. So far there are trains from Sanya to Beijing Xi Railway Station, Shanghai Nan Railway Station, Guangzhou and so forth. In addition, high-speed rail is available between Haikou and Sanya every day. It takes you roughly 90 minutes to 120 minutes.
By Bus
Sanya bus station is located in the bustling hub of the city – No. 16, Jiefang Er Road (解放二路16号). You can take No.2, 4, 7, 10, bus to reach here.
Every day, there are long-distance coaches bound for cities of Hainan province. Special express from Sanya to Haikou is available every twenty minutes, which takes you about more than three hours. Other coaches bound for Guangdong, Guangxi, Hunan, Jiangxi and other provinces are available, too.
By Ship
The most comfortable way to reach Sanya is by ship. Costa Cruise and Star Cruises have launched irregular ships cruising Hong Kong to Sanya to Vietnam. You can get the terminus Phoenix island cruise liners' dock by No. 9 bus.
City Transportation
Taxi – cabs in Sanya are of blue colour. The starting price is 8 yuan (including 2 kilometres), after 2 kilometres, additional 2 yuan for one kilometer.
Bicycle – many hotels and travel service corporations have bicycles rented. You can rent bikes ambling around the city. The lets range from ten yuan to a hundred yuan.
Car – many hotels are offer car renting and service. The price list is always in sight in the lobby for reference. Besides, you can rent car from many companies, where you have to pay 5000 deposits and show your ID card, driving license, and return tickets.
Bus – there are more than ten bus routes in Sanya city; they run often from six in the morning to eleven in the evening. The ticket price ranges from one yuan to four yuan. Apart from that, many hotels have free sightseeing buses leaving for the downtown and many attractions.