Sanya Cuisine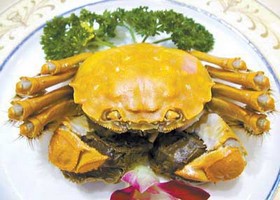 As Sanya is rich in fishery resources with 19 natural bays, it is really a shame if you failed to try seafood whenever you travel in this city. Its seafood is famous for delicate meat and exquisite taste, thus enjoying the reputation of "ecological seafood". So travelers home and abroad often patronize seafood restaurants and try the dainties in person to really appreciate what "tropical town of natural seafood" is. To some extent, it has become a culture in vogue to eat seafood in Sanya city. Most seafood is made by steaming or scalding so as to retain their authentic taste. There are over hundreds of varieties of seafood, among which abalone, sea cucumber, echinoid are the most precious and highly nutritious. What intrigues people most is that they can enjoy food in local Dai pai dong which is faced with sea. Surely, the price is acceptable.
Actually, in Sanya people can find the difference between the north and the south China in terms of food. Southernmost as it is, Sanya collects diverse cuisines around China, Hunan cuisine, northeast dishes, Sichuan cuisine, Cantonese cuisine, just to name a few. If you in Sanya, remember to try the Four Famous Dishes – Wenchang Chicken, Mud Crab, Jiaji Duck and Dongshan Sheep. Besides, such snacks as coco tart, pumpkin pie, rice wrapped with bamboo are must-eat. Its distinctive Muslim restaurants also attract multitudes of people, while its barbeque, which is mainly made of sleeve-fish, conch and other seafood, has developed its own features by collecting different flavours.
Wenchang Chicken (文昌鸡)
Wenchang chicken is the most popular and traditional dish in Hainan province. Known as the first Four Famous Dishes, Wenchang chicken is a must-eat whenever you travel in Hainan. Its silky flesh and special flavour will never disappoint you!
Jiaji Duck (加积鸭)
One of the Four Famous Dishes Jiaji duck was introduced from countries overseas by Hainan-born Chinese citizens residing abroad. Hence, Hainan has a history of more than 150 years of raising Jiaji ducks. The thin skin, tender flesh, and strong flavour drive the folks to pursue it all the time.
Dongshan Mutto (东山羊)
Dongshan mutton, as one of the Four Famous Dishes, is quite special in that what the sheep eat is the rare grass on Dongshan Ridge. The dish is fat but not greasy, and it is nourishing and instrumental in making you beautiful.
Mud Crab (和乐蟹)
The mud crab is fat and golden as if it were a salted duck egg yolk. It is one of the Four Famous Dishes, too. The heyday of the mud crab was in Ming and Qing dynasties when it was a delicacy treated honorable guests. It is rich in protein, fat, carbohydrate and other elements.