Liujiakou Great Wall

More Photos

Chinese name: 刘家口长城 (Liujiakou Changcheng).
Location: about 34 km north of Lulong County, northwest of Qinhuangdao City, Hebei Province.
Built in early Ming Dynasty (1368-1644), Liujiakou Great Wall is the last pass of the Great Wall in Qinhuangdao. Most part of this section is built with raw local stones piled up without cement, which makes it simpler and more fragile than other sections in construction. Heavy weather and factitious sabotage in the past hundreds of years have Liujiakou Great Wall severely destroyed. Add insult to injury, the wall had been also hit by seismic waves of the great Tangshan earthquake in 1976. Besides, more and more hikers' visit to Liujiakou Great Wall is pushing it into a more and more deplorable condition.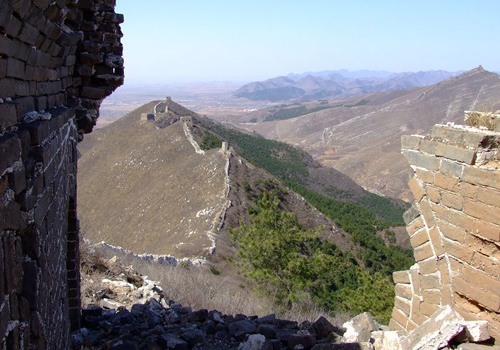 Liujiakou Great Wall locates on a terrain with both sides being gradual and a river flowing across the pass. The defense tower is 10-meter-long, 9-meter-wide and 12-meter-high and can hold one hundred soldiers. Inside the tower there hangs a stone plaque with the Chinese name of the wall; also, a stone stele recording the reconstruction of Lijiuakou Great Wall in 1578 still exists there.
Recommended reading: Beijing Great Wall Hiking.
Quick Questions
Our team is waiting for your questions. Please feel free to ask us any questions you might have about our China package tours, Chinese culture, or the sites available. We will gladly help you with any special needs you might have and all questions, like our trip designing is completely free of charge.