Jiaoshan Great Wall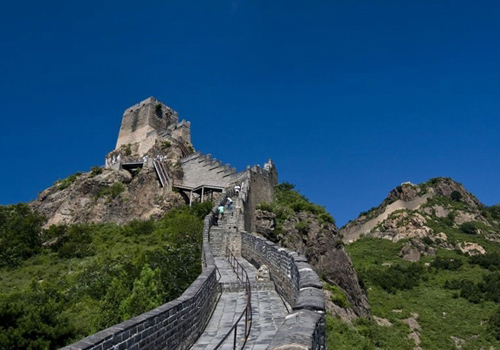 More Photos

Chinese name: 角山长城 (Jiaoshan Changcheng).
Location: about 3 km north of Shanhai Pass, Shanhaiguan District, Qinhuangdao City, Hebei Province.
Ticket: CNY30 (including round-trip transfer to Qixian Temple by cable car).
Opening time: 05:00-18:30.
How to get there: take bus No.25 or 33 and get off at Shanhaiguan (Shanhai Pass), then transfer to Jiaoshan Great Wall by tourist bus or mini bus. Please note that fewer buses to Jiaoshan are available in low seasons (usually from December to March or April of next year).
Travel tip: The location of Jiaoshan Great Wall is remote and few restaurants can be found near it at present, so it is suggested to take some food along.
Introduction to Jiaoshan Great Wall
Constructed in early Ming Dynasty (1368-1644), Jiaoshan Great Wall stretches from the Hanmen Pass at the mountain foot of Jiaoshan Mountain to its top of for 1536 meters. The top of the mountain is at an elevation of 519 meters and resembles legendary dragon horn, hence the name – Jiaoshan, literally horn-like mountain. Being the first mountain across which the Great Wall spans, it is also hailed as "the first mountain of the Great Wall".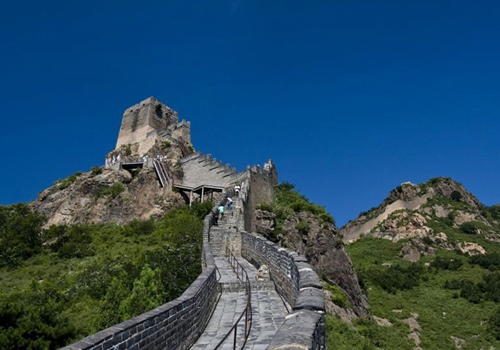 With most parts being built with local ashlars, Jiaoshan Great Wall displays a flexible architectural feature of making good use of the mountain body. The wall has an average height of 7-10 meters and an average width of 4-5 meters, with higher outside wall and lower wall, which were easy for soldiers to ascend the wall and hard for enemy to climb up.
The steepness of the terrain on which Jiaoshan Great Wall locates made it a natural protective screen for defense in the ancient time. Built with five observation platforms and fighting platforms and one pass, Jiaoshan Great Wall was once a boundary line of Liaodong Town and Ji Town, both of which were key positions in military operations.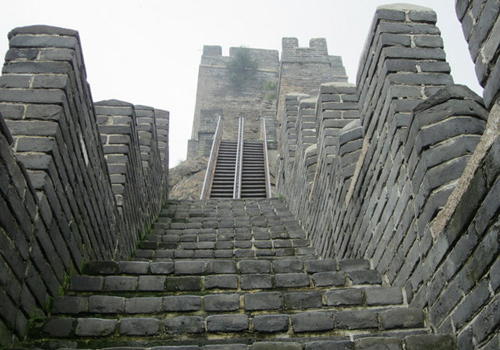 Natural calamities and sabotages by wars almost turned Jiaoshan Great Wall to be ruins in the past hundreds of years. Qixian Temple was originally one of the ancient buildings on the mountain but afterwards damaged in wars. Several renowned ancient Chinese scholars and officials used to live at the Qixian Temple to cultivate themselves and built the Kuixing Pavilion there, so the temple was also hailed as "the cradle of culture of Shahai Pass". Between 1980s and 1990s, the temple was repaired by the government in the repair project of Jiaoshan Great Wall and aerial cableways have also been constructed to make it easier to access Jiaoshan Great Wall.
Recommended reading: Beijing Great Wall Hiking.
Quick Questions
Our team is waiting for your questions. Please feel free to ask us any questions you might have about our China package tours, Chinese culture, or the sites available. We will gladly help you with any special needs you might have and all questions, like our trip designing is completely free of charge.