Dongjiakou Great Wall

Chinese name: 董家口长城 (Dongjiakou Changcheng).
Location: at Zhucaoying Town, Funing County, Qinhuangdao City, Hebei Province.
Ticket: CNY10.
Opening time: 08:00-18:00.
Best time for visit: summer and autumn.
How to get there: by bus No.15, 25, 34 or tourist bus. The distance between downtown Qinhuangdao and Dongjiakou Great Wall is some 40 km.
Introduction to Dongjiakou Great Wall
Dongjiakou is a pass of the Great Wall constructed in Ming Dynasty (1368-1644) as well as an important fortress that guards the Shanhai Pass, which is hailed as "the first pass of the Great Wall" due to its strategic location in the ancient time.
Dongjiakou Great Wall is 8.9 km, with the complete wall stretching for over 3 km, a broken section of over 1.8 km and the other sections being natural steep mountains without wall. Apart from the castles, about 60% of constructions of Dongjiakou Great Wall including defense towers and beacon towers are still in intactness on the whole.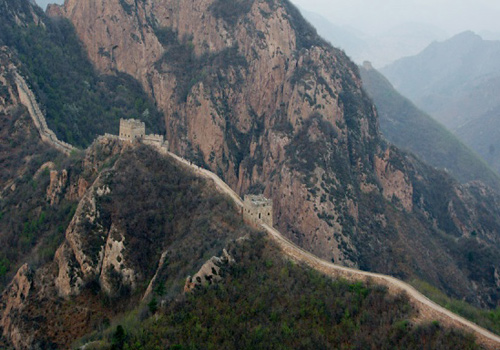 According to historical records, Dongjiakou Great Wall was built in 1381 on the base of North Qi (550-577) Great Wall and was afterwards reinforced to be a strategic fortress with 3000 soldiers from Jinhua of Zhejiang in 1571 by Qi Jiguang (1528-1588), a Chinese military general and national hero known for fighting against Japanese pirates and the reinforcement work on the Great Wall. To stabilize morale of the troops, the general also allowed the soldiers' families to settle and live near Dongjiakou Great Wall. Another feature of Dongjiakou Great Wall is that some of its bricks are carved with various true-to-life folk patterns of South China, which is distinctly distinguishing from the blank bricks on other sections of the Great Wall.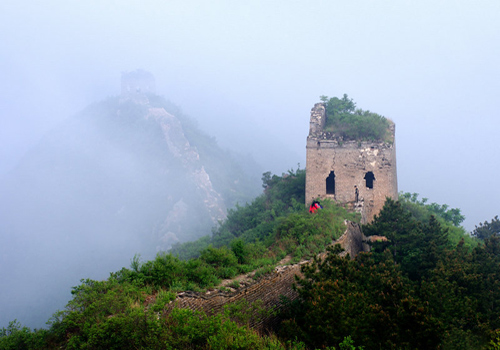 Today, the offspring of the garrison, totaling 123 families with over 400 people, still live at the village and inherit their ancestors' mission of guarding Dongjiakou Great Wall. Travelers departing from Qinhuangdao can arrive at the foot of the Great Wall and reach the highest towers on foot within less than two hours.
Recommended reading: Beijing Great Wall Hiking.