Pingyao Transportation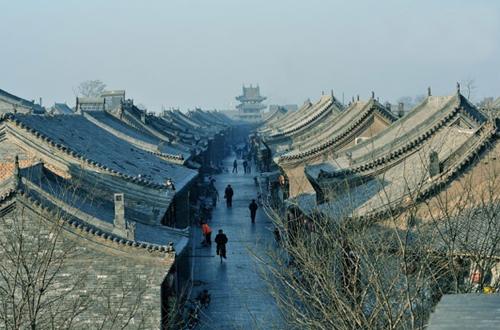 Though a small county in China, Pingyao enjoys extremely convenient transportation via both railway and land due to its short distance to the provincial capital city Taiyuan.
By Air
Pingyao has no airport but served by Taiyuan Wusu Airport, which opens more than 50 routes to connect with most major cities across the country. Pingyao Train Station offers many trains to Taiyuan each day and at the coach station, which is just near to the train station, shuttle busses to Taiyuan departs every 20 minutes from 06:40 to 18:30 every day. And the ride takes 2 hours.
By Railway
Pingyao Train Station is located in Zhongdu Road in the northwest of the county. Take a train in Pingyao is conveniently to reach Taiyuan and Shijiazhuang in the north, and Linfen and Yuncheng in the south. And then from Taiyuan, trains can reach all parts of the country. Beijing, Taiyuan and Xi'an all open through trains to Pingyao without a transfer.
By Land
Just near to the train station, Pingyao Coach Station has shuttle busses to Taiyuan every 20 minutes from 06:40 to 18:30 with a 2-hour ride, and to Jiexiu every 30 minutes from 08:00 to 18:00 each day. Moreover, buses are well-suited to its surrounding counties and towns, and within ten hours, travelers can reach Beijing, Tianjin, Shijiazhuang, Xi'an, Kaifeng and Luoyang by land from Pingyao.
City Transportation
Public bus- there is only one line of bus runs through almost every attraction in the ancient county of Pingyao. The service time is from 07:00 to 20:30 in spring and summer, and from 07:00 to 18:00 in autumn and winter.
Taxi- minibus charges CNY3 within 2 kilometers, and CNY1 for each subsequent one kilometer; ordinary sedan car charges CNY6 within 3 kilometers and CNY1 for each subsequent one kilometer; Santana or other intermediate car charges CNY12 within 3 kilometers and CNY2 for each subsequent one kilometer; in the nighttime from 21:00 to 05:00, the price should be 1.5 times of the standard fare.
Rickshaw- to choose a rickshaw decorated in ancient style to travel in the ancient county of Pingyao is quite pleasant. In general, less than CNY50 can rent a rickshaw to visit all attractions in the urban area, and about CNY10 can rent for an hour.
Battery car- it can reach every attraction in the urban area of Pingyao, and charges only CNY10/p each time; about CNY120 can rent a battery car for one day (with 8 working hours).
Bicycle- bicycle is available in Pingyao. On average, CNY10 can rent a bicycle for an hour, CNY40 can rent for half day (4 hours), and CNY80 for one day (within 10 hours).