Wang Courtyard Residence

More Photos
Chinese name: 王家大院 (Wang Jia Da Yuan)
Location: In Jingsheng Town, 12 kilometres away from the east of Lingshi County, Shanxi Province.
Admission fee: 66yuan.
Opening time: in summer, 08:00-19:30; in winter, 08:00-18:00.
How to get there:
- By bus No. 11 from Jiexiu railway station. It takes you about forty minutes to reach Wang Courtyard Residence.
- By coach. There are coaches running between Pingyao bus station and Wang Courtyard Residence. On 07:10 and 13:20 the bus starts from the station and goes back from Wang Courtyard Residence at 11:00 and 16:30 respectively.
Best time to visit: Three hours.
Recommended time for a visit: May to October.

Introduction to Wang Courtyard Residence

Wang Courtyard Residence, 35 kilometres away from Pingyao Ancient City, 4 kilometres away from Mount Mianshan, is known as the First Folk House in China. The magnificent residence, built by the affluent Wang family in Linghshi County after half a century's endeavour, is composed of the east courtyard, west courtyard and Xiaoyi temple. The Wang's Grand Courtyard is scientifically designed with the east one called Hongmenbao, the west one called Gaojiaya.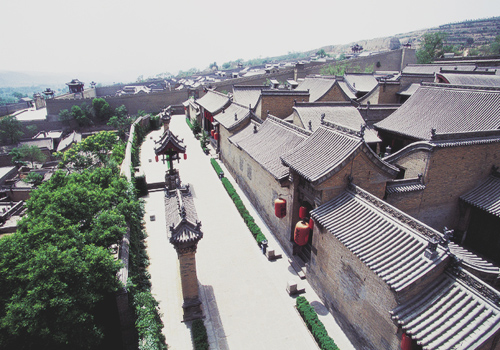 Gaojiaya(高家崖)

Gaojiaya complex architecture was constructed from 1796 to 1811 by the 17th generation of the Wang family – Wang Rucong and Wang Rucheng, and covers an area of 19,572 square metres. This closed castle-style architecture, is also known as the gallery of Chinese folk house. Built against mountains, the imposing courtyard enjoys 26 compounds, 212 rooms and is divided into two parts, the front one and the back one. The front courtyard is for social events, while the back courtyard is where the family lives. The layout of all architecture in Gaojiaya show restrict feudal hierarchy of ancient China and exquisite brick carvings, wood carvings, and stone carvings can be seen here, which reveal the profound culture of Chinese nation as well as the Wang's unique idea of managing of family.

Hongmenbao (红门堡)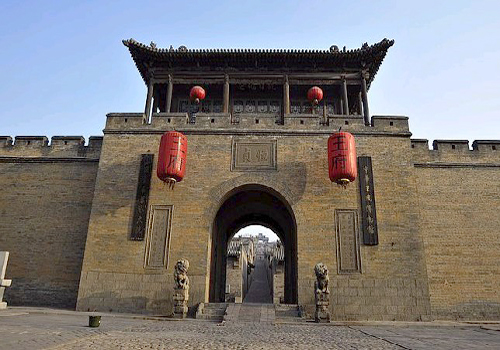 Covering an area of 25,000 square metres, Hongmenbao or Red Gate Castle was built from 1739 to 1793. In the opposite of Gaojiaya, Hongmenbao derived its name from its red gate. The courtyard consists of four rows of compounds systemically located from low to high, with a main alley and three horizontal alleys lying in such an organized way that they formed a Chinese character "王" seen from afar. Actually, visitors who come to Hongmenbao can have more things to do. They can take a look at the Wang's Museum, calligraphy and paining gallery, picture show of Shanxi merchants guild hall, have a sit in Zhuoju teahouse, and try yummy food at tofu stall or the like.

---Sima Courtyard (司马院)

Located in the west alley, Sima courtyard used to be the residence of the 16th generation of the Wang family – Wang Yinde. The courtyard features three gates leading to four courtyards. Each courtyard is themed differently and represents wishes for well-beings, longevity and promotion in rank.

---Lvmen Courtyard (绿门院)

Situated in the east, lvmen courtyard used to be the house of the 16th generation of the Wang family – Wang Zhongji. As a typical northern quadrangle courtyard, it is grandly decorated and exquisitely carved.

---Dingjia Garden (顶甲花园)

The garden is for common use and lies in the front of the courtyards. There are four gardens, all of which are tranquil and closely linked to the compounds. After dinner masters can linger around to appreciate flowers or play chess.

Xiaoyi Temple (孝义祠)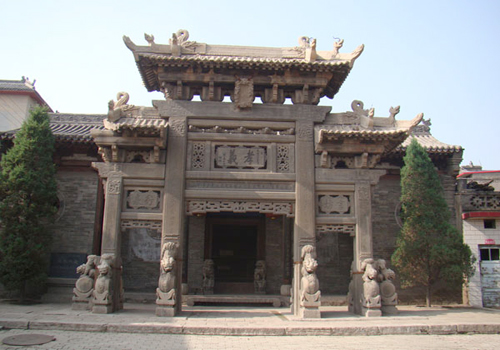 Xiaoyi temple, or Filial Piety and Righteousness Temple, opened to the public in the year of 1998, is adjacent to the street at the end of south slope of Gaojiaya and Hongmenbao. Now it is a major cultural site protected at the Jinzhong city level.

In 1780, Xiaoyi memorial archway was planned to set up on the basis of imperial decree from Emperor Qianlong in the praise of the filial piety and righteous deeds of Wang Mengpeng, the 15th generation of the Wang family. Six years later, the memorial archway was erected and in the year of 1796 it was expanded into a temple. Facing the south, Xiaoyi temple is divided into upstairs and downstairs and covers an area of 428 square metres. In the temple, three-dimensional statues of Wang Mengpeng performing good deeds, and models of the Wang's tombs are displayed. Moreover, memorial tablets of the Wang's ancestors are consecrated in the upstairs. A platform of Yuan Dynasty (1206-1368) style can also be found here.

Smallest as it is among the five ancestral temples of the Wang family, Filial Piety and Righteousness Temple is rich in stone carvings and can be regarded as the rare sample of clan temple.

Quick Questions
Our team is waiting for your questions. Please feel free to ask us any questions you might have about our China package tours, Chinese culture, or the sites available. We will gladly help you with any special needs you might have and all questions, like our trip designing is completely free of charge.