The Ming-Qing Street
Chinese name: 明清一条街 (Ming Qing Yi Tiao Jie)
Location: On the South Street of Pingyao Old Town, Jinzhong city, Shanxi province.
Admission fee: 150yuan for Pingyao Old Town, which include many scenic spots there.
Opening time: 08:00-23:30.
How to get there:
Walk or take a tricycle from the railway station for several minutes to the Old Town of Pingyao, and you can find Armed Escort Company Museum within the town.
Best time to visit: All year round.

Introduction to the Ming-Qing Street of Shanxi

Ming-Qing Street of Shanxi, which was founded in the year of 1856 and went out of business in the year of 1913, is also called South Street and had been the most prosperous business hub of Pingyao County since ancient times. Along the street, architecture of Ming Dynasty (1368-1644) and Qing Dynasty (1616-1912) are here and there. In June, 2009, it was designated as the first batch of Renowned Chinese Cultural-Historic Street.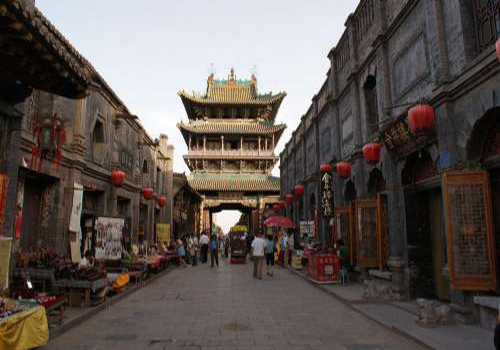 Layouts of Ming-Qing Street of Shanxi

Ming-Qing Street of Shanxi is not only parallel with East City Wall in the east and Shaxiang Street in the west, but also covers the same distances to the two streets. As it is the axis wire of the symmetric layouts of Pingyao Old Town, it can be deemed as the backbone of the town. Stretching 690 metres, the street starts from Xingguo Temple in the south, and enjoys 78 shops close in a row. Modern cinemas have replaced the old temples; paper workshops present various products before you; exquisite and large quantities of souvenirs are available.

History and Culture of Ming-Qing Street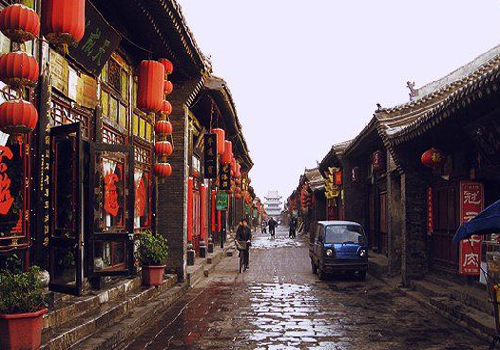 Ming-Qing Street played a role of vital importance in the politics, economy, and culture in the historyIn the past, merchants in Shanxi viewed the street as the golden places, so they set up enterprises in succession here. Exchange shops such as Baichuantong, Xietongaing, silks and satins shops such as Kuichengyu, Yongtaicheng, and Chinese pharmacies such as Yunjincheng are renowned then. Little as it was, the ancient business street saw a galaxy of elites in business circles. Now the well-preserved shops can still reveal local features and styles of that period, as well as the brilliant culture of the town.

Ancient Chinese Wall Street

Ming-Qing Street is the axis wire of the symmetric layouts of Pingyao Old Town, stretching to the junction of the East Street and West Street in the north, and Dadong Gate in the south. Not only was Ming-Qing Street the most prosperous business centre of Pingyao old town, but also the essence of historical and cultural relics of the town. In the street, you can still find old and famous shops and ancient dwellings of Ming and Qing style on both sides. In Qing Dynasty, South Street was in possession of more than fifty percent financial organizations around the country, thus being praised as China's Wall Street.