Jinshan Huafu Haijing Residential Area Beckons with Luxury Living
created: 2010-05-24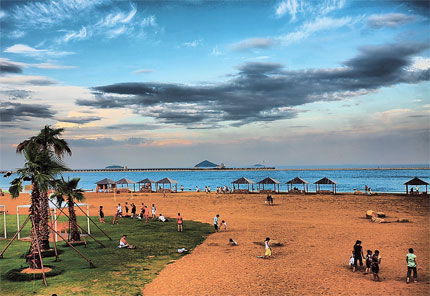 A new luxury residential area in Jinshan of Shanghai with views of Hangzhou Bay is attracting people from downtown Shanghai and elsewhere with its beautiful scenery, modern facilities and convenient transport.
Huafu Haijing residential area covers more than 35,800 square meters in the Coastal Zone of Jinshan New Town, bordering Hangzhou Bay in the south. This is Shanghai's southernmost suburb.
The highest apartment buildings are 33 stories and all have beautiful views of the ocean. The project is expected to be completed in next April.
Shanghai literally means "up sea," but few residents have easy access to sea views, says Zhang Shuai, deputy general manager of Shang Zhi Real Estate Development Co, the developer.
He says the new coastal residential development will fulfill many people's dream of leisurely and comfortable community living.
"Jinshan is a lovely place to live," says Chen Zheng'an, vice director of Jinshan District. "It has rich ancient folk culture, idyllic villages and natural scenery where people can relax. We even have a sandy beach for summer getaways."
The district is famous for its man-made beach and man-made seaside rocks as well as seaside eating and recreation.
The area's history goes back 6,000 years when Liangzhu culture was born, and offers historical sites such as Donglin Temple and Fengjing Ancient Town where people can step back in time. Folk art and local custom attract visitors from downtown.
The scenery is beautiful and the traffic is light in the relatively remote suburb.
But getting to Jinshan is getting easier.
The Shanghai-Hangzhou High-speed Railway is expected to open in October, greatly shortening the transport between Jinshan and Zhejiang Province.
The Jinshan inter-city railway will provide fast transport from downtown when it opens next year. It will only take around 30 minutes to reach Shanghai South Railway Station, 45 minutes to reach Xujiahui and an hour to reach People's Square, according to Chen, vice director of Jinshan District.
Both Shanghai and Zhejiang Province are major economic areas, Jinshan is the link between them and its proper development is essential and promising, says developer Zhang.
The new sea-view residential area is expected to become part of a complex of hotels, offices, parks, shopping malls, clubs and apartments -- known as HOPSCA.
The idea of HOPSCA urban planning first appeared in Paris in 1986, and gradually spread worldwide in big cities. HOPSCA communities are multifunctional and high-efficiency, offering residents easy access.
The district already has a five-star hotel, seafood street, Jinshan Hospital, kindergarten, city beach, Brilliance Shopping Mall, and Binhai Park. A dock and yacht club are to be built nearby on the coast.
Recommended China Guide: