Retreating in Shangri-La
updated: 2010-03-17
The golden roof of the Songzanlin Monastery gleams as the first rays of the morning sun peek over the distant mountains behind it. Sturdy yaks, bells clanging around their necks, plod steadfastly across the grasslands and up into the hills, as smoke drifts out of the nearby farm houses and Tibetan women build the morning fire to prepare their breakfast of tsampa, or barley and yak butter tea.
These idyllic scenes greet guests each morning as they awake at the newly opened Songtsam Retreat in Shangri-La, a cluster of 24 cut-stone structures spread across 21 acres of hillside between the Kera and Shika mountains.
Photo taken on Oct. 20, 2009 shows the view of Shangri-la County, Tibetan Autonomous Prefecture of Deqen, southwest China's Yunnan Province, Tibetan Autonomous Prefecture of Deqen attractted more than 4 millions tourists home and abroad in 2009. [Xinhua/Lin Yiguang]
The resort is the product of Bai Ma Duoji, a former CCTV cameraman who gave up the trappings of modern life in Beijing to return to his childhood home and build a string of tastefully-decorated boutique hotels with an understated Tibetan influence.
A spectacular hotel in terms of design and scenery, the retreat is modeled upon a type of traditional Tibetan house in which the exterior is a blend of stone and wood.
In an effort to reduce the exploitation of wood resources in the area, Bai Ma collected old beams from 180 dismantled Tibetan houses to build his flagship hotel in Shangri-La. The interiors are modestly decorated with embroidered tankas hanging on the walls, well-made Tibetan rugs, lacquer boxes, brass wash sinks and wooden bathtubs. The final touch is environmentally-friendly cozy fireplaces, which give the rooms a bit of charm on a cold winter night.
While most hotel owners build a hotel and then look for furnishings, Bai Ma reversed the process. Prowling an antique market in Beijing in 1998, he came across a warehouse full of beautiful Tibetan chests. He snapped up more than 40 of them, unsure of what he'd use them for and was more worried about what his wife would say.
The idea of building a hotel came about when he returned home for a visit and noticed that there were no decent hotels in his hometown. He thought that if he could build a small hotel on his family's land, he would have a place to keep and preserve these precious chests. In 2000, the Songtsam Hotel opened, just down the road from the Songzanlin Monastery.
In 2009 came the more-upmarket Songtsam Resort, which Shanghai's Waitan Magazine awarded the Best Concept Hotel in July 2009.
"Songtsam Retreat is my wish, to plant and offer an exquisite hotel in Shangri-La so that more people have the opportunity to come in contact with Tibetan culture," he told the Global Times. "I am trying exhaustively to express the concept of Shambala, a notion of returning to nature and an ideal spiritual home."
The term Shambala comes from a very old term in Tibetan culture. In Buddhist teaching, the physical world is called the realm of desire and when there is desire there is greed. Shambala is thought to be an ideal spiritual home where there is no desire, achieved through spiritual practice.
Each room of the retreat has a view of the monastery and adjacent Kena village. The fields are dotted with huge racks for drying barley. Every family raises their own livestock, including pigs, chickens, sheep, horses and an animal that's a cross between bull and yak. Women, bent over with huge loads of wood and twigs gathered in the mountains, walk single file down the hills behind the hotel and lay their pickings in the pig's pen as a cushion or to make humus for the fields. They milk the yaks in the afternoon to make yogurt and then they smoke the milk residue over the wood-fueled stove in a conical basket called naizha.
Until recently, visitors to the region were hampered by extremely poor roads and less-than-comfortable hotels. Bai Ma is now taking advantage of the construction of new roads in recent years to build a series of boutique hotels in key tourist areas and each location is special.
The model for the hotels, from exterior to interior decor, represents the essence of Tibetan culture. One site at Tacheng, located in a Naxi minority area, faces terraced rice fields and is adjacent to Damo Cave, a very steep horse ride up a mountainside to a cave temple. Visitors can enjoy the local forest on horseback and observe rare golden monkeys who come out at feeding times in the morning and afternoon.
At Bai Ma's Benzilan site, which is rich in local Buddhist culture, the focus is on religion, with visits to a Tibetan monastery, nunnery, local villages and Nixi, the home of the potters who turn out the famous black pottery.
Songtsam Deqin is on a hillside facing the stunning Meili Snow Mountain, the stunning snow-capped wonder filling the large windows of each room. The tallest mountain in Yunnan, its 6,740-meter peak has never been reached by man.
Cizhong, south of Deqin, is the most interesting and farthermost among all the four new hotel sites. The hotel in this colorful village overlooks the Mekong River and a beautiful century-old Catholic Church, where the faithful are all descendants of Tibetan Buddhists who were converted to Catholicism some 160 years ago. Vineyards that surround the church were started with vines originally brought from France by the first missionaries and they still produce red wine. In the church Tibetan and Naxi floral designs and dragons and phoenixes cover the walls and ceiling, giving the church an exotic non-Catholic look. The seating is simple long wooden slats built several inches off the ground to accommodate local custom.
When all four new hotels open later this year, visitors to Shangri-La will finally be able to make the journey to the area's highland spots in comfort.
Songtsam Retreat Shangri-la, Songzan Linka, Shangri-la, Diqing Prefecture, Yunnan (www.songtsam-shangri-la.com).
Recommended China Guide:
About Our Company
China Travel Resources
What Our Customers Say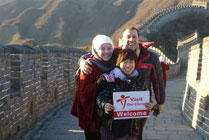 I hope this letter finds you well. We finally arrived home from our trip last Thursday the 17th. As promised I am writing to you about our experience in China and we thank you very much for your organizing. On the whole we had a wonderful time and were very well looked after...
Read more testimonials...