US First Lady Skip and Dance the Yangko in Xi'an
created: 2014-03-27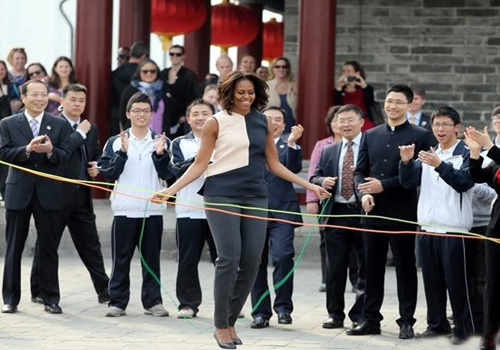 After finishing the tour in Beijing, the US first lady Michelle Obama and her mother and two daughters arrived in Xi'an, capital city of China's northwest Shaanxi Province on March 24.
The scenic spot they first visited is the Emperor Qinshihuang's Terracotta Army Museum, a world-famous museum built on the site of the Terracotta warriors and horse pits in Mausoleum of Emperor Qin Shihuang (259-210B.C.). Michelle was quite excited and she wrote on the visitors' book that they were grateful to have such a special chance to see the fascinating China's ancient miracle, and they would cherish this trip in China forever.
In the afternoon they visited the Ancient City Wall and then watched some activities such as kicking shuttlecocks, skipping and flying kites performed by students in Xi'an with interest. Michelle even changed her shoes and skipped with students. After walking down from the south city wall, Michelle and her two daughters joined the yangko dance team and cheerfully danced yangko.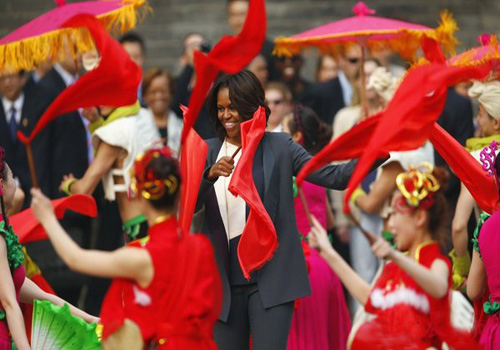 Before five o'clock in the afternoon Michelle and her family members finished the short tour in Xi'an and continued to visit Chengdu in China's southwest Sichuan Province.

Recommended China Guide: