Tibet Welcomes More Visitors
created: 2014-03-13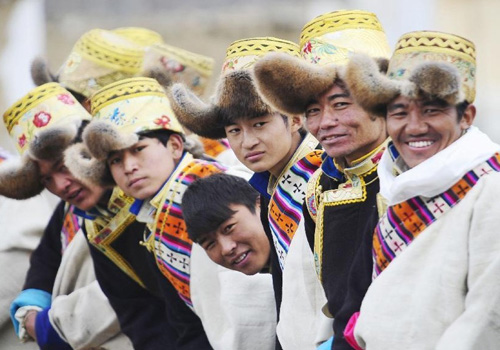 While people of the Tibetan ethnic group wearing traditional costumes for Losar, the Tibetan New Year which started on March 2 and will be celebrated for 15 days, the chairman of the Tibet autonomous region's government said the region is trying to create a world-class travel destination and he expects more tourists across the world to visit the core area of the Qinghai-Tibet plateau.
The chairman said the local tourism industry should solve any problems with permits required to enter Tibet. Well-organized planning and designs for tourism facilities are imperative when providing a comfortable environment for travelers, both from China and abroad.
Tibet started to cultivate tourism in the 1980s and last year saw 13 million visitors to the autonomous region, an annual increase of 22 percent. The autonomous region's government has made a priority of dealing with high-end demand from the Beijing-Tianjin-Hebei hub, the Yangtze River and Pearl River deltas, plus Europe and the United States, the chairman said. He also said Tibet's unique scenery and cultural heritage make it a place many travelers yearn to visit.
During the hot seasons of the year, from July to September in particular, it is hard to buy tickets for flights, trains and the Potala Palace. From now on, Tibet will make Lhasa an international tourism resort, and Tibet's Nyingchi prefecture will be an ecological tourism zone.
Transportation is a key to tourism development, said the chairman. The railway connecting Lhasa and Xigaze, the two largest cities in Tibet, is an extension of the Qinghai-Tibet Railway and is expected to formally open in June after more than a month of test runs, he said, in the near future, a rail connecting Lhasa and Nyingchi prefecture will be under construction. Now the government is pressing for an earlier start on construction of the Sichuan-Tibet Railway and the Yunnan-Tibet Railway. In addition, more airlines will open to connect Lhasa with other cities in the country. Direct flights are also connecting Beijing and Lhasa at present. "Visitors can take a flight to Lhasa as early as 7am or as late as 10pm every day," the chairman said.
- News from China Daily

Recommended China Guide: