Ancient Town in China's Shangri-La Damaged by Fire
created: 2014-01-16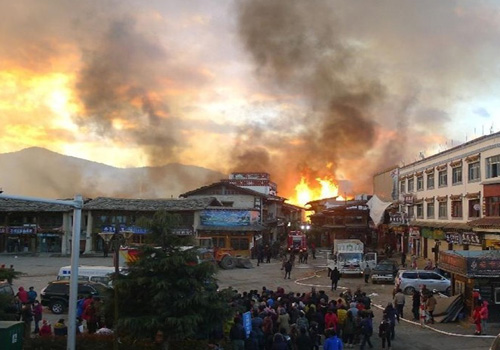 Dukezong Ancient Town, which with a history of 1,300 years and clustered with the most and best preserved Tibetan style architectures in Shangri-La, southwest China's Yunnan Province, was damaged by fire on Jan.11, 2014.
Though a few days has passed after the fire being put out, soldiers and other rescue personnel are working at the scene to look for any potential articles.
Voice from the local government that 242 houses were burnt down, and so far no casualties have been reported. Some cultural relics, Thangkas (Tibetan scroll paintings) and Buddhist cultural and artistic works were destroyed as well. The cause of the fire preliminarily found to be careless use of electricity by a guesthouse.

Recommended China Guide: