May all your springs be white
created: 2013-03-13
China Daily, March 12, 2013

An ocean of perfumed narcissus is coming into full bloom in the Shanghai Binjiang Forest Park.

With their jade-white petals, golden yellow center, fresh green leaves and gracefully upright stalks, narcissus grown in Chongming Island feature naturally grown bulbs, little branching and enduring fragrance.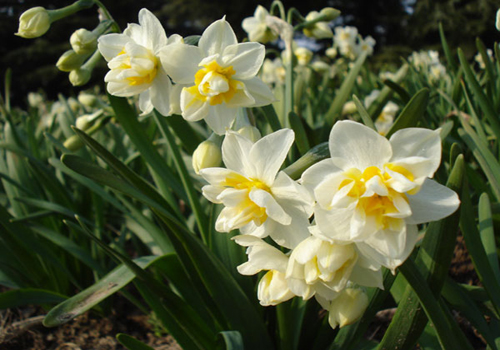 (Chongming narcissus are planted in the ground. Provided to China Daily)

The flower is often cultivated to bloom indoors around the Lunar New Year so that they can decorate the household during festival - people believe it will bring wealth and fortune to the family. And now it is time to enjoy narcissus outdoors.

The park introduced 20,000 bulbs of Chongming narcissus and planted them in the ground, instead of the traditional pots. It is the first time that the famed flowers have blossomed on such a large scale in a park.

In an artistic planting scheme, narcissuses are planted to form various shapes, like squares or ribbons against the tall green arbors and beside brooks.

Some 10,000 Songjiang silverbud willows were introduced to be neighbors of the narcissus, adding another flavor of spring to the scene.

Chongming narcissus, silverbud willows originally grown in Songjiang district, and wintersweet flowers in Jiading district are known as the "three treasure plants of Shanghai".

Shi Kesong, whose family has been growing narcissus on the island for more than 100 years, says that the fragrance of Chongming narcissus is light at the first phase of its bloom. "But when about 90 percent of the large scale of narcissuses come to blossom, the dense perfume can be detected when you are more than 10 meters away," Shi says.

As the temperature rises, the flowers are expected to be in full blossom around mid-March and continue their show until early April.

Chongming Island, together with Zhangzhou in Fujian province and Putuo in Zhejiang province, are the three top growing areas for Chinese narcissus.

Narcissus was grown around 500 years ago on the island. Legend has it that long ago a boat from Zhangzhou, fully loaded with narcissus bulbs, sank at the mouth of the Yangtze River near the Chongming Island.

A few years later, white and yellow flowers blossomed along the shore. Local residents dug them up and transplanted them to their home gardens. The flower eventually became the well-known Chongming narcissus.

Recommended China Guide: