Nanjing Transportation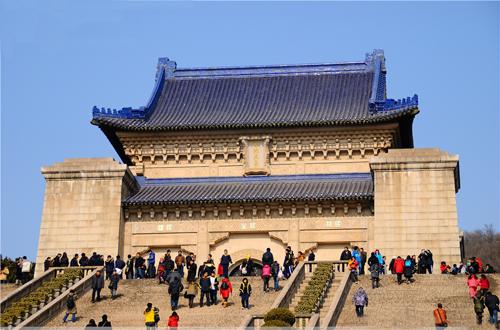 By Air
Nanjing Lukou International Airport is 35 kilometers from downtown Nanjing with an about 45 min-drive. Ranked in No.14 in the country in terms of passenger throughput, the airport opens 120 flights to connect with 42 domestic cities, 19 international cities and 2 regions. The international flights include regular direct routes to Singapore, Seoul, Osaka, Bangkok, Frankfurt, Hong Kong and Macao, regular virtual flights transferred in Beijing to Los Angeles, London, Moscow and Vancouver, and irregularly chartered lines to Kuala Lumpur, Phuket, Sabah, etc.
Almost every four-star and five-star hotel and some major three-star hotels in Nanjing open special shuttle busses to the airport.
By Train
Nanjing has four train stations, with Nanjing Station located in Longpan Road in Xuanwu District and Nanjing South Station in Yuhua Road in Yuhuatai District being the most used. Nanjing Station bear vast majority of passenger transport, and South Station only has some trains departing for Wuhu City of Anhui Province.
In Nanjing, there are about 25 bullet trains run to and from Shanghai everyday with 2.25 hours for a single trip, and 1 bullet train to and from Hangzhou with 4 hours for one way trip.
By Bus
Nanjing has a quite developed highway network with radial roads leading to all circumjacent cities and provinces. It has 8 passenger transport stations and a Hongqiao Tourist Station, of which the Nanjing Coach Station (in Zong Yang Men) is the largest in both scale and passenger flow volume in Jiangsu Province.
By Ship
Nanjing Port is the largest inland river port, and the third largest container port in China just second to Shanghai Waigaoqiao Port and Suzhou Port. The harbour district is 98 kilometers long with 64 berths, 16 of which can berth 10000-ton ships.
City Transportation
Public buses- the number rules of buses in Nanjing are: No.1-159 are urban lines, numbers starting with 3 are minibus runs in downtown area, numbers staring with 8 are night lines, numbers starting with character You (游) are tourist lines within urban area, numbers starting with 6 are lines running in the districts of Pukou and Liuhe, numbers starting with character Qu (区) are buses running within Jiangning District, numbers starting with character Ye (夜) are night buses running in Jiangning District, and numbers starting with character Wen (文) are lines connecting urban area and suburban.
Subway- officially put into service in 2005, Nanjing subways are generally run from 06:30 to 22:00, or 22:30 on weekends with an interval of 10 minutes. The prices cost from CNY2 to CNY4.
Ferry- before the completion of Yangtze River Bridge in 1968, ferries were the only transportation way to cross Yangtze River in Nanjing City. Today, some ferries still play a part in the daily transportation on the river. Ning-Pung Line is the main one which travels to and from between Zhongshan Dock and Pukou Dock; the ferries from Jiangxinzhou Dock to the docks of Youheng, Shangxinhe and Mianhuati are extremely busy during the Grape Festival of Jiangxinzhou. Generally, ferries depart every 20 minutes from 05:00 to 19:00, and every 30 minutes from 19:00 to 23:00.
Taxi- pricing starts at CNY11 (including 3 kilometers), and 3 kilometers after, additional CNY2.4 for one kilometer in day time, and CNY3.2 in the evening.