Longsheng Cuisine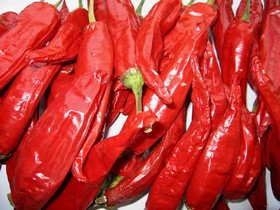 As the national ecological demonstration county, Longsheng County has its vegetation well preserved, free from pollution, with ratio of green space reaching 76.4%. The county is just a grand forest park. Under the circumstances, such well reputed specialities as citrus poonensis, tea, muschroom, momordica grosvenori and hot pepper are available, all of which are green, natural, pollution-free products.
Longji pepper (龙脊辣椒)
Longji peppers are planted five hundreds to eight hundreds metres high above the sea level, mainly from Dragon's Backbone Rice Terraces. It is authentic and can be made into unique seasoning. Longsheng county produces fresh peppers 150 to 200 tons yearly.
Longsheng Citrus poonensis (龙胜椪柑)
Citrus poonensis in Longsheng county is the first-class orange in China and has been awaded a Silver, China Agricultural Products Fair. It is famous for its nice appearance, rich juice, high quality, and good flavour.
Longji Tea (龙脊茶叶)
Longji tea is one of the twenty-eight great teas around China. In the Qing Dynasty (1636-1911), it was regarded as tribute tea. Providing trace elements for humans, the tea is notable for its aromatic fragrance.
Mushroom (香菇)
Mushroom, reputed as "the meat of the vegetables", can serve as food as well as medicine. Rich in nutrition, mushrooms are conductive to fighting against cancer. Longsheng produces five tons per year, so the food is available throughout the year.
Tea Oil (茶油)
Tea oil is one of the edible vegetable oil in China. It smells refreshing and tastes by no means greasy, so it is considered as the ideal edible vegetable oil for cooking. Longsheng now has enjoyed 36,242 acres tea oil base, becoming one the main producing area.