Lijiang Transportation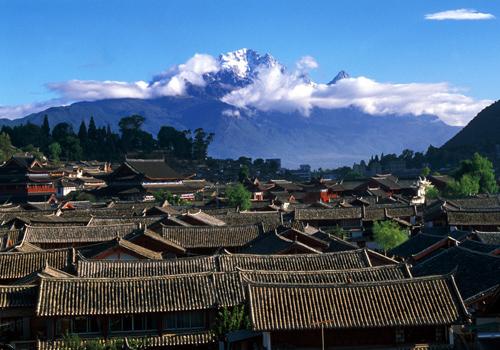 Lijiang is a mature tourism city with easy transportation. In general, three transportations can be chose to get to Lijiang, the plane, the train and the coach bus. Many major cities opens direct flights to Lijiang each day but the number is less than those to the capital city Kunming; thus, some tourists also choose fly to Kunming first, and then transfer to Lijiang by plane or coach buses. For those people who take trains, they also transfer to Lijiang via Kunming.
By Air
Lijiang Sanyi Airport, located in Qihe Town, in the Gucheng District of Lijiang City, is 28 kilometers from downtown area, and 40-minute-driving to the civil aviation office in the city center. Opened to navigation since 1995, the airport has daily flights to Kunming, Shanghai, Guangzhou, Shenzhen, Beijing, Chengdu, Chongqing, Xishuanbanna, Hong Kong, and other major domestic cities. It takes only 45 minutes fly to Kunming from Lijiang, and shuttle busses are available to transfer passengers between the airport and city proper.
By Rail
The new completed Lijiang Train station, some 10 kilometers from city center, was put into service since August 2011; the former one was then transformed to a freight station. Each day, there are three trains run from Kunming to Lijiang with a 9-hour-ride, and two trains from Dali to Lijiang with an only 1.75-hour-trip, shorter time than by bus.
Public buses No.4, 16 or 18 can take tourists to the train station.
By Road
Just seated on the junction of three provinces of Yunan, Sichuan and Tibet, Lijiang has roads extend in all directions.
It has four coach bus stations.
- The New Station is located on Changshui Road, in the southwest of the Ancient City of Lijiang; it has coaches departing for Shangri-la, Deqin and night coach to Kunming;
- The Guchengwan Station is located in the north of the Ancient City of Lijiang, nearby the Black Dragon Lake (the Red Sun Square); its buses leave for Daju, Xiaguan, Shangri-la, Panzhihua and night coach to Kunming;
- The Gaokuai Station is on the Shangri-la Avenue, mainly operating coaches to Kunming;
- The Tourism Station is on the Changshui Road, alongside the Naxi Hotel; its offers buses to Kunming and Xiaguan.
Kunming-Lijiang: almost in every coach station in Kunming, there are buses leave for Lijiang, which will ride for around 10 hours. As for coaches run back from Lijiang, they mostly depart in the forenoon.
Dali-Lijiang: in peak tourist season, when the coach tickets from Kunming to Lijiang are not easy to get, tourists can choose to transfer from Dali. There is many a bus driving up to Lijiang from Xiaguan (Dali) in the daytime and will ride for about 3 hours.
Lijiang-Shangri-la: the buses start off at the Red Sun Square, Yuquan Hotel, Lijiang Hotel, etc.
City transportation
Lijiang is not a large city. Strolling in the Ancient City of Lijiang, by foot is the most popular way for travelers.
Taxi- generally, less than CNY10 can get to any place within the county, and the price may double at night. Many taxis offer shuttle service to some surrounding attractions, such as, Spruce Meadow, Yufeng Temple, and certainly, it is necessary to settle down the price and pick-up time in advance.
Bicycle- most youth hostels and lodges provide bicycle renting in Lijiang. It is not allowed to by bike inside the Ancient City of Lijiang; while it is a great choice to ride a bicycle to idle along the roads to the ancient cities of Shuhe and Baisha.