The Tombs of the Tibetan Kings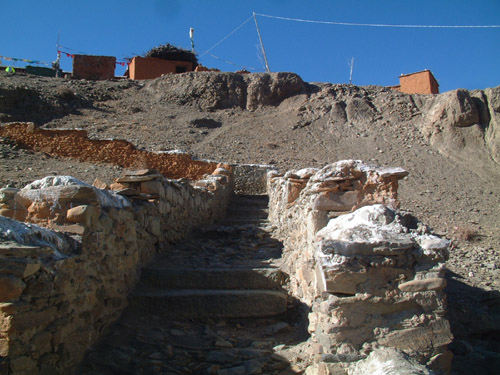 More Photos

Chinese name: 藏王墓(Zang Wang Mu)
Location: Seated on Mure Mountain in Chonggye County of Shannan Prefecture.
Entrance Fee: 40 RMB
Opening Time: 09:00 – 18:00
Best time for visit: May to October (avoid the rainy season and winter)
How to get there: The way for foreign travelers to enter Tibet is booking a Tibet tour or a China tour containing Tibet with a Chinese travel agent in advance.

Brief Introduction to the Tombs of Tibetan Kings – The most well-preserved large-scale kings' tombs.
Kings, ministers and princess consorts of the 29th to 40th Tubo Empire (700 – 900 AD) were buried here. Tombs of Tibetan Kings are the most well-preserved large-scale king's graveyard according to the historic documents. It is seated on the Mure Mountain in Chonggye County of Shannan Prefecture which constantly reminds you that the soul and cultural origin of Tibet hide here, with the spreading alcazars and temples between sacred mountains and lakes, as well as the ancient images such as Songtsen Gampo, Nyatri Tsenpo and Princess Wencheng. Graveyard of Tibet Kings properly recorded Tibet's cultural communication and dissemination with ancient central China. Tombs of Tibet Kings shows the ancient burial system of Tibet one thousand years ago, and also means a lot to the research work of Tibet's development, decline, and the communication between ancient Tibet and central China.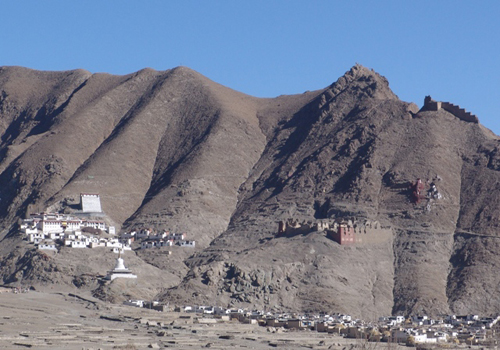 Tibet Kings of 7th to 9th century AD were buried here in the middle of Mure Mountain and Yalung River, which indicates that Tibet regime in ancient China paid attention to the geomancy. The whole graveyard covers around 10,000 thousand square meters. Nowadays, nine of them are visible, but only those of Songtsan Gambo and Trisong Detsen can be completely verified. Others are still under verification.

Main Scenic Spots:

Songtsan Gampo Tombs – A famous King, the founder of Tibet regime of Ancient China.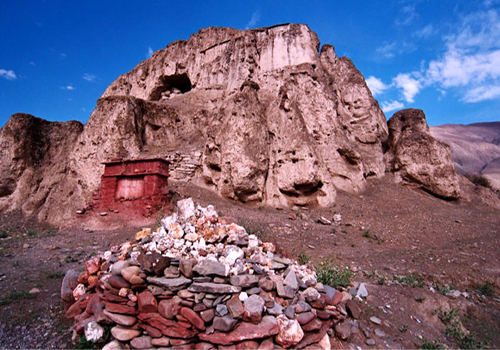 Lying beside the river, Tomb of King Songtsan Gampo (617 – 650, the most famous king of the ancient Tibet) is the main grave of the whole tombs with the gate facing the southwest (India, where the Sakyamuni founded Buddhism), demonstrating his piety to Sakyamuni. The tomb is 13 meters in height and 100 meters in length, on the top of which the King Songtsan Gampo, Princess Wencheng, two ministers and some Buddha are worshiped as statues. Plenty of gold, silverware, gems and agates are buried there. The golden knight and horse in the right of the tomb are considered as Songtsan Gampo's attendants.
Trisong Detsen (776 - 815) and Two Stone Lions – Records of Ancient Tibet's Sculpture Art and Cultural Development.
The tomb close to Songtsan Gampo is said to be the grave of Trisong Detsen (Under his government, Tubo reached its heyday, not only in military, but also in politic and economic development). On the east slope, the tombstone stands with decorations of jewelries and carving flowing cloud - exquisite skill, sleek contour. Its frontage has a size of 78 centimeters upper width and 86 centimeters lower width. The lower part of it has been buried by sand leaving 2.3 meters outside the ground, but the researchers cannot get its bottom after 3 meters digging downward. In the front of the tombs, two stone lions separately lie in the left and right side. The words in its frontage records Trisong Detsen's outstanding achievement of his whole life span, praising him to be a wise, tolerant, courageous and knightly king.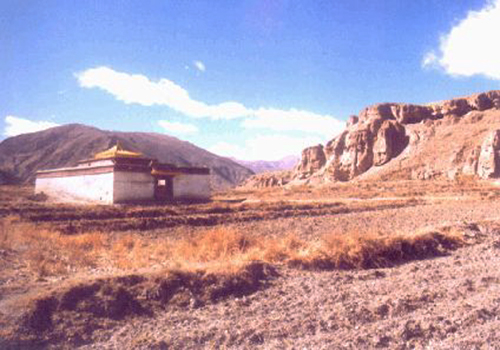 Why the Kings buried there?
First, Chongggye County was the center of politics, economy and culture in ancient Tibet. For the fertile land and relatively good geographical position, from the ninth king to the fourteenth, they successfully developed economy and built many palaces here. Second, after Songtsan Gampo united the whole Tibet Plateau, he moved the capital from Shannan to Lhasa. But the imperial kinsmen still stayed around Chonggye and the kings in Lhasa were buried here respecting their ancestors.
Travel Tips:
1. It is suggested that you'd better also visit the other attractions nearby like Trandruk Temple and Yungbulakang Palace which can be visited together by the same private car.
2. Take enough water and snacks.

Quick Questions
Our team is waiting for your questions. Please feel free to ask us any questions you might have about our China package tours, Chinese culture, or the sites available. We will gladly help you with any special needs you might have and all questions, like our trip designing is completely free of charge.