Wuyou Mountain & Temple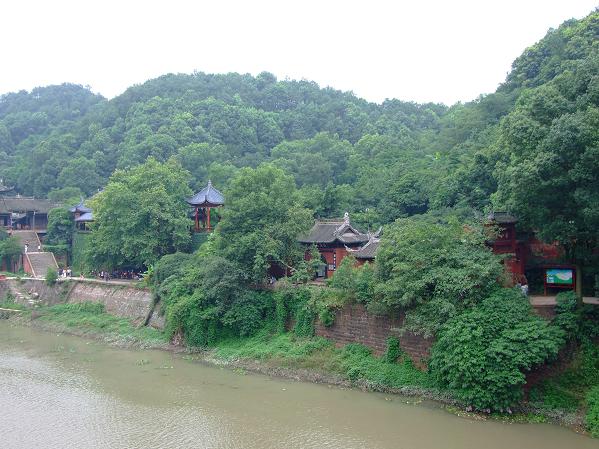 More Photos
Location: East of Leshan City, Sichuan Province, China, close to the Grand Buddha.
Opening time: 07:30 - 18:30.
Admission: Included in the ticket for Grand Buddha.

The Wuyou monastery is a pretty pink walled building resting on the top of the hill. A monastery was originally constructed here in about 742 AD although the complex has undergone numerous periods of renovation over the years. Today, the building is something of a museum, containing calligraphic paintings, a small band of terracotta monks and other Buddhist artifacts. The view of the Buddha and the river below is impressive from up here and there is also a popular vegetarian restaurant on the top of the hill.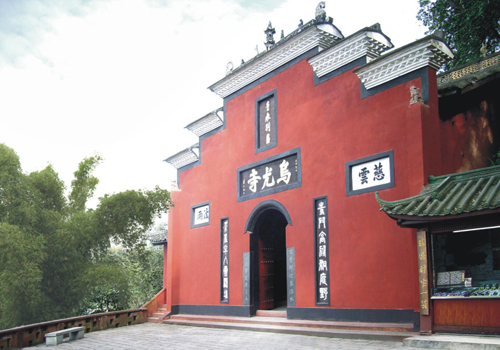 Gate of Wuyou Temple
Wuyou Mountain is standing on bank of Min River alongside Lingyuan Mountain, facing water from all sides, like a mountain of jade in the river. On top of the mountain stands Wuyou Temple, which was built in the prime period of Tang Dynasty. It is composed of 7 Buddhist palaces and surrounded by luxuriant woods, quite and tastefully laid out. Within the temple, the Erya Platform is the place where Guo Sheren (an official in Han Dynasty) annotated the Classical Book of China—Erya.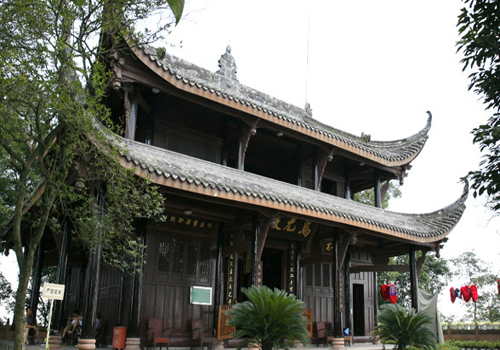 The Main Temple
In recent years, the giant sleeping Buddha formed by Wuyou Mountain, Lingyun Mountain and Guicheng Mountain has been discovered, which, adding more charm to the giant Buddha scenic spot. There's a saying from ancient times has it that "one should first worship Emei and then visit Lingyun Temple", the world renowned Leshan Giant Buddha is a seated Buddha Maitreya built on cliff of conjuncture of Min River, Qingyi River and Dadu River. The Buddha was built from the First Year of Kaiyuan, during the reign of Xuanzong Emperor, Tang Dynasty (713 A.D.) by Haitong who raised funds, labors and materials for purpose of receding flood and giving universal salvation, to the 19th year of Zhenyuan, Dezong Emperor, Tang Dynasty (803 A.D.), lasting 90 years.
Quick Questions
Our team is waiting for your questions. Please feel free to ask us any questions you might have about our China package tours, Chinese culture, or the sites available. We will gladly help you with any special needs you might have and all questions, like our trip designing is completely free of charge.