Yunnan Ethnic Village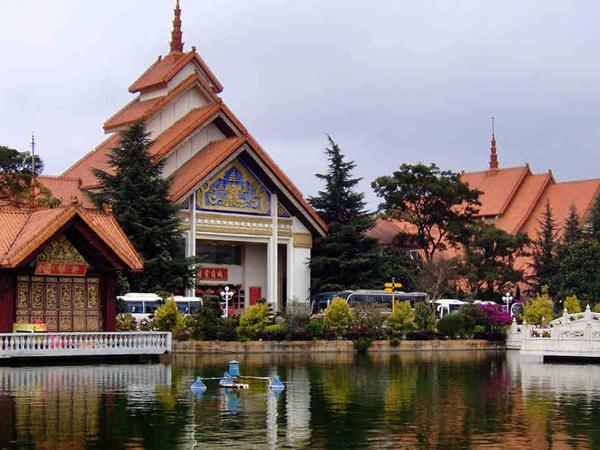 More Photos

Chinese name: 云南民族村 (Yunnan Minzu Cun)
Location: at No.1310 Dianchi Road in Kunming City of Yunnan Province.
Opening time: 08:30-20:00
Tickets: CNY90
How to get there:
- take buses No.44, 73, A1 at the square outside the Railway Station and get off at the Haigeng Park.
- take a taxi from downtown of Kunming by CNY 15-30
Travel tips:
1. Each village has performances from 09:00 to 17:00, usually taking place in the Dance Hall or in the Plaza of Ethnic Unity.
2. Asian Elephant Show Time: 10:30-11:30; 13:30-14:30; 15:30-16:30.
3. CNY 40 for one-way cableway to West Hill Forest Park, CNY 70 for round cableway.
Major festivals of minority ethnic groups in Yunnan Province
1. Torch Festival of Yi- falls from June 24 to June 26 in Chinese lunar calendar (usually late June in western calendar).
2. Water Splashing Festival of Dai- falls in mid-April and lasts for 3-7 days
3. Hunting Festival (Lieshen Festival) of Yi- falls in February 1 to February 3 in Chinese lunar calendar (usually early March in western calenda)
4. Sanyuejie Festival of Bai- falls in March 15 in Chinese lunar calendar (usually in mid-April in western calendar)
5. Mizhi Festival of Yi- usually falls in November and women are not allowed to attend.
6. March 3 in Chinese lunar calendar- falls in late March or early April in western calendar; it is a day for spring outing of Kunming people.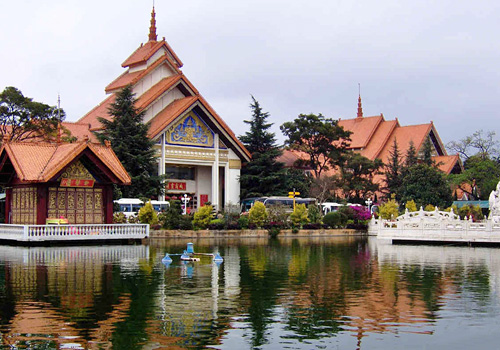 Brief Introduction to Yunnan Ethnic Village
Yunnan Ethnic Village is a theme park reproducing the architectures and folklore of 25 minority ethnic groups living in Yunan Province, an epitome of ethnic groups of Yunnan. Situated at the north shore of the famous Dianchi Lake, seven kilometers from Kunming City in Yunnan Province, Yunnan Ethnic Village faces the West Hill Forest Park, Daguan Park and Zhenhe Park across the Dianchi Lake. Occupying a total area of 80 hectares, Yunnan Ethnic Village may dizzy you with diverse architectures, colorful costumes, and interesting celebrations. Apart from unique buildings, various costumes and festivals of ethnic groups, Yunnan Ethnic Village also presents you with films shown on water screen, wonderful songs and dances and Asian Elephant Show. Visitors can enjoy local foods and purchase handicrafts. Besides, all villages are well organized and each village has tour guides to explain their customs to visitors. The 25 minority ethnic groups include Bai, Yi, Dai, Miao, Jingpo, Naxi, Lagu, Zang, Wa, Hani, Lisu, Deang and so on. The most sumptuous and outstanding three are Bai Ethnic Village, Yi Ethnic Village and Dai Ethnic Village.
The Bai Ethnic Village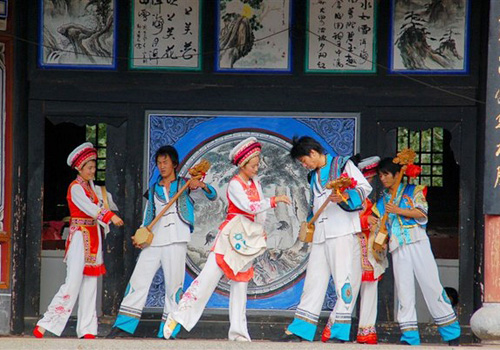 Bai Ethnic Village occupies an area of about 4.2 hectares. Residential houses of Bai people are highly praised by architects at home and abroad. All dwelling houses are built in two styles of quadrangle. The first kind usually consists of one main room and two side rooms together with a screening or shining wall facing the main room, which is called Zhaobi. Another style of quadrangle usually consists of four rooms on each side, four wells in four corners and one well in the center. Zhaobi is the highlight of a Bai house which is usually decorated with exquisite carvings and pictures. The Bai Ethnic Village may spoil you. Tie-dyeing workshop shows their unique dyeing skill. Wood carving house presents their exquisite carving art. Majestic Three Pagodas of Bai is reproduced from Chongsheng Temple in Dali. Sanyuejie Festival of Bai people falls in March 15 in Chinese lunar calendar (usually in mid-April in western calendar) and lasts for 10 days. It is a traditional festival of Bai people with a history of a thousand year. During Sanyuejie Festival, people will hold a trade fair outside the western gate of Dali to exchange local foods, herbal medicine, cattle and daily commodities. Colorful events will be held such as horse racing, Dragon Boat racing, shooting, swing, singing and dancing, really bustling. In Bai ethnic village, you may also have a chance to watch shows such as Straw Hat Dance.
The Yi Ethnic Village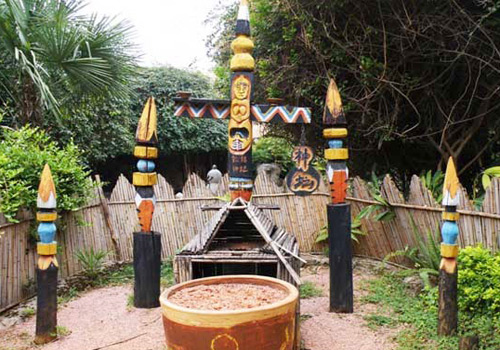 The Yi Ethnic Village covers an area of nearly 3.3 hectares. The relief wall is engraved with three tigers, showing their unique tiger culture. On the center of sun-calendar square (Taiyangli Guangchang) stands a soaring totem pole and several shorter totem poles which are carved with suns, tigers and fire and other pictures. Around the totem poles is a sundial composed of 12 stone sculptures of twelve animals, which is used to denote the time of a day.
Torch Festival is the most important festival of Yi people, which often falls from June 24 to June 26 in Chinese lunar calendar (usually late June in western calendar). During the Torch Festival, people gather in the sun-calendar square to hold an impressive ceremony. They fire many torches and gather together round the fire singing and dancing.
The Dai Ethnic Village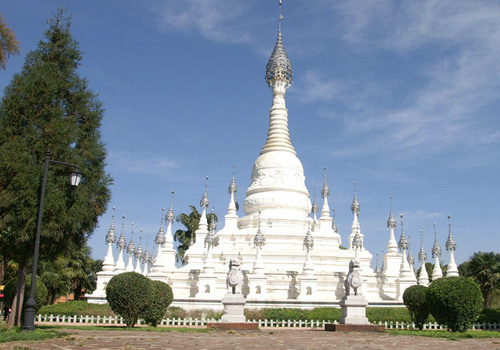 Covering an area of 1.8 hectares, Dai Ethnic Village is embraced by water and trees. A sandy footpath lined with cluster of bamboo houses leads to Mian Temple. Majestic White Tower, graceful Wind-Rain Bridge and Bell Pavilion show the unusual folk culture of Dai ethnic group. Water Splashing Festival is a well-known festival of Dai people, which is often held in mid-April and lasts for 3-4 days. During Water splashing festival, all dai people will be dressed in festive costumes. Women carry water to shower the Buddha. Then people gather together and splash water on each other to show their blessing. In the heart of Dai people, saintly water will wipe out disasters and sickness. Apart from water splashing, there are some other activities such as Dragon Boat racing, reciting sutra and so on. So it's a joyful and grand festival.
Quick Questions
Our team is waiting for your questions. Please feel free to ask us any questions you might have about our China package tours, Chinese culture, or the sites available. We will gladly help you with any special needs you might have and all questions, like our trip designing is completely free of charge.