Kunming Museum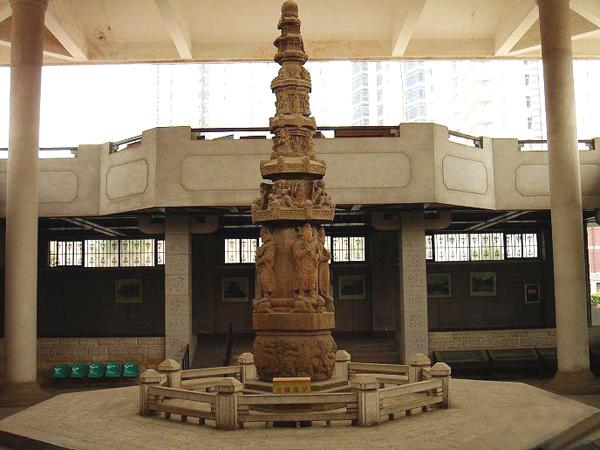 More Photos

Chinese name: 昆明博物馆 (Kunming Bowuguan)
Location: No.93, Tuodong Road, Guandu District, Kunming City, Yunnan Province.
Opening time: 09:30-17:00
Ticket: free
How to get to Kunming Museum: take buses No.1, 62, 74, 109, 111, 114 or 117.
Introduction to Kunming Museum
Completed and came into service in 1997, the Kunming Museum covers 20000 square meters and is a solemn and elegant architecture of primitive simplicity. With many elements of ancient Chinese architecture in the designs of the top, column, edge and girder, the building of Kunming Museum won an award as an excellent characteristic-built architecture in Yunnan Province. A local comprehensive museum in the city, Kunming Museum has three fixed exhibitions, namely, Bronze Culture Exhibition, Ancient Dhvaja (a Buddhism ornament architecture in temples carved with lections and Buddhas) Exhibition and Dinosaur Fossil Exhibition, and two temporary exhibition halls for irregularly scheduled themed exhibitions, which has launched over 130 influential exhibitions since its construction.
Bronze Culture Exhibition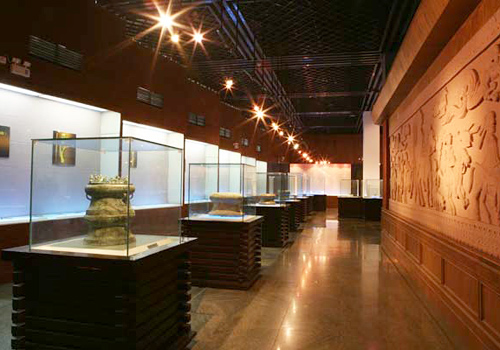 A brilliant branch of Chinese civilization of bronze, the Yunnan Bronze Culture is famous for its unique style, which was initiated in B.C. 12th century in late Shang Dynasty (1600B.C.-1100B.C.) and ended up in A.D. 1st century in late Western Han Dynasty (206B.C.-24A.D.) In academic circles, the bronze culture of Yunnan Province is divided into four parts on the basis of the features of unearthed bronze wares, that is, bronze of Dianchi Lake area, bronze of Erhai Lake area, bronze of northwest Yunnan and bronze of south Yunnan. Kunming Museum exhibits gracefully-shaped bronze wares of Dianchi Lake area, which were excavated in Dianchi Lake and its peripheral region. Bronze articles include bronze drum, bronze pot for keeping money, bronze pillows, bronze button ornaments, and so on. And all the pieces come from the tombs of nobles.
Ancient Jingchuang (Dhvaja) Exhibition of Dizang Temple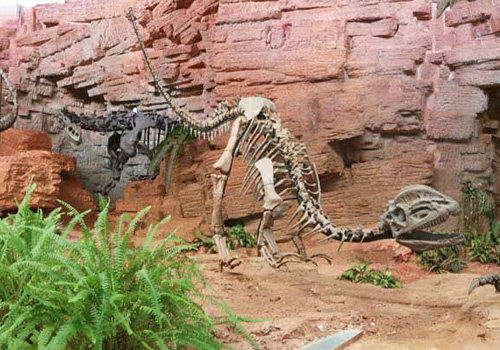 Dhvaja, or Jingchuang in Chinese, is a Buddhism ornament architecture in the temples which is generally carved with lections and Buddhas. Named after the Temple, the Ancient Jingchuang Exhibition of Dizang Temple was built on the former site of the Temple to protect the Dhvaja, which was inscribed as a key national protected site in 1982. Dizang Temple, in memory of the highest military-political official of the Kunming, was built during the period of the Kingdom of Dali (1096-1253). Its Jingchuang, caved from five red sandstones, is a pagoda-shaped building with 7 storeys and eight faces in a height of 6.5 meters. On the Jingchuang, there are totally 300 caved Buddhas, of which the highest is 1 meter high and smallest is less than 3 centimeters high. All of these Buddhas are vividly caved in elegant shape with fluent lines and fine proportions. In addition, kinds of Buddhism sutras are also caved on the Jingchuang in both Chinese and Sanskrit. The Jingchuang of Dizang Temple is praised by experts as the art exquisite that none other can not be found by its delicate carvings and the large number of sutras.
Dinosaur Fossil Exhibition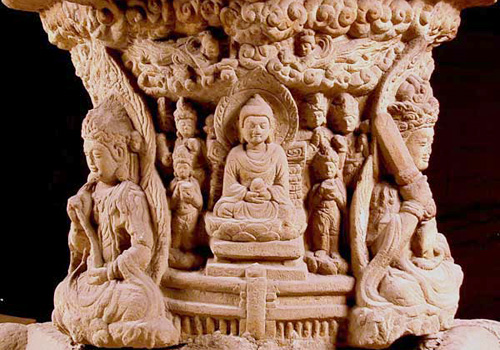 As a hometown of dinosaur which lived more than 100 millions years ago, the Yunnan Province unearthed dinosaur fossils of Saurischia in 1938, and Dilophosaurus sinensis fossils and a large amount of dinosaur skeleton and footprint fossils in Xiyang Town in 1987 and 1993. In Kunming Museum, there are 3 dinosaurs fossils found in Yunnan, 2 models of dinosaurs found in Sichuan, and more than 60 skeleton fossils and nearly 30 footprint fossils found in Xiyang Town,
Temporary Exhibitions in Kunming Museum
The two temporary exhibition halls of Kunming Museum play a key part and have sponsored over 130 exhibitions which have won the praises from both the exhibitors and the public. The important exhibitions include Relics Exhibition of Chairman Mao, Treasures of Imperial Families of Qing Dynasty (1644-1911), art exhibitions of Xiong Bingming (a famous Chinese French artist), Ding Shaoguang, Zhang Jianzhong, Calligraphies and Paintings of Ming and Qing dynasties of Yunnan, Ethnic Formative Arts Exhibition of China and Korea, Peasants' Paintings Exhibition of Yunnan, Ethnic Costume Exhibition of Yunnan, Calligraphies and Paintings of Eight Eccentrics of Yangzhou in Qing Dynasty, etc.
Quick Questions
Our team is waiting for your questions. Please feel free to ask us any questions you might have about our China package tours, Chinese culture, or the sites available. We will gladly help you with any special needs you might have and all questions, like our trip designing is completely free of charge.