Stone City, Kashgar

More Photos

Chinese name: 石头城 (Shi Tou Cheng)
Location: in the north of the county seat of Taxkorgan, Kashgar, Xinjiang Uygur Autonomous Region.
Ticket: CNY30.
Opening time: 11:00-19:00.
Best time for visit: in August and September.
How to get to Stone City:
- take a private vehicle:
- there is a coach departs from Kashgar to Taxkorgan each day; the coach gets to Taxkorgan in the evening and will depart for Khunjerab Pass and Sost, a Sino-Pakistan border town of Pakistan the next day.
Travel tips:
1. There is no hostels in Taxkorgan County; the Tajik are very kind and friendly, and can receive visitors in their house with reasonable price;
2. It is a must to get a border pass before enter Taxkorgan, and visitors can have a travel agency to apply for one.
Introduction to Stone City of Kashgar
Located on the north side of the county seat of Taxkorgan, which means stone city in Tujue language, the Stone City, stands 3100 meters high above the sea level, is a famous ruins of ancient city on the Silk Road in Xinjiang Province. It was the joint of both the middle route and south route of the ancient Silk Road, and many a passageway leading to the Pamirs from Kashgar, Shache, Yengisar, and Karghalik.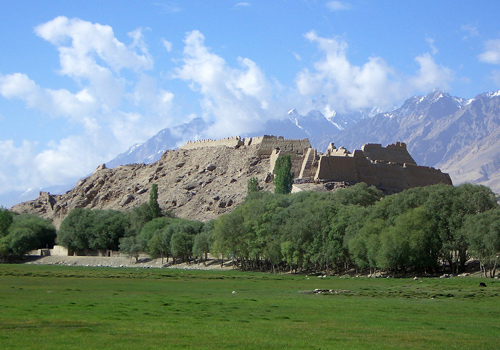 In Han Dynasty (202B.C.-220A.D.), the site was the palace city of Puli Kingdom, one of the 36 kingdoms in west region; when the Tang government (618-907) united the whole area of the west region, a Congling Government Office was set up here; in early Yuan Dynasty (1271-1368), the enceinte was expanded and in Qing Dynasty (1644-1911) in 1902, the Qing government had the palace repaired and constructed a new town in the south of the palace; hereafter, the stone city was went out of use.
The Stone City is almost a square shape and measures more than 1300 meters in perimeter. Built on a high precipitous hill, the Stone City has multilayer of constant or disconnected city walls which were constructed according to the terrain wit stones. The highest wall is high as 6 meters, and among walls are overlapped stones in a mess, which constitute a unique sight of the Stone City. Watchtowers were built in the four corners but unfortunately collapsed. On the outside city wall in the west and north, Mamian (a devil in the netherworld in Chinese Culture) carvings were found; while in the ruins of an ancient Buddhist temple, many a pottery, copper cash of Tang Dynasty, cloths, silk fabric, and a palm leaf manuscript in Sanskrit were excavated.
Quick Questions
Our team is waiting for you questions. Please feel free to ask us any questions you might have about our China package tours, Chinese culture, or the sites available. We will gladly help you with any special needs you might have and all questions, like our trip designing is completely free of charge.