Kaili in brief
Kaili, a city with beautiful scenes and rich ethnic customs in Qiandongnan Miao and Dong Autonomous Prefecture, is 197 kilometers away from Guiyang City, the capital of Guizhou Province. Kaili is a cultural hub of Miao and Dong ethnic minorities especially the center of Miao culture with 28,000 Miao people (accounts for 63% of the total population of Kaili). In Miao language, Kaili means a city formed from cultivation, it is a region inhabited by more than 20 ethnic minorities which live on the traditional agriculture including Miao, Dong, Yao, Dai, Man, Hui, Molao, etc. Hailed as the Hometown of Festivals, more than 130 festivals are held in Kaili every year. With titles of a Provincial Civilized City, one of the 20 Harmonies City of China elected by the public, Kaili is also a Chinese Excellent Tourism City with many traditional ethnic villages scattered in the nearby mountains, which make it a popular destination for people who want to explore the Chinese ancient ethnic culture.
History of Kaili – Splendid ethnic culture and traditions of Miao and Dong people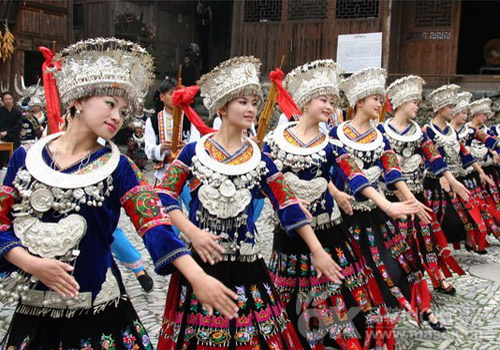 Kaili city's history can be traced back to the Spring and Autumn Period (722 BC – 482 BC), and it has a governed history of more than 500 years that once hailed as a Little Capital of the State in Ming and Qing dynasties. With the beautiful landscapes and rich natural resources, generations of more than 20 nationalities lived here have created a splendid and glorious culture, including the traditional ethnic crafts of cross-stitch work, embroidery and batik, colorful ethnic songs and dances accompanied by the Lushengs (reed-pipe wind instruments) and drums, as well as numerous traditional festivals such as the most celebrated Miao New Year Festival, Lusheng Festival and Dong Ethnic People Bull Fighting Festival. The characteristic traditional architecture of Miao and Dong is the wood-structured ones created by their intelligent ancestors. The featured Diaojiaolou (houses built on pillars) of Miao people is renowned for its unique style and great practicability while the special shaped drum tower of Dong people is totally different from the common practice of towers which is highly praised by architects. Ethnic musical instruments are also impressive that brings to people the fresh music experience; among them, Lusheng is the most famous one which is an ancient instrument of Miao with a recorded history of more than 3000 years.
Kaili nowadays – A marvelous place to explore the ethnic minorities in landscapes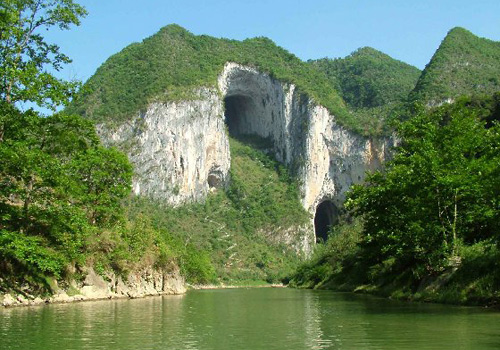 Kaili is a more and more famous tourism city today with rich ethnic cultures and natural sceneries, which is in the middle of the popular ethnic tour route extending from Sanjiang of Guangxi Zhuang Autonomous Region to Dali and Lijiang of Yunnan Province. Titled as a Green Treasures and Animal Kingdom, Kaili is located in the southwest of China with lush mountains and numerous rivers decorated with many ancient ethnic villages. The largest Miao village in Asia the Xijiang Miao Village, the small hidden Zhenyuan Ancient Town and gorgeous limestone mountain scenery of Wuyang River are the marvelous spots in Kaili. Ethnic songs and dances as well as colorful celebrated festivals are always the highlights lingering in people's minds and a taste of the most popular food in Kaili Sour Soup Fish made in traditional ways of Miao people will challenge visitors' taste bud with flavors of spicy, sour and sweet. The visit to the picturesque Kaili can be a unique experience to explore the ancient ethnic minorities of China.