Libo Zhangjiang Scenic Area

Chinese name: 荔波樟江风景名胜区
Location: Libo County, Qiannan Buyi and Miao Autonomous Prefecture, Guizhou Province
Opening time: 7:30-16:30
Introduction to Libo Zhangjiang Scenic Area
Adjunct to Guangxi Zhuang Autonomous Region, Zhangjiang Scenic Area is located in the south of Guizhou Province. It covers 273.1 square kilometers, and is mainly composed of Daqikong Scenic Area, Xiaoqikong Scenic Area, Shuichun River Scenic Spot and Zhang River Scenic Spot.
Libo Zhangjiang Scenic Area features rich and varied karst landforms, beautiful waters of the Zhang River, lush virgin forests, and various rare species of flora and fauna. It has both magical natural beauty and rich ethnic groups such as Buyi, Shui, Yao and Miao, making it the first world natural heritage site in Guizhou Province.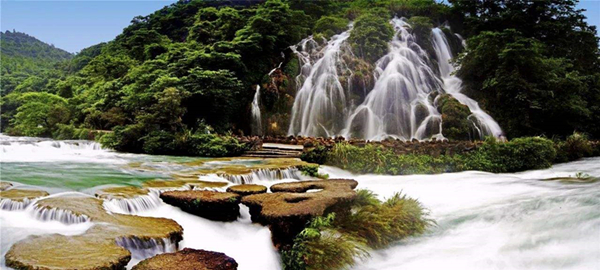 What to see in Libo Zhangjiang Scenic Area
Xiaoqikong Scenic Area
Xiaoqikong Scenic Area is the most famous one among the four scenic spots in Libo Zhangjiang Scenic Area. It is located in the southern margin of the Guizhou Plateau with a total area of 46.4 square kilometers. The scenic area integrates various landscapes such as forests, caves, lakes, rocks and waters. For its exquisiteness and beauty it enjoys the reputation of "super bonsai". There are 21 scenic spots in the scenic area including Xiaoqikong Ancient Bridge, Laya Waterfall, 68-level Drop Waterfall, Forest on Stone, Wild Boar Forest, Forest on Water, Tianzhong Cave, Sleeping-dragon Pool and Mandarin Duck Lake.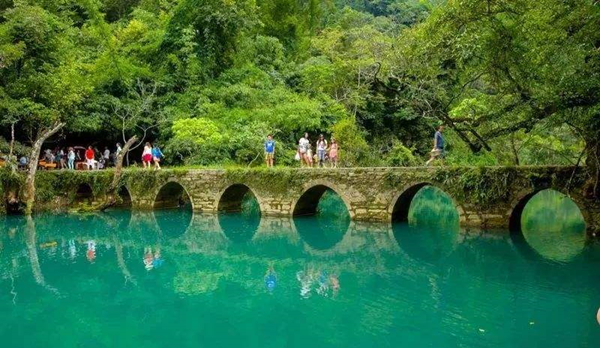 Daqikong Scenic Area
It has a total area of 36.2 square kilometers, integrates karst landforms with hydrological landscapes. The scenic area features virgin forests, canyons, subterranean streams and underground lakes. Landscape in the area is extremely thrilling and mysterious. The main attractions include Daqikong Ancient Bridge, Terror Gorge, Tiansheng Bridge, Yaofeng Cave, Mantle Forest, Dragon Head Hill, Erceng River, and Mantle Palace.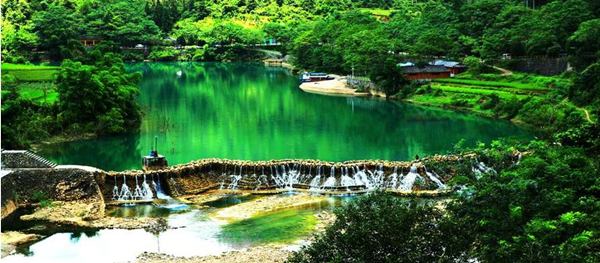 Shuichun River Scenic Spot
Shuichun River Scenic Spot is a 13-kilometer-long canyon in the upper reaches of the Zhang River. It is also the longest canyon in the scenic area. The cliffs on both sides of the canyon are stacked, and the dangerous peaks of the cliffs are about 200 to 300 meters high, while the water surface is only a few meters to a dozen meters wide, constitutes the strange and dangerous landscape which has become a resort for drifting adventures. The main attractions are Meitan(also known as "courage testing wave"), White Dragon Wave, Sister Peak, Sister Beach, White Rock, Dragon King Cave and so on.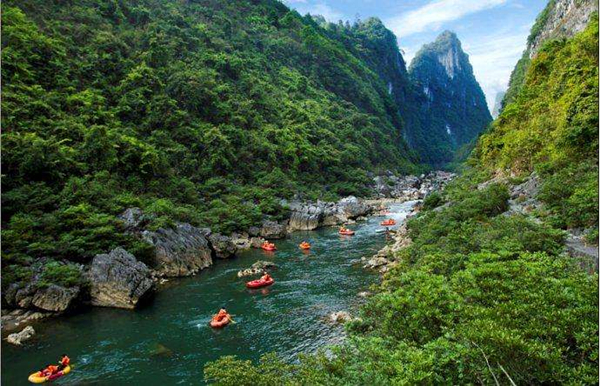 Zhang River Scenic Spot
As one of the four main scenic spots in Libo Zhangjiang Scenic Area, it covers a total area of 15.1 square kilometers. Combines the location advantages and resource characteristics of the scenic spot, the management department plans to build it into a comprehensive tourist area integrating ecological sightseeing, pastoral leisure, adventure sports and ethnic customs experience.