Kaifeng Transportation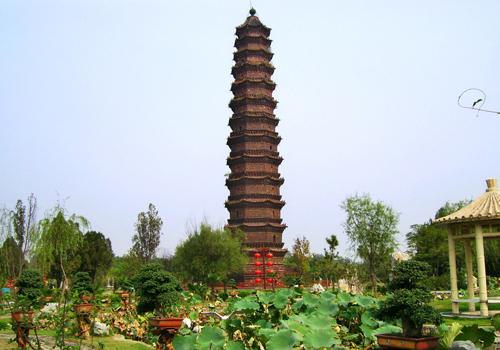 By Air
There is no airport in Kaifeng; but travelers can choose to fly to and from Kaifeng in Zhengzhou Airport, which is only 70 kilometers (about one-hour's driving) away from downtown Kaifeng.
Zhengzhou Airport is conveniently connecting with more than 40 domestic cities, such as Beijing, Shanghai, Chengdu, Guangzhou, Hangzhou, Guilin, Kunming, Qinghai, Shenyang, Xi'an, Haikou; in addition, it provides regular chartered planes to Hong Kong and Bangkok.
Intercity shuttle busses run between Jinming Square of Kaifeng and Deyi Hotel of Zhengzhou; in Zhengzhou, travelers can take airport shuttle bus which departs from Civil Aviation Hotel or taxi anywhere in the city to get to the airport.
By Rail
Located in the central plain and spanning over the China's eastern and western main railroads, Kaifeng enjoys quite convenient railway traffic. To the west, it connects Zhengzhou, Luoyang, Xi'an, and to the east, it reaches Jiangsu Province; by transferring via Zhengzhou which is only 70 kilometers away and Shangqiu which is 150 kilometers away, it even can reach all parts of the country by Beijing-Guangzhou and Beijing-Kowloon Railways.
Kaifeng Train Station is located in Zhongshan Road, south part of the city, and can be reached by public buses No.1, 3, 4, 5, 9, 10.
By Highway
Kaifeng has highways linking with cities of Zhengzhou, Luoyang, Sanmenxia and Shangqiu; to the north, it leads to Beijing via Xinxiang and Anyang, and to the south, it leads to Shenzhen via Xuchang, Luohe and Zhumadian.
Kaifeng has many coach stations and the main used long-distance passenger station is just next to the train station in the north. Intercity buses (No.101, 102, 103, 105 and 201) between Kaifeng and Zhengzhou are available in 5 stations, the Longhai Station, East Station, South Station, North Station and West Station.
Addresses of the main Kaifeng stations:
- Kaifeng Station: in the southern part of Zhongshan Road;
- Kaifeng East Long-distance Station: in Kaifeng County, Kaifeng City;
- Lankao Long-distance Station: in Lankao County, Kaifeng City;
- Kaifeng Jinming Passenger Station: next to the Haode Department;
- Kaifeng Xiangguo Temple Long-distance Station: No.133, in the middle section of Zhongshan Road, Longting District;
- Kaifeng East Station: in Bianjing Avenue;
- Kaifeng West Station: No.7 Yingbin Road, Yuwangtai District.
City Transportation
Public buses- buses are well-suited in Kaifeng, and all tourist attractions can be reached only by bus. No. 1, 15 and 28 go through most of the attractions and No.20 goes through all incity attractions. No. 101, 102, 103, 105 and 201, which depart every 10-20 minutes are intercity buses between Kaifeng and Zhengzhou.
Taxi- taxies are quite convenient with reasonable price in Kaifeng; generally, less than CNY20 can get to all incity scenic spots.
Rickshaw- As most tourist attractions are located in downtown area and every two are apart in short distance, many visitors love to choose rickshaws as their city transportation. This featured inexpensive rickshaw offers a special experience that most travelers to Kaifeng will try.