Millennium City Park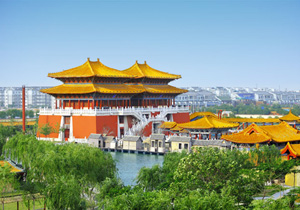 More Photos

Chinese name: 清明上河园 (Qingming Shanghe Yuan)
Location: No.5 West Longting Road, Longting District, Kaifeng City, Henan Province.
Opening time: 09:00-22:00
Ticket: CNY100
Best time for visit: in spring with the folk culture of Qingming Festival, and in autumn with moderate weather to admire the beauty of chrysanthemum.
How to get there: take buses No.1, 15, 20, 30 or 38 and get off at the stop of Qingming Shanghe Yuan.
Travel tips:
1. The chrysanthemum of Kaifeng was in full flourish as early as in Northern Song Dynasty (960-1127); Chrysanthemum Festival, which includes chrysanthemum lantern show, chrysanthemum show and chrysanthemum wine, has a history more than 1000 years. The festival happens from Oct.18th to Nov.18th each year, during which colorful chrysanthemum of more than 100 varieties are spread all over the city of Kaifeng.
2. The Lantern Party held around lunar January 15th (the Lantern Festival) is a tradition in Kaifeng started since Song Dynasty. In the party, a wide range of ingenious designed lanterns add great glories to this ancient city particularly at night.
3. In the evening in Millennium City Park, there is a large-scaled live-action performance directed by famous director Mei Shuaiyuan and acted by 700 actors and actresses. Information about the scheme acrobatics evening party named The Great Song Dynasty-Kaifeng Menghua (大宋.东京梦华) as follows:
- duration: 70 mins;
- show time: 20:10-21:20;
- tickets: CNY999 for supreme seats, CNY399 for VIP seats, CNY269 for A seats and CNY199 for B seats.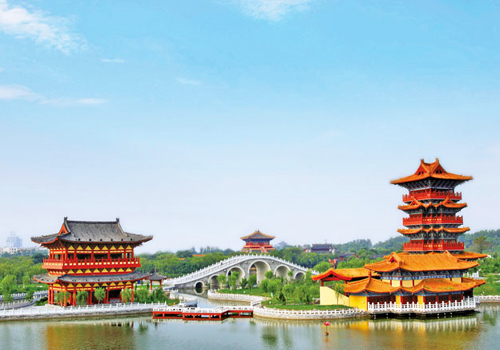 Introduction to Millennium City Park of Kaifeng
Located in the northwest of Kaifeng, the west shore of the pretty Longting Lake, Millennium City Park is a large-scale historical cultural theme park in accordance with the proportion of one-to-one with the masterpiece Riverside Scenes at Qingming Festival (清明上河图), a Chinese art treasure painted by Zhang Zeduan, a famous artist of Northern Song Dynasty.
Founded in 1992 and opened to the public in 1998, the 5A national park covers 40 hectares (which counts in 12 hectares water area and over 3 hectares building area) and has over 50 ancient decorated boats and more than 400 buildings in Song style. Following the original drawing, Millennium City Park is magnificently reproduce the flourishing scenes of Kaifeng in Song Dynasty, which is also a lively life show for social custom, social life, building structure and landscapes of that time. Walking in the park, visitors can get feelings that they have returned to 1000 years ago- lines of ancient shops and hotels, kinds of Song style mansion and houses, various shows of ancient custom and activities, classical music of Song style, and more than 1000 staffs wearing ancient costumes and walking up and down or performing kinds of folktales of Song Dynasty. And the imperial life of the same period is also close at hand with grand imperial garden beside the Bian River, and majestic imperial halls led by bluestone passages.
About Riverside Scenes at Qingming Festival
The painting of Riverside Scenes at Qingming Festival, the blueprint of Millennium City Park, is now saved in the Palace Museum in Beijing. It is a huge landscape scroll created by Zhang Zeduan, a member of the Imperial Academy during the rein of Emperor Huizong (1082-1135); it takes the capital Dongjing (present Kaifeng) as the background. Divided into three sections, the painting vividly portrays the bustling of Kaifeng and natural scenery along two banks of Bian River at Qingming Festival. The three cults and nine schools of ancient China, marketplaces and imperial culture are all on show together. The creator mastered an ingenious brushwork that he had clearly delineated each distinct face and his expression of the over 600 persons in his masterpiece. Measured 525cm in length and 25.5cm in width, in total, the painting contains 648 persons, 96 livestock, 122 houses, 5 bridges, 174 trees, 25 boats, 15 carriages and 8 sedans. The montage style just unfolds a live social life and features of Song Dynasty (970-1279).
Main Architecture and Scenes in Millennium City Park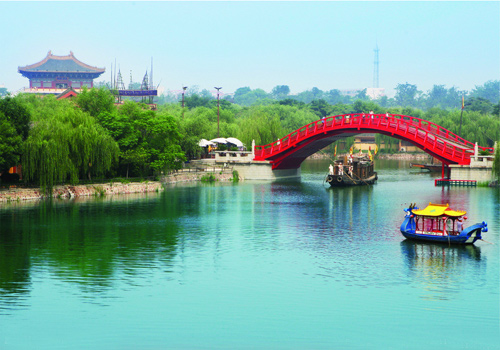 Based on the overall arrangement of the painting, in Mellennium City Park, there are city gate, a rainbow bridge, streetscape, shops, riverway, wharf, boats, restaurants, teahouses, pawnshops, embroidery shops, porcelain workshops, paper-cuts, New year paintings studio, and so forth. Folk performances in the park include sideshows, drum shows, fortunetelling, lottery, cockfighting, dog fights, shadow puppets, water puppets, sugar sculpture, dough figurine, etc. And Folk sports are horsemanship, qigong, unique techniques, water swing, boating, Cu Ju (a Chinese ancient football), horse ball, rock climbing, etc. And other performances and activities are kinds of folktale show, like Bao Gong's welcoming guest, marriage of Landlord Wang's daughter, Song style weddings, music and dance accompanied with chimes, and the large scaled live-action show- the Great Song Dynasty.
Features of Millennium City Park
- A historical and cultural scenic area, which set up Science Museum of Song Dynasty, Celebraity's House of Song Dynasty, Cultural Center of Song Dynasty and Zhang Zeduan Memorial Hall. Except the classical plays, such as Bao Gong Solving the Crime, Brave Man Rob the Prisoner's Van, Wusong Rescue His Elder Brother's Wife…the scenic area often create some new plays for performances. The live-action show, which combined the music, dances and costumes of Song Dynasty, is also based here.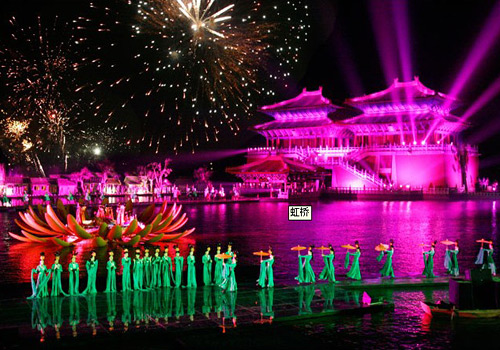 - A folk custom scenic area- the show site for kinds of folk arts and crafts and folklore performances.
- A relaxing scenic area- a good resting place as well as a site for deep Song culture exploration with rich souvenirs of Song Dynasty, traditional Kaifeng snacks, an ancient experience on a boat along the 3800-m-long Bian River and a three-star hotel.
- An entertainment scenic area- differs from other historical tourism sites, Millennium City Park stresses the participation of the visitors. Here, visitors can join many a folklore performances, e.g. people can be a "son-in-low" of Landlord Wang and "marries" his daughter, or to be a "Number One Scholar" in the imperial exam. Moreover, a large amusement park equipped with kinds of activities of Song Dynasty is found here.
- An ecological scenic area- on the basis of the Riverside Scene at Qingming Festival, the whole Millennium City Park is built in a harmony with its structures, waters and natural sceneries.
Main Attractions in Millennium City Park
Fuyun Pavilion- with a height of 31.99 meters, the powerful and dignified pavilion is the site collecting important imperial documents and traditional Chinese painting as well as a superexcellent site for a overlooking of the whole park.
Xuande and Xuhe Palaces- the two palaces are built in the same shape and fused together. Look afar, they are a city gate tower, while at a close look, they are fine designed imperial palace, in which are the fantastic imperial shadow puppet and ancient music and dances accompanied with chimes.
Memorial Archway- the entrance of the imperial garden.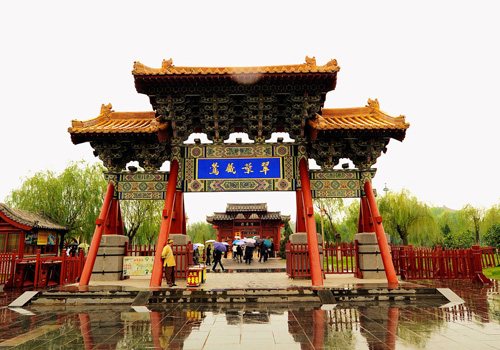 Bian River- a 3800-m-long river.
Interesting Garden- it is a paradise for children and those people with a childlike innocence. The games include darts, archery, rope climbing, swing, slide, and so on.
Guan Inn- it is a three-star hotel inside Millennium City Park, offering standard rooms, couple rooms and luxury suites.
Zhang Zeduan Memorial Hall- a hall in memory of Zhang Zeduan, a great artist of Song Dynasty who had created the great painting of Riverside Scenes at Qingming Festival- the chief source of this amazing park.
Theme Square- located not far from the park entrance and in the back of the Zhang Zeduan Statue and a wall carving, the square has a pool in the middle, in which is a wooden boat of primitive simple shape with soaring mast and sail, which symbolizes the busy water transport and superb shipbuilding technology of Song Dynasty.
East Gate- it is the main entrance of Millennium City Park, and the place for the opening ceremony each day. The park opening ceremony, which begins at 09:00, is a pre-requisite everyday and the most ceremonious program in Millennium City Park.
Folk-custom Street- it is the site to hunt valuable antiques, calligraphies and Chinese paintings.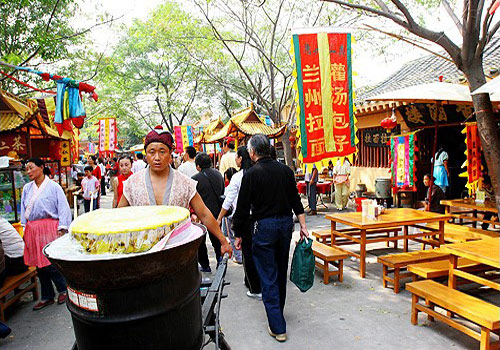 Dongjing (Kaifeng) Food Street- a wide range of local flavor snacks, for example, small steamer buns, spring chicken in salt, spiced hare, pickled cucumbers and diced chicken, stewed noodles, peanut cake, and so forth.
Dongjing (Kaifeng) Wharf- a reappearance of the flourishing scene of water transport of grain to the capital in Song Dynasty.
Quick Questions
Our team is waiting for your questions. Please feel free to ask us any questions you might have about our China package tours, Chinese culture, or the sites available. We will gladly help you with any special needs you might have and all questions, like our trip designing is completely free of charge.