Kaifeng Museum

More Photos

Beginning life as Henan Provincial Museum built in March of 1962, Kaifeng Museum was moved from Sansheng Street to Middle Kenzhong Road in 1986. The construction of the new site of the museum was completed in September of 1988 and officially opened to the public. In 2007, the municipal government of Kaifeng undertook to spruce up the exterior and the interior of the museum and used several high-tech measures to improve and enrich the exhibition.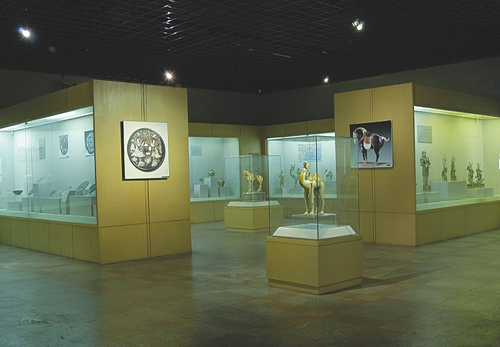 Laying south of the Baogong Lake, Kaifeng Museum occupies an area of 16,000 square meters in a layout of the Chinese character "山(mountain)" with pseudo-classic architecture. As a museum of social society and arts, the museum has collected more than 80,000 cultural objects and nearly 50,000 professional books since its establishment. Of all the collections including potteries, porcelains, bronze wares, paintings, carvings, stone inscriptions, ancient currency, jade articles, lacquer wares, costume, etc, ten are considered as "first grade cultural relics" and over 1000 "second grade cultural relics", several of which are unique in China even in the world.
At the central hall of the first floor of the exhibition building decorates the large-scale boxwood carving - "Riverside Scene at Qingming Festival", a famous painting by Zhang Zeduan of Song Dynasty, which presented the prosperousness of Kaifeng as the capital city of Song Dynasty. At present, Kaifeng Museum consists of seven exhibition hall, namely, Hall of Song Stonecutting, Hall of Song History, Hall of Ancient History and Modern History, Hall of History of Kaifeng Revolution, Hall of Ming and Qing Artwork, Hall of Cultural Objects, and Hall of Jew in Ancient Kaifeng.
Quick Questions
Our team is waiting for your questions. Please feel free to ask us any questions you might have about our China package tours, Chinese culture, or the sites available. We will gladly help you with any special needs you might have and all questions, like our trip designing is completely free of charge.