Iron Pagoda

More Photos

Sitting northeast of the urban area of Kaifeng City with an area of 512,400 square meters, the Iron Pagoda Park named after the Iron Pagoda is one of the 100 famous Chinese parks. Constructed in 1049 during Song Dynasty, the pagoda today stands in the east of the park under national protection.
Iron Pagoda is 55.88 meters in height with thirteen storeys. Not as its name implies, Iron Pagoda was not built with iron but bricks and wood; it was once named "Pagoda of Kaibao Temple" because the temple once located there. Afterwards, it got the current name during Yuan Dynasty (1271 - 1368) because of its special outside paved with brown coloured glazes, which looks like iron from the outside. For nearly one thousand years, Iron Pagoda has experienced many destroys such as wars, floods, earthquakes but still stands majestically there today.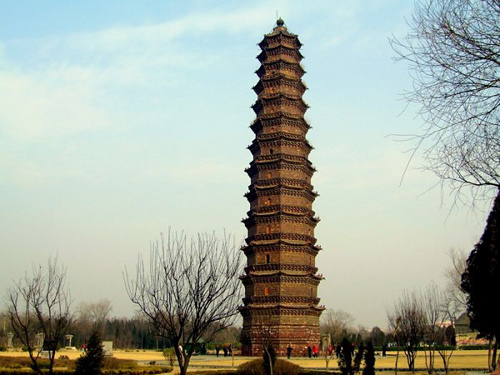 The construction of Iron pagoda is considered to be related to sarira (a kind of treasured Buddhist relic). It is said that the sariras of Buddha Sakya was divided into eight shares and distributed to eight kings of ancient India; the share of Magadha was occupied by King Asoka, who believed in Buddhism. Asoka ensconced the sariras by storing them in 84,000 pagodas, including a pagoda in Hangzhou of China. At last, the sarira in Hangzhou was transferred to Kaifeng and Kaibao Pagoda was built to consecrate the sarira, however, this wooden pagoda was damaged by thunder and a new pagoda had to be built for the holy sarira – it is the Iron Pagoda we see today. To avoid fires, the pagoda was built with bricks and wood and the outside was paved with coloured glazes and decorated with glazed statues of female immortal, flying Apsaras, kylins, Bodhisattvas, geishas, lions, flowers and plants.
In front of Iron Pagoda sits the Ambassador Buddha Hall (Yin Fo Dian), which is constructed in 1986 for consecrating the cultural object of Ambassador Buddha. The hall was made of imitated white marble with a three-gate decorated archway, 70 meters wide and 12 meters high. On both walls beside the main gate of the hall inlay eight bluestone statues of sitting Buddhas and it is amazing that there are 96 small stone lions surrounding the stylobate. Beside the Ambassador Buddha Hall is the Afflatus Hall (Ling Gan Yuan) where the 1-meter-high white-jade statue of Buddha Sakyamuni is worshipped.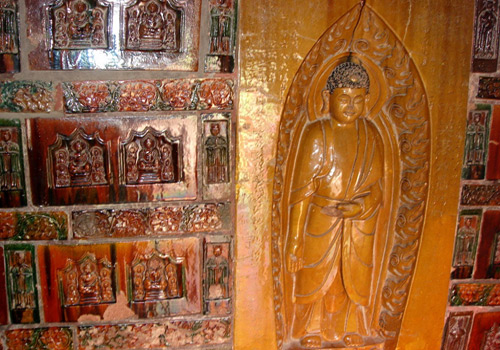 Viewing the city in Iron Pagoda is considered to be one of the "eight tourist must-sees in Kaifeng". Standing on the fifth storey, visitors can have a great view of the streetscape of Kaifeng, storey farmlands in the suburb can be seen on the seventh, belt-like Yellow River can be enjoyed on the ninth and it seems that auspicious clouds curl around.
How to get to Kaifeng Iron Pagoda?
Tourists can take the No.1 or No.3 bus at the Kaifeng Railway Station; besides, No.20 bus also stops near the pagoda.
Quick Questions
Our team is waiting for your questions. Please feel free to ask us any questions you might have about our China package tours, Chinese culture, or the sites available. We will gladly help you with any special needs you might have and all questions, like our trip designing is completely free of charge.