Jiujiang Cuisine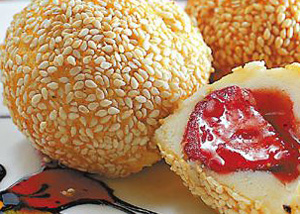 Jiujiang, a city seated on the junction of provinces of Jiangxi, Anhui and Hubei and by the sides of rivers and lakes, has plentiful food materials and gathers all kinds of cuisines across the country. With a flourishing catering trade, Jiujiang not only has famous restaurants from the whole nation, but also produces it own featured cuisines- Jiujiang cuisine, a part of Jiangxi Cuisine featuring flavors of spicy, stewed, crisp and tender. In different areas in Jiujiang, there are distinctive flavors due to various local food materials; for instance, in Lushan Mountain, the specialty is the shrimp meat cooked with the liquor of Lushan Mountain cloud and mist tea, around the Poyang Lake, there are the bream from Poyang Lake braised in soy sauce and the catfish also from Poyang Lake boiled with beans.
Jiujiang Snacks
Jiujiang Tea Cookie (九江茶饼)
Jiujiang made tea cookies since Song Dynasty (970-1279), which is now famed as one of the four most famous cookies in Jiangxi Province. Made of tea oil, native wheaten flour, semen sesame nigrum, and sweet-scented osmanthus in traditional methods, the cookie is small in size but tastes crisp, sweet, and scented. The great literati Su Shi of Song Dynasty once wrote a poem to praise the delicious of the cookie.
Pan-fried Buns Stuffed with Beef and Carrot (萝卜牛肉煎包)
Originally a snack of Hui people, the pan-fried buns are also popular among Han people. The famous pan-fried buns in Jiujiang are stuffed with beef and carrot, taste crisp in the surface with savory smell in the stuffing.