Xunyang Tower

More Photos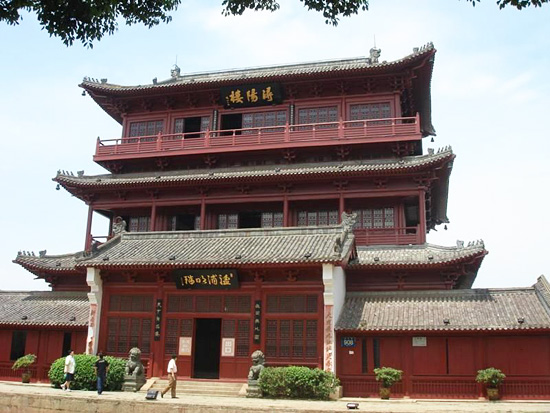 Located in Jiujiang City of Jiangxi Province, Xunyang Tower earned its fame by virtue of the fact that Jiujiang was called Xunyang in history. The building was first constructed around 1200 years ago as a nationally renowned restaurant. In 1989, the tower was re-built. The tower itself is 21 meters high and is designed in typical Song Dynasty style. It is interesting that the tower looks a three-level building but in fact has four floors inside! From the highest point of the pavilion one can gain great views across the lakes and landscape of Jiujiang.
The Xunyang Tower offers visitors more than a chance to explore the bowels of the construction; visitors are also treated to premium Chinese food and cultural shows. The tower has been praised for its fine liquor an outstanding construction as well. Aside from the physical characteristics of the building inside are located several ancient and highly valuable artifacts, especially porcelain, which is famous in the region.
The second level of the tower was used during the Song Dynasty as a place for drinking; today it is still open for travelers to enjoy the Shuihu Banquet.
The fourth level is the tea-drinking room, and offers the best scenic views over the river landscape that surrounds the pavilion. Visitors are treated to a traditional Chinese tea-drinking ceremony while enjoy the Beijing Storytelling.
The Xunyang Tower is considered to be one of the fastest developing tourist sites in China, for any traveler in south-China it is an experience worth having.
Quick Questions
Our team is waiting for your questions. Please feel free to ask us any questions you might have about our China package tours, Chinese culture, or the sites available. We will gladly help you with any special needs you might have and all questions, like our trip designing is completely free of charge.