Sandie Spring Scenic Area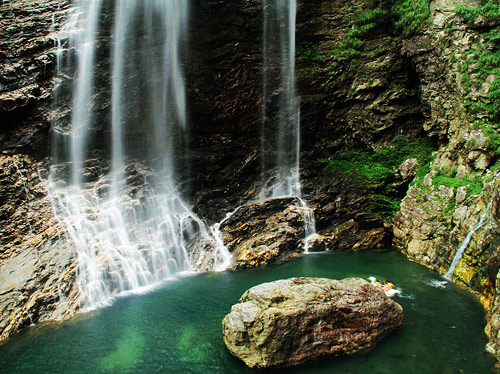 More Photos
Lushan Mountain's Sandie Spring Scenic Area is located in the south-east of Lushan, such is the beauty of this scenic park that an old saying goes that if you have not been to see the Sandie Waterfall then you have not really been to Lushan. Lushan is the remains of an ancient glacier of the Quaternary Period and today is covered in a dense carpet of natural wildlife where nature weaves a spectacular masterpiece including: forests, bizarre rock structure and the famed waterfall.
The park is a rich and diverse tapestry of natural ecology and a must-visit for tourists. Lushan Sandie Waterfall is nominally one of China's four great waterfalls, dropping from a sheer height of 215 meters. The area around Mount Lushan was also once China's earliest scholar academies with many relics of this ancient Bailudong Academy still visible today, as well as being home to of China's "ocean jungles", jungles so expansive that they appear to be oceans. There are also a collection of amazing sites to visit: Buffalo Rock, Jade Plain Gate, Camel Peak and the Flying Stone among others. There is also a miniature train was guides tourists around the mountain park, after travelers finish seeing all the sights they are treated to fresh fish from Poyang Lake.
The Sandie Spring is located in the south-wear of Lushan near the Wulao Peaks and Moon Mountain, such is the volume of sites within the park itself it can take tourists more than a whole day to see them all. The park has also been praised by the United Nations and as a wonder of natural preservation.
Quick Questions
Our team is waiting for your questions. Please feel free to ask us any questions you might have about our China package tours, Chinese culture, or the sites available. We will gladly help you with any special needs you might have and all questions, like our trip designing is completely free of charge.