Jiaozuo Transportation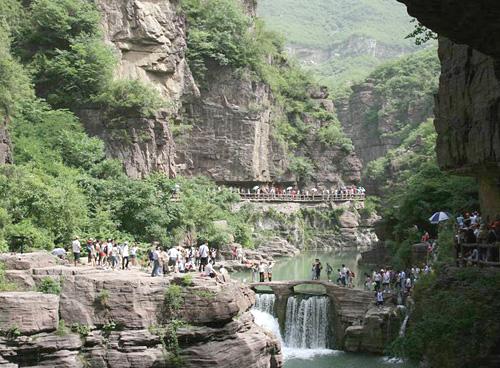 By Air
Jiaozuo has no airport and is served by both Zhengzhou Airport and Luoyang Airport, both of which are within 100 km away from (less than 2 hours drive).
Zhengzhou Airport, or Xinzheng International Airport, provides 48 domestic flights to 56 destinations, such as Beijing, Shanghai, Xi'an, Guangzhou, Sanya, Hong Kong, Macau, etc. and some international ones to Tailand, Malaysia, Japan, Singapore, Korea, etc.
By Train
Equipped with four railway lines within the city, the train transportation is quite convenient in Jiaozuo. Daily services can take passengers to neighboring areas in the province as well as to many other major cities of the country, such as Beijing, Xi'an, Chongqing, Chengdu, Taiyuan, Jinan, and so on.
By Bus
There are three bus stations in Jiaozuo, East Bus Station, Jiaozuo Bus Station and Tourists Bus Station.
East Bus Station, located in the northeast of Jiefang Road and Wenchang Road, offers coaches to almost every place of Henan Province, such as Xinxiang, Zhengzhou, Luoyang, Jinan, Jincheng, Changzhhi, Jiyuan, Yuanyang, etc as well as a few long-distance lines to nearby provinces.
Jiaozuo Bus Station, located in the south of Tanan Road-the central site of Jiaozuo City, not only operates coaches to cities within Henan Province, but also many major cities of the country, like Guangzhou, Shenzhen, Xi'an, Beijing, Tianjin, Hefei, Xingfan, etc. Public buses No.7, 13, 16, 18, 21, 23, 37 can get to Jiaozuo Bus Station.
Jiaozuo Tourists Bus Station, in the east of the symbolic sculpture Bronze Horse in downtown area, is the gathering place for shuttle busses to tourist spots in or nearby the city, including the famous Yuntai Mountain.
By Taxi
The taxi pricing starts at CNY5 for 3 kilometers, and after, additional CNY1.2 for one kilometers.