Tangyue Memorial Archway

More Photos

Chinese name: 棠樾牌坊群 (Tangyue Paifang Qun)
Location: Eastern Road, Tangyue Village, Zhengcun Township, Shexian County, Huangshan City, Anhui Province.
Opening time: 07:30-17:30.
Ticket: CNY100.
How to get there:
- take bus No.4 and get off at the terminal station of Memorial Archway;
- take bus from the Downtown Shexian County, and get off at the intersection of Zhengcun (郑村路口), and then take a tricycle for 5 minutes.
- take tricycle directly from the downtown Shexian County to Tangyue Memorial Archway.
Introduction to Tangyue Memorial Archway
Eulogized as Hometown of Memorial Archway, Shexian County of Anhui Province possesses over 250 memorial archways built in past dynasties, and about 82 are reserved today. Built as gate archways, they are usually found spanning on streets, standing in front of a village, of ancestral temples or residences. The Tangyue Memorial Archway, which consists of 3 archways of Ming Dynasty (1368-1644) and 4 of Qing Dynasty (1644-1911), is the most famed as well as the largest and best preserved memorial archway in Anhui Province. They are marvelously erecting in the front of Tangyue Village in simple but elegant style. It was inscribed as a key cultural relic under the provincial protection in 1981 and under the national protection in 1996; it is also an AAAA scenic spot and one of the Best 10 Attractions of Huangshan City.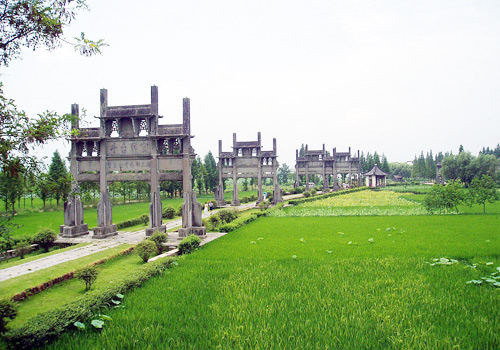 Tangyue Memorial Archway is imposing with delicate carvings; it composes an integrated scenic spot with its adjacent male ancestral temple and female ancestral temple of Bao Family. All visitors attracted by its reputation invariably allow themselves to be sucked by featured ancient ancestral temples, residences, and pavilions that seat against capacious rural scenery and dainty landscape of mountains and rivers. The superb beauty makes it a popular shooting site for TV plays, such as A Dream in Red Mansions.
It is incredible that those archways are masterly designed and built without a nail, but have successfully survived for hundreds of years. In ancient times, memorial archways were built by governors to reward people who made great contributions to the society especially the people with great virtues of loyalty, finial piety, chastity and righteousness. Each archway recounts a story of a hero. All Tangyue memorial archways are made of fine stones, and they are the representatives of architecture of Ming and Qing dynasties and provide crucial values to the researches of politics, economy, culture and architectural arts as well as the evolution of Anhui traders, and even the residences and customs in the area in Ming and Qing dynasties.

Tangyue Memorial Archway in depth
The 3 Ming memorial archways are Cixiaoli (tenderhearted and filial) Archway, Baocan Filial Archway and Baoxiang Virtuous Archway. They were also built with four supported pillars and in similar structure and size, but different in carving patterns from simple flowers to sophisticated birds and beasts. They were all built for outstanding people from Bao Family. The first Cixiaoli Archway is rather grand with a width of 8.57m and a height of 9.6m.
The 4 archways of Qing Dynasty are Baowenling's Wife Chaste and Filial Archway, Baoshufang Philanthropicminde Archway, Baowenyuan's Wife Chaste and Filial Archway and Baofengchang Filial Archway. All four are also built for people from Bao Family and in similar structure with towering pillars and more exquisite carvings than that of Ming Dynasty. The patterns of carvings are coquettish flowers and fish, vivid lions and crowns, and Chinese auspicious peonies and clouds. The largest one is wide in 11.82m and high in 11.7m.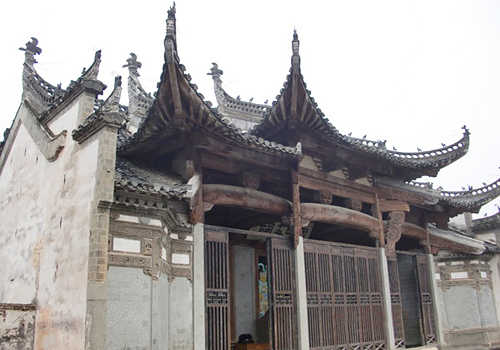 Aside Tangyue Memorial Archway, there are two ancestral temples of Bao Family, commonly referred as male ancestral temple and female ancestral temple, the later of which is rarely seen in ancient China as females could not enter the ancestral temple in ancient times.
Quick Questions
Our team is waiting for your questions. Please feel free to ask us any questions you might have about our China package tours, Chinese culture, or the sites available. We will gladly help you with any special needs you might have and all questions, like our trip designing is completely free of charge.