Jiuhua Mountain

More Photos

Chinese name: 九华山 (Jiuhua Shan)
Location: Qingyang County, Chizhou City, Anhui Province.
Opening time: all day long.
Ticket: CNY190
- CNY140 for a round-way cable car to Tiantai;
- CNY 100 for a round-way cable car to Baisui Hall;
- CNY 160 for a round-way cable car to Huatai.
Best time for visit: spring and autumn.
Recommended time for a visit: one day.
How to get there:
- Fly to Hefei City or Huangshan City first, and then take shuttle bus to Jiuhua Mountain at the airport.
- Take train to Chizhou City, and then take shuttle bus to Jiuhua Mountain.
- Inside Jiuhua Mountain Scenic Area, sightseeing battery car and cableway are the main transportation.
Recommended souvenirs: Jiuhua Mountain tea leaves, rhizome polygonati, folding fan, bamboo handiworks, Buddhism accessories.

Introduction to Mt. Jiuhua – one of China's four Buddhist holy mountains
Jiuhua Mountain, so named because nine of its peaks are similar to lotus in shape, is one of China's four Buddhist holy mountains (other three are Mt. Wutai in Shanxi Province, Mt. Putuo in Zhejiang Province, and Mt. Emei in Sichuan province) and the Taoist rites of Ksitigarbha. Inscribed in the first batch of National key scenic attractions of China and renowned for both Buddhism culture and magnificent scenery, Mount Jiuhua is a famous summer resort consisting of 99 peaks with over 20 standing more than 1000 meters. The main peak Shiwang Peak, a branch range of Mt. Huangshan, is standing 1342 meters high.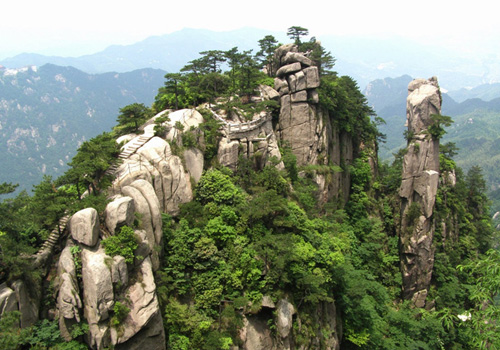 Mt. Jiuhua is enchanting with lofty pillar-shaped peaks, beautiful mountain streams, cool water falls and springs. Furthermore, with incense in great prosperity since Tang Dynasty (618-907), present Jiuhua Mountain still preserves 99 Buddhism temples, with more than 1000 monks, over 10 000 Buddha statues, and over 2000 cultural objects. Inhabited by many eminent monks in the history, Mt. Jiuhua enshrines 15 naturally formed Buddhist mummies, including the world's only Buddhist nuns mummy; now 5 of them are available for visit.
What to see in Jiuhua Mountain Scenic Area?
Tiantai Scenic Area
Tiantai Scenic Area is the highest and also the essence area of Mt. Jiuhua. It is said that the wonderful scenery of Jiuhua Mountain is concentrated in Tiantai. Tiantai Peak, has an altitude of 1306 meters, is standing abrupt with grotesque rocks, and famous as majestic, odd, unique and holy. Standing on the top of Tiantai Peak, a spectacular view of far-distant mountains is attainable, and its surpassingly beautiful sunrise is comparable with that on Mt. Taishan. Main scenic spots of Tiantai including Tiantai Temple, the Ancient Worship Terrace, Dabei Monastery, Cuiyun Temple, Buddist' Cave, and so on.
Tiantai Temple, also named Dizang Temple, is the highest temple in Jiuhuan Mountain just located on the top of Tiantai Peak. As the must-visit worship site for Buddhists, Tiantai Peak is considered as the main peak of Mt. Jiuhua and there is a popular saying goes that one who doesn't visit Tiantai doesn't visit Mount Jiuhua.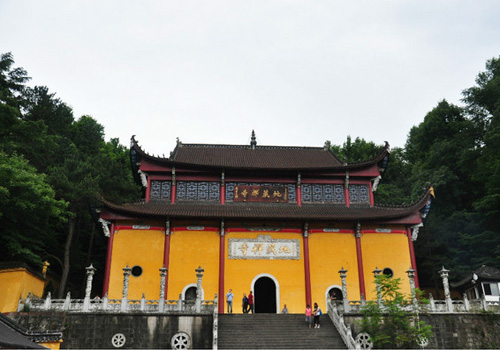 The Ancient Worship Terrace is situated at the foot of Tiantai Peak; it is a must-pass site to reach Tiantai Temple. In front of the solemn Mahariva Hall are three big Buddha, Manjusri, Samantabhadra, Avalokitesvara, and the eighteen arhats. Inside the worship terrace, there is a rectangle rock on which are found numerous sunk prints, which are said to be formed by pious bended knees.
Jiuhua Street Scenic Area
Jiuhua Street is a 640-meter-high bason in Mt. Jiuhua surrounded by lush greens and peaks. Established as early as in 401 A.D., Jiuhua Street is a core part of Mount Jiuhua and a busy place for pilgrims and travelers. Main scenic areas in Jiuhua Street are Huacheng Temple, Zhiyuan Temple, Roushen Hall, Zhantan Temple, Taibai Academy, and so forth.
Located at the foot of Furong Mountain of Jiuhua Street, Huacheng Temple is the first temple built in Jiuhua Mountain in Tang Dynasty (618-907) when the eminent monk Kim Gyo-gak came to Mt. Jiuhua. The gate and the Buddhist Sutras Depository of present Huacheng Temple were rebuilt in 16th century, the Mahavira Hall and the back hall were rebuilt in 19th century. In the temple, inscribed tablets given by emperors Kangxi (1662-1722) and Qianlong (1735-1795) of Qing Dynasty are well preserved, in addition, the Cultural Relics Museum of Jiuhua Mountain is just set up in the temple.
Zhiyuan Temple was originally built in Ming Dynasty (1368-1644). It has the most solemn and complete architecture system in Mt. Jiuhua and was inhabited by over 1000 monks in its heyday which we can image today form the large bronze boiler in the temple. The temple offers Buddhist vegetarian food to visitors.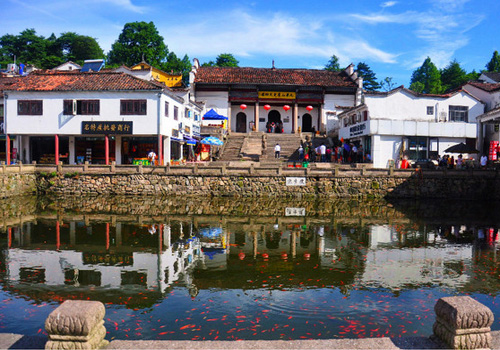 Roushen (Buddhist Mummy) Hall, or Dizang Pagoda is the burial place of Kim Gyo-gak after his parinirvana. Monks built pagoda around his burial place, and then built halls on the spacious pagoda base. For more than 1000 years, Roushen Hall is still extraordinary imposing and bustle. Every year on the Chinese lunar July.30th, the parinirvana date of Ksitigarbha, the ceremonious dharma assembly is held in Roushen Hall.
Zhantan Temple faces Huacheng Temple and located in the southwest of Jiuhua Street. Built in late 19th century, the temple is featured with delicate and vivid carvings of Buddhism legends on its brackets and windows.
Ganlu Temple Scenic Area
Seated on the halfeway up to Jiuhua Mountain, Ganlu Temple is famous for its beautiful luxurious scenery. According to legend, the night before starting the construction, pine needles are full of dews, hence its name Ganlu (literally sweet dew).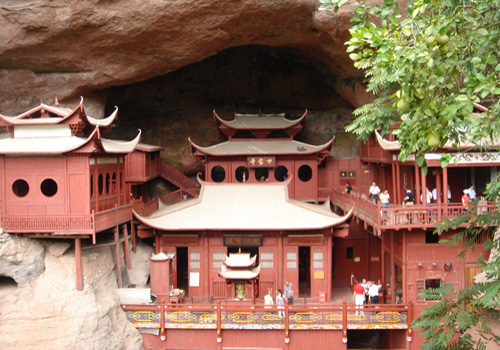 Baisui Temple Scenic Area
Baisui Temple Scenic Area is a traditional key part in Mt. Jiuhua, it scenery is made up of both natural landscape and cultural landscape; visitors can enjoy the charm of Buddhism kingdom and also the picturesque Tiantai Peak and Huatai Peak. Main attractions include Baisui Temple, 500-arhat Hall, Yanzuo Rock, Natural Sleeping Buddha, Tiger Cave, Avalokitesvara Cave, Turtle Rock, Chessboard Rock, Huixiang Pavilion, Gust-Greeting Pine, etc.
Built in Ming Dynasty, Baisui Temple is one of Jiuhua Mountain's four temples. The temple is consisting of 99 halls and rooms, has the gate, main hall, side halls, dining hall, dorms, and toilet built in a large 5-storey architecture, like a huge castle in appearance, which is seldom in Chinese temple buildings.
On the way to Baisui Temple in a cable way, the Huatai Peak in distance is just like a sleeping Buddha that visitors can easily find forehead, eyes, eyelash, nose, mouth, mandible, and so forth.

Quick Questions
Our team is waiting for your questions. Please feel free to ask us any questions you might have about our China package tours, Chinese culture, or the sites available. We will gladly help you with any special needs you might have and all questions, like our trip designing is completely free of charge.